6. DUBAY, OMDB, (U.A.E.) - 22.06.08 - 1226NM - 9:19

Round the World Flight with HB-PON 2008/09
Rolf Martin FRIEDEN & Manfred Melloh
Sun 22 Jun 2008 08:19
"25:15.0N 55:21.7E"

All paperwork, arrangements with the customs people and flight briefing was done very efficiently by our Agent. After takeoff, we headed east bound along the airway across desert first and then across the red sea. We climbed gently to our cruising level F110. On the other side of the red sea, over Saudi Arabia, lots of mountainous terrain and desert. Only a few settlements were visible first. The weather conditions were great initially, with sometimes
headwind and tailwind component. In average we were cruising with average 150 Knots, with the faithful Lycoming IO 540 humming along. About three quarters across Saudi Arabia, we flew through two sandstorms with low visibility and quite some turbulence. Arriving at Dahran, on the coast of the Persian gulf visibility increased to unlimited and then followed the airway out to the middle of the gulf, around Bahrain and then set course south east straight to Dubai. Far below we over flew numerous oil rigs and we spotted also quite a number of ships. Our arrival at Dubai International (a huge airport with two long parallel runways) and we spotted also quite a number of ships. There was a lot of traffic in and out and the visibility deteriorated much due to sandy mist, as we approached the coast of the Arab Emirates and Dubai. We were given the standard arrival route 3T for an ILS 30R approach. The new Garmin GNS 430 became very handy. After final vectors to the localizer, we then spotted the runway just above minima and landed safely.

Greeting by the handling agent were not so good and friendly and it took ages to finally get a taxi to our Trades hotel, which was recommended by the ladies of the duty free shop. In the executive lounge we were however well treated and we enjoyed some cool drinks and freshened up. One arrived at our hotel, things improved and we received a friendly welcome and were given a nice room at the top floor, which was great. A late supper and we then arranged a guided tour of Dubai for the next day.

After a nice breakfast we were picked up at 10 o clock and were then driven all around Dubai city in a black 4 wheel drive limo. All one can say about Dubai is that the place is under construction and how!

Dubai is probably the place with most construction work anywhere in the world. Lots of pictures and video were taken from finished and buildings under construction. They consisted of Hotels, Office buildings and multi-storey office buildings and upgrade of infrastructure, roads and the of the new monorail system.

The Dubai tour took us 5 hours and was quite exhausting as it was 39 degrees with 80% humidity outside, just as well as our car was fortunately air conditioned. Because of the heat around here, we both decided to leave Dubai tomorrow morning rather early at 06:00Lt to Muscat in Oman. We should be there for two days in preparation for our long over water flight to Male in the Maldives.




Crossing the Saudi Arabian Desert- finally some green as we
head towards the Persian Gulf coast.
Overhead Dahran as we left the eastern part of the Saudi
Arabian Mainland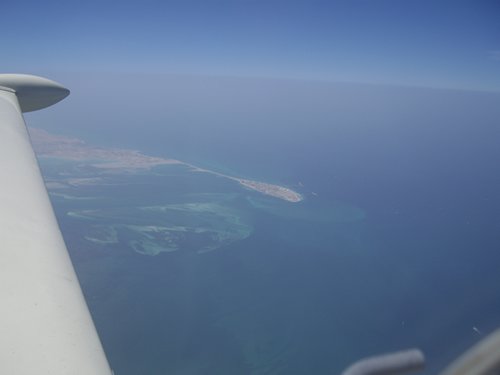 Abeam Bahrain in the Persian Gulf
---