The flight back home (Dakar to St Louis, Senegal)

Round the World Flight with HB-PON 2008/09
Rolf Martin FRIEDEN & Manfred Melloh
Tue 29 Nov 2005 21:21
16:02.5N 016:27.5W



The following two days, while living in

a close-by hotel, a replacement alternator

was installed by the very competent A&P

with
our assistance, and we were ready

to continue our homeward journey.



After refuelling in the late afternoon

of the second day, we decided to move

on to Saint Louis, just 45 minutes away

on the
extreme northwest side of Senegal, the place where the early

"Aeropostale" pioneers landed and took

off on their first
transatlantic flights to and from South America.


At the l'Hôtel de La Poste at St Louis.
Here the room where the French pioneer Jean Mermot used to stay
in between flights to- or from South America.
The Welcome Dinner at St. Louis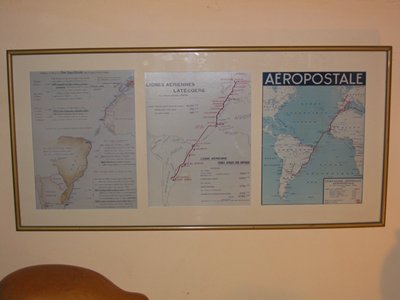 Here the Aéropostale routing from Europe to South America.
An Artist's impression...........



Jean Mermot
---