The flight back home (Tobago via Trinidad to Cayenne, French Guayana)

Round the World Flight with HB-PON 2008/09
Rolf Martin FRIEDEN & Manfred Melloh
Tue 22 Nov 2005 20:34
04:49.1N 052:21.7W




With so much impressions gained, we

departed on our next leg of our long journey to Cayenne in French Guyana.



For refuelling, we first had to fly to

Trinidad, as there was no Avgas avail­

able at Tobago.



Overhead of Trinidad



After 4 hours over water, getting closer to the South American coast line


A CB on our way over French Guayana
Shortly before landing in Cayenne
Our flight plan to French

Guyana was all over international waters.

The reason for this was to avoid entering

into the Georgetown FIR of Guyana, to

avoid the unjustifiably
high ATC charges of S350 USD for a transit flight of barely

300 miles. It was a good flight in clear

weather, but we could observe many storms developing over the
mainland,

as we headed in southeast towards

our destination.



Landing at the modem airport of the
capital of French Guyana, Cayenne, it
was just after dark and a warm, French-
style welcome awaited us - no hassle, no
administration at all! By simply showing our passports, the officials
welcomed us with a friendly "Soyez les bien venu"
and waved us all the way through.

A few
minutes later we had our rented car and
were on our way to Korou, the place of the European Space Centre.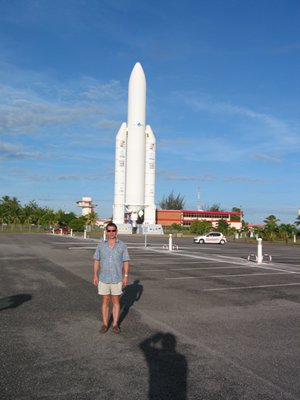 Olivier at the Korou Space Centre with an Ariane Spacecraft in the background






Through arrangements by e-mail, we prearranged a visit the following day to

the mission control centre, the space

museum, and the launching sites of

the Ariane
space program. The tour was simply impressive and very pro­fessionally organized indeed.




For the next space launch, a Ariane space vehicle beeing slowly moved on rails to the launching site





Before our departure from Cayenne later in the day, to our next stop - the city of Belem in northern Brazil, on the edges of the Amazon delta - we had organized by telephone
a 50-hour inspec­tion and an oil change of HB-PON with a local FBO.

---