9. COLOMBO, VCBI, (Sri Lanka) - 419NM - 3:10

Round the World Flight with HB-PON 2008/09
Rolf Martin FRIEDEN & Manfred Melloh
Sat 28 Jun 2008 14:10
"07:10.7N 79:53.0"


Malé Maldives VRMM Maldives to Colombo VCBI in Sri Lanka
Having checked the weather en route, clearing customs at Malé
and refueling HB-PON, we took off and flew a circle around the
Malé Island and its capital and then flew along an island chain
in the Male Athol towards the north east.
The Aircraft carrier Island....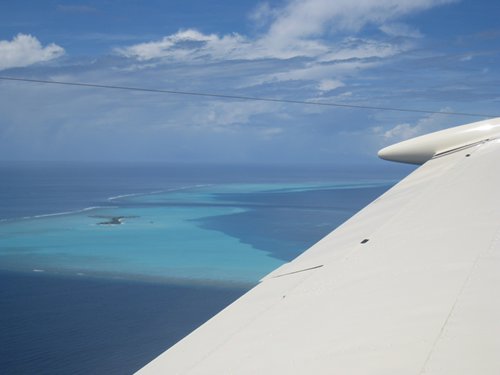 Heading north east
Weather en route was great, except when we approached Sri Lanka
mainland, we saw some CB's around and some low clouds.
To keep the approach simple and to avoid clouds and rain to the
north, we landed with a visual approach at Colombo International.
Our Handling agent was waiting for us at the assigned parking position
and a very large passenger bus took us to the main inter-national terminal.
At the airport we booked into a nice hotel, the Cinnamon Grand, in down
town just 45 minutes away by taxi cab.
Now we are in busy Colombo:
"Tuck-Tuck" the common means of transport
The obligatory shower after our arrival and of course some large
beers to cool down were next on the agenda. In the hotels English
pub, the Cheers Bar, we later enjoyed a rather not so light
dinner with Spare ribs, some more Heinekens Bed time was early,
to enable us to be awaken early next morning at 04h00, for our
planned take-off at 06h00.
---