27 NUMEA, NEW CALEDONIA, NWWW - 14/16.1.2009 - 431NM - 3:14

Round the World Flight with HB-PON 2008/09
Rolf Martin FRIEDEN & Manfred Melloh
Thu 15 Jan 2009 12:22
"22:00.3S 166:12.7E"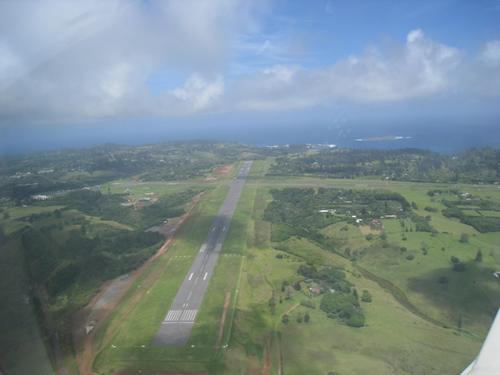 Norfolk Island airport (constructed in WW 2) on arrival

One day exploring Norfolk by car to all corners of the island and learning a lot
about the interesting history of that place.




The Captain Cook Memorial

Yesterday morning on departure heavy rain showers at Norfolk.
Filed IFR and moved on north with good speed of 168 Knots due to good tailwind.
Approaching New Caledonia, an ILS approach into Tontouta International was
in order.
Noumea: A French way of life in the South Pacific!

We understand that over the years Noumea, the capital, has progressively evolved
while retaining the successive marks of its past.
It is now a garden city, where urbanization and nature blend harmoniously.
An attractive clean and modern capital in the South Pacific: Indeed France's
showcase in the region!





Noumea and the Zoological and Botanical Garden in the foreground


Today it was a pleasure for us to stroll through Noumea, along the place des
cocotiers, surrounded by fabulous flame trees. We drove through streets flanked
by old colonial houses and modern buildings, the bays highlighted by hibiscus and
bougainvilleas, the marina, with countless yachts visiting from all corners of the
globe.

We spent time to visit the impressive Cultural Center, the Zoological and
Botanical Garden.




The Cultural Centre

This garden makes a feature of birds, including the rare and endemic Cagu, the
emblem of New Caledonia





Pool and beach at Le Meridien Noumea

Later today we also organized our our flight tomorrow from the down town
Airport Magenta to Port Vila in Vanuatu, a flight about two and a half hours
away, in north easterly direction of New Caledonia.

Due to the present strong low pressure system and heavy rain over the region
of Fiji, we will most probably only continue our journey in easterly
direction from Port Vila to Nandi, Tonga and Rarotonga on the Cook Islands
on the coming weekend.
---