Part I. Kilimanjaro, Tansania via Lilongwe to Makokolo Lodge, Malawi

Round the World Flight with HB-PON 2008/09
Rolf Martin FRIEDEN & Manfred Melloh
Fri 12 May 2006 17:30
14:29.0S 035:15.0E



Due to the two day delay in Heraklion, we had to shorten our stay a bit and head on to Malawi, where we were
expected by some ICS friends from Zimbabwe.


Departure from Kilimanjaro International was delayed some five hours due to dense fog in the early morning.

After visibility on the ground improved sufficiently, we lifted off the runway and climbed through the clouds into a
clear blue sky.

There it was, Kilimanjaro mountain with its snow covered top, reaching 19'340 feet, in its full beauty and next to it
Mount Meru, an impressing old extinct volcano.

Overflying lake Manyara, then abeam Ngorongora crater and the Serengeti reserve, we then head out, south west
for 4hours and 55 minutes, leaving all the clouds behind, passing Dodoma, the administrative capital of Tanzania
and right on course to Lilongwe, the capital of Malawi. After the efficient handling of immigration and other formalities
we were on our way after only 45 minutes to Makokolo Club, right on the edge of Lake Malawi with its own landing strip.

As we rolled out and taxied, a big hello from Charles Galloway and family members from Zimbabwe, which espeially
flew in with their Twin Comanche

7Q-YFI, to meet us and then to escort us on to their home country and the Victoria Falls.

After all the past excite-ments on this trip, the long hours in the air, my co-pilote and I needed a little rest and and spoiling.

With our new friends from Zimbabwe we had a super and relaxing time in this fabulous club, which Anne and I visited the
first time some some 27 years ago.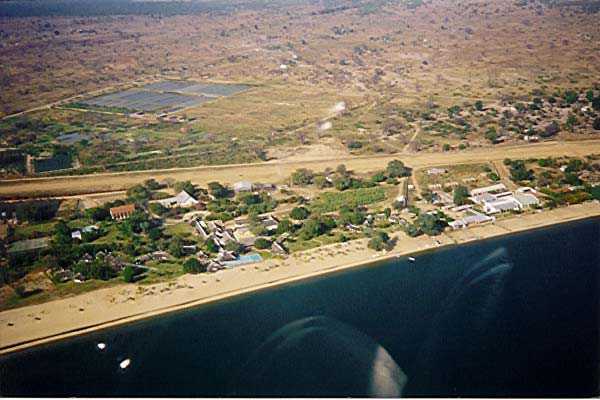 The Makokolo Lodge with its Airstrip on the shores of Lake Malawi






---