Marina del Ponte and Garibaldi's house

Beowulf
Tom Fenton and Faith Ressmeyer
Sat 6 Sep 2014 20:24
41 12.93 N 9 26.36 E

Heading east from Cala Gavetta, the port of La Maddalena, you pass the pontoons in Cala Mangiavolpe, head southeast to the Chiesa passage, which is clearly marked but quite shallow, and you can see the masts at Marina del Ponte in the distance. The Marina is named after the modern bridge which joins Isola Maddalena with Isola Caprera, and spans the Passo della Monetta. The Marina is owned and run by Mr Cuneo, who, like others we have met, used to work in the US military base on Isola San Stephano. His grand plans for the Marina seem to have stalled, perhaps because of the "crisis". There are three or four pontoons, and a couple of dozen boats enjoying presumably low rates and few facilities, and the fact that time stands still at the Marina. I do not remember seeing electricity, for example. The few berth holders were helpful and welcoming, briefly interested to see if we were going to join them in heir time warp, but drifting away when they realised we weren't. So was Mr Cuneo, who was quite happy to let us moor for a few hours without charge to have lunch and then visit Garibaldi's house. He pointed out the bus stop, just beside the Marina. Although the bus was scheduled to take only six minutes to reach the house, it would have been a long and weary uphill slog in the midday sun to walk there.
The courtyard of Garibaldi's house
Garibaldi is an interesting hero: a successful military campaigner who, following the Roman ideal, after the war retired to his farm. In Garibaldi's case, the king of the newly united Italy gave Garibaldi half of the Island of Caprera, and he bought the other half some time later. It is the most unlikely agricultural land, mostly wild rugged rock outcrops and thin, dry, salty soil.
The house itself is modest but comfortable and has immense charm. The stable testifies to his care for his animals, and the kitchen to his love of technology (a water pump, a clockwork roasting spit). Nothing says arrogance. That he managed to support his extended family, friends and the people who worked for him from farming in this unlikely place suggests a very hard working, imaginative, practical and effective leader.
There was no bridge between Caprera and Maddalena in those days, and Garibaldi made his visits to the town of La Maddalena in a sailing boat given to him by the Italian navy. Here it is: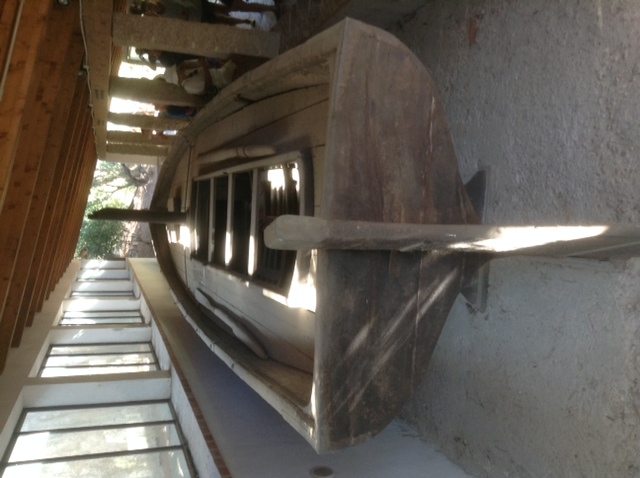 A shallow draft vessel with not much of a keel, but ideal for this coast.
After the all to brief tour of the house, we took a bus round the southern half of Caprera, turning round just beyond Porto Palma before returning to the Ponte, the Marina, and Beowulf.
---