Tuesday 24th March 2015 – Part 5 – Balloon Party at Carterton and Back to Opua to Meet a Baby Austin

Arnamentia
Jon & Carol Dutton
Tue 24 Mar 2015 01:19
24th March 2015 – Part 5 – Balloon Party at Carterton and Back to Opua to Meet a Baby Austin
After our crossing back to Wellington, Raewyn and Lindsay kindly put us up again for a couple of days near Carterton. Our stay coincided with the Wairarapa Hot Air Balloon Festival. It meant getting up quite early the next day to see the balloons set off in settled conditions.
Laying out the novelty balloon, Peg Leg Pete. Even more complicated to handle than Percy the Parasailor
Firing away – a pretty steady hand is quite definitely needed.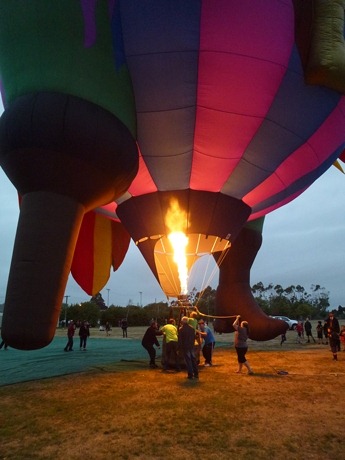 Topping Up
Lift Off
All puffed up
Up, up and away
All too soon it was time to head north. We spent the next night in Wanganui and found the town quite delightful. It has a very impressive museum, some lovely art deco buildings and is pleasantly sited on the banks of the wide Wanganui river. The next day we managed a quick detour into New Plymouth before spending our last night at Waitomo Caves – not in them but in a purpose built hostel. Jon spotted a leaflet advertising rock climbing underground but we didn't have enough time for that – it looks as though we may be going south again!
Ex Tropical Cyclone Pam was expected to hit Northland as we made our way back to Opua on Sunday 15th and we had some doubts about whether the ferry to get us home from Opua to Andrea's place in Okiato, across the harbour, would still be running. More to the point we were mildly interested in how the boat yard might have secured Arnamentia against the predations of the wind. We needn't have worried either way. The harbour was well protected from the SE winds which were the problem. Meanwhile, Paihia, just over the hill and on the east coast, took a fairly decent pummelling. But, of course, that was nothing compared to the catastrophic effects on Vanuatu.
As ever, we have been amazed by the variety of landscape and stunning scenery in New Zealand – and impressed by the engineering feats accomplished in building roads through very challenging terrain. As with our first road trip, we have stayed mainly in backpacker hostels and we are struck by the similarities this approach to travelling has to yacht cruising; we never know quite what to expect when we arrive and we encounter interesting people from all walks of life. For example, we've met a German entymoligist researching how a particular beetle can restore river banks, an Italian architect working on the Christchurch re-build, a Canadian doctor studying malaria, his geologist fiancée who gave us a professional opinion on fracking (both good and bad types) and a French engineer designing racing sails. There was also a couple from Queensland, who had flown over to New Zealand to buy a 1938 Austin Seven – they are serious collectors, this will be their seventh or eighth! It was in lovely condition. The speedo - as ever - shows an optimistic 70 mph at the right hand end of the scale; a maximum speed of around 50 mph is much more like it and the little 7HP engine is not even as powerful as the outboard engine for Arnamentia's rub-a-dub tender. But, of course, that ain't the point at all. The Baby Austin had also been on a little road trip and its new owners ended up staying at Ferry Landing with us for a couple of nights.
The little baby Austin under new management
Off on the little ferry from Ferry Landing, Okiato, to Opua on the first stage of its journey back to Australia - via a rather larger RO-RO ferry from Auckland via Japan.
Last, of course, we have encountered scores of very friendly and helpful Kiwis. It has been a great road trip.
---