Wednesday 9th May - Calm before Colon

Arnamentia
Jon & Carol Dutton
Sat 12 May 2012 16:57
9:22.08N 79:57.07W
Wednesday 9th May – Shelter Bay Marina, Colon Harbour
The San Blas Islands are like nowhere we've been before. They really are a haven of tranquillity with barely a ripple on the water. You can easily lose track of time – a whole week went by without anything very much happening - apart from thunder storms for our first two days. There was very little wind but of thunder, lightning and tropical downpours there was more than an adequate sufficiency. We did a bit of snorkelling on the nearby reef and donned the sub-aqua kit to get rid of the many barnacles that had decided (in a very short space of time) that the prop shaft, prop and the various underwater bronze fittings that are not anti-fouled looked like inviting homes. No, they are not – go away! But, the new anti-foul paint is holding up and the usual slime on the waterline was easily removed. In the end we stayed almost 5 days in Holandes Cays waiting for decent light to enable us to manoeuvre confidently amongst the reefs and, it has to be said, decent enough weather to make the sailing fun.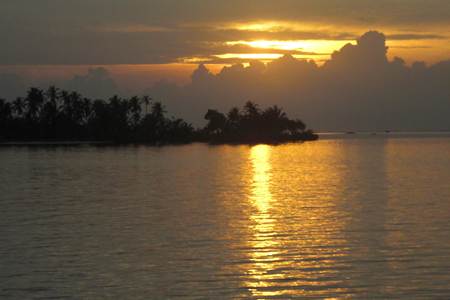 Sunset over the Holandes Cays
Crystal clear water – a star fish 12 feet down
On Sunday 5th May, there was enough light to con our way out of the anchorage and move further west to the Eastern Lemmon Cays, anchoring between Banedup and Nuinudup. Some of the islands here are inhabited but only to the extent of one or two huts. The locals make a living by fishing or going, sometimes by sail, to the Kuna Yala settlements on the Panamanian mainland, 7 miles away, to work on their allotments.
Gone Fishin'
Gone Sailin'
Work for Sanders Sails here
They also sell their colourful molas - embroidered panels which are sewn onto the front and back of blouses. Some of these are exquisite works of art and Carol, inevitably, ended up as the proud possessor of a few delivered to Arnamentia by one of the master mola makers, Venancio, and his boy touting their wares in a dug-out canoe.
Carol modelling a mola, Kuna style
Having spent two nights there, we upped the anchor after breakfast on Monday 7th May and motored the mile or so to anchor off Dog Island to snorkel on the wreck of a freighter driven ashore on the beach there in 1952. That was well worthwhile. The vessel had been taking on more water than could be pumped out and was slowly sinking. So, the captain decided to beach her under full power to try to save the cargo, which was transferred to small freighters. Apparently some of it made it to Colon. Mysteriously, and reminiscent of Whisky Galore, a number of casks of rum didn't. As planned, we were on our way a couple of hours later under engine (still no wind) to do the very few miles to Porvenir – the only place in the San Blas Islands where it is possible to check in. Incidentally, since that is the case, and since Porvenir is well west in the islands, and since most sailors are going westwards, it means that it is inconvenient to check in until you've almost done with the San Blas islands. But, they all understand that and nobody could care less.
Checking in was interesting. Porvenir has no inhabitants apart from what appear to be soldiers (difficult to tell here since the coast guard seem to wear army style camouflage uniforms – which must be very effective at sea). There is an aircraft runway (being repaired or widened or whatever when we arrived there), a café and the offices of the port captain and the immigration authorities. By the time we got there – an hour or so after having left Dog Island – so, around 1400 on Monday 7th, the port captain had done his day's work and gone home. However, the immigration officer was hard at it, playing cards at a table under a tree with the equally stressed-out military look-alikes who co-habit during the day with him. He suggested that Jon come back at 1000 the next day to see the port captain but was prepared to interrupt his busy schedule to complete the immigration bit straightaway. Carol had established that the entry fee into Panama (of which the San Blas Islands are a part) was US $30 a head. Jon was, therefore, pleasantly surprised to be told that the total for both of us was $50. He paid the money, got both the passports stamped and was given a receipt. Of course, a carbon copy of this remained in the receipt book. It was only after getting back to the boat that the suspicious Mrs D inspected the receipt to note that it was made out for only $30, received from one Jonathan Dutton. It's not a problem – we've got the stamps we need and we need nothing else. But, it's interesting nonetheless. The visit to the port captain the next morning went without a hitch and there didn't appear to be any jiggery-pokery. He could not have been more accommodating or entertaining and Jon left with an armful of signed, stamped (with considerable rigour and force one has to say) paperwork. It was interesting to note his female assistant sitting in a sort of cross-legged yoga position on her chair at her computer with her arms held about shoulder height. That was because her desk was actually a metal filing cabinet with no space at all for her legs underneath it and her chair bore no relation to anything that most of us would recognise as being a bit of office furniture. Needless to say, the port captain's chair was a veritable throne in comparison (all sorts of deeply confusing up/down/rake/tilt features) and his desk – well, it was a desk.
Whilst anchored at Porvenir we took the opportunity to dinghy across to the islands of Wichubhuala and Nalunega (respectively about half a mile and a mile away). It was the first time that we'd seen the Kuna 'at home'. The Kuna Indians have preserved their culture to an extraordinary degree. They don't really recognise 'San Blas' as the proper name for their islands –'Kuna Yala', please. Nobody owns land. Until very recently the currency was coconuts. So, don't go picking up coconuts – that's a serious offence. The Kuna are all small in stature (apparently only the pygmies are smaller) and live in huts constructed of thin bamboo walls (made up of a single layer of 1" or so thick bamboo poles lashed onto a bamboo frame) and palm leaf roofs. By and large such family huts comprise a single room equipped with the requisite number of hammocks. There is, generally, no electricity or running water to the huts.
Nalunega Island – it's a bit of a squeeze ……
…… but somehow they all fit in – particularly at rush hour
A walk in the park
Villages typically have 3 chiefs and a large communal hut (Congresso). Not only is this the place to hang out but it is where the villagers come to air their grievances and views. At such meetings they all sit on hard wooden benches whilst the chiefs preside swinging in hammocks, attended by interpreters (Argars) who translate the ethereal wisdom of the chiefs to the hoi polloi and apply it to the situation in hand.
Congresso Hut - Nalunega
There is another large hut – the Chicha hut. Chicha is, apparently, an alcoholic drink brewed from sugar cane and is used a few times a year. If you want to live in the San Blas Islands it's all very simple – you have to be a pure bred Kuna Indian. If you wish to marry outside the race it's also very simple – you go away. When you marry another Kuna, as a man you move to your wife's village. If you irritate the chief or are found to have offended against the code you will be fined or otherwise penalised by him. If you become sick, the appropriate shaman will attend you to deal with the offending evil spirit and/or administer some secret herbal remedy. Regrettably, there is much more to know about these fascinating people than the pair of us now has time to learn. On the matter of punishments, Eric Bauhaus (more of whom later), reports that a favourite is to task the offender with the collection of coral rubble from the sea bed for landfill – an important civic activity since many huts are only a few centimetres above sea level. One luckless chap was tasked with collecting 10 barrels of the stuff for hitting his wife. When he complained to the Congresso that, in fact, she'd provoked him, the chief saw the point and employing the wisdom of Solomon, ordered her to collect 10 barrels of the stuff as well. There's justice for you!
Juxtaposed with all this was the sight of dozens of primary school children attending school (one of very few concrete buildings) on their island wearing the regulation white shirt and navy blue skirt or long trousers – all immaculately turned out and less than 100 yards across the sand from their huts. Well, I never . . . In addition we encountered a concrete basketball pitch laid out on Nalunega. It seemed an unlikely sport for such a vertically challenged race. However, our self-appointed guide assured us that when the 'tall people' came to play them the Kuna could still thrash 'em!
There are even a couple of hotels on the islands. We had a quick look at one on Nalunega. The accommodation is, to put it mildly, pretty basic. Rooms consist of two beds and absolutely nothing else. Nothing. At all. The mattresses (for, there was no bedding to be seen in the one we visited) – hm. The bedrooms are separated from one another by the afore-mentioned single-skinned bamboo walls. These walls might appear dauntingly tall to a Kuna – significantly less so to others we'd say. Meanwhile, there are, of course, plenty of gaps between each bamboo pole in the wall and its neighbours. Very communal – as are the two wash basins located in the open, outside the building.
5* Accommodation with ….. …….. facilities "hors suite"
Returning to Porvenir, we checked in as described above and immediately set off towards Colon. Again, there was little or no wind. Thirty miles on we called in for the night at Green Turtle Bay – a small bay which now includes a compact marina at its root. This is not yet fully functional although the docks are in place and there were several boats secured alongside. Apparently it can accommodate draughts of up to 3m – but that's just hearsay. Whatever, it will be a useful addition to the facilities along this coast. We anchored outside, in the centre of the bay and remained there, because by the time we'd been able to recce the marina by dinghy we'd done all that was really necessary to settle for the night. The conditions were calm so all was well but the bay is completely open to the north and at this time of year the winds are still largely NE. The next morning (Wednesday 9th May) we upped anchor at 0840 and motored the rest of the way to Shelter Bay Marina in Colon Harbour, arriving at around 1330. The marina is situated on the opposite side of the harbour from Colon town and it has transformed the experience of those awaiting transit through the Panama Canal. Gone are the days of waiting anxiously at anchor and braving the perils of Colon. The marina is new, has decent length floating pontoons, water and electricity alongside, a bar/restaurant, swimming pool, WiFi, chandlery, yacht services set-up (still rather in its infancy at the time of writing but it won't be long in getting there), laundrette, gym, travel lift, poste restante, mini mart, buses to the local mall and so on. The centre of Colon still retains a fearsome reputation for muggings and crime generally. The firm advice is not to go there at all. If you have to (can't think why now), use a taxi no matter how short the distance within the town, don't wear shorts or sandals or anything else that marks you out as a tourist, don't carry a bag of any sort nor a watch, camera or any jewellery. We've yet to meet anyone in the marina who has the slightest inclination to investigate the place despite the fact that cruise ships now dock there. One supposes that their passengers are herded en masse to view the wonders of the Canal and herded back aboard again.
So, here we now wait whilst the bureaucratic wheels revolve slowly. The admeasurer was due yesterday. Then it was today. Now it's tomorrow – which is Saturday as I write – so that's unlikely to happen. And it can't be Monday because they don't do yachts on Mondays . . . . The measurement business is a total nonsense but rules is rules and it generates $54 for the Government. On a more positive note; having understood that we'd have to pay $105 each for a visa we are now told that the requirement has very recently gone away.
We ought not to leave this contribution to the blog without returning to Eric Bauhaus. This German has produced a guide called 'The Panama Cruising Guide' which is simply streets ahead of any other publication on the subject. In many ways it is streets ahead of most cruising guides of anywhere we have seen. It is lavishly illustrated with photographs but, much more importantly, he has undertaken the job that the hydrographic agencies have failed to undertake in producing extremely accurate pilotage chartlets for pretty well everywhere in the region. Our experience so far has been confined to the San Blas Islands and Green Turtle Bay but the difference his extremely detailed and accurate charting makes is really very considerable. The whole is accompanied by electronic charting which can be loaded onto a computer and linked to a GPS. It takes away much of the guesswork associated with navigating around the islands and permits you to place accurate waypoints on your normal chart plotter. The fact that your route will then, according to your normal charts or chart plotter mapping, appear to lie straight across reefs and your anchorage well up the beach of some island should not concern you unduly. Eric knows, and the offerings of the normal hydrographic agencies are, by comparison, merely vague stabs in the dark complemented by the application of a fair amount of artistic licence. The accurate charting of places not accessible by commercial shipping or warships clearly ain't a priority. The book and the accompanying electronic charting (WGS 84) are not intended to replace standard charts and charting since they are concerned mainly with the fine detail of harbours and anchorages rather than the passages between them. But, from just about wherever you need to start paying attention to the pilotage, Eric's your man. He could do something to make both the book and the electronic charting a bit more user friendly – it can be a bit awkward navigating from one chart to another at times – but, frankly, given the general clarity of what is on offer here, that is a very minor criticism.
---