Thursday 7th June - Pollywogs no more.

Arnamentia
Jon & Carol Dutton
Thu 7 Jun 2012 18:00
0:00.00S 88:03.31W
Thursday 7th June Crossing the Line
Arnamentia is now in the southern hemisphere! Her crew are Pollywogs no more as Jon and Carol have now crossed the equator at sea and can be considred as members of the court of King Neptune!
We should have had a few more photographic rehearsals as the crucial all zero display was missed by 17/50ths of a second of Latitude – the sun had come out and there was too much glare – well that's the photographer's excuse! We'll be better prepared off the Brazilian coast when going north in two years time.
Evidence that we've crossed the Equator
The little green blob under "North Pacific Ocean" is us at 0º 00.000
We have been nursing a special bottle of fizz for some while, given to Jon on his 60th by Chris Copeland with strict instructions that it not be opened until we were in the southern hemisphere. Neptune was given his share (not too much because it's a working day and he's on duty) along with the words:
Neptune, Oh God of the Sea,
We salute you!
Here is a drop to share,
So, please take care
Of Arnamentia
And her two crew here.
You can see why Carol read Maths not English Literature at University! (Cringe – Ed)
We had seen little or nothing of Able Seaman Mumm throughout the voyage. He turned out to be a thoroughly pleasant chap. Regrettably his constitution was not up to the abuse to which the tropical climes subjected it and he passed away shortly after we'd crossed the Equator. He was buried at sea with all appropriate rites and honours.
However, providence immediately provided the good ship with a replacement crew member in the shape of a red-footed booby from the Galapagos Islands. We note in the guide we have that red footed booby nests are made of twigs and other material and quickly become coated in guano. That would explain why the foredeck is looking whiter by the minute.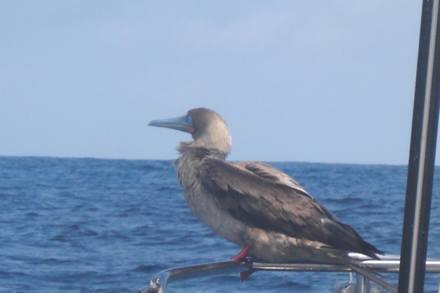 Finally, Congratulations to our ARC crew, Chris & Penny Copeland and Tim Dumas who have just collected some silverware at the RAYC Seaview Mermaid Regatta.
---