Tuesday 20th December - Au Revoir, St Lucia; Bonjour Martinique

Arnamentia
Jon & Carol Dutton
Wed 21 Dec 2011 02:40
14:28.08N 60:51.99W
Tuesday 20th December
Again, it must be said, our blogging motivation was severely diluted by non-stop party stuff in St Lucia. We have now bidden a fond farewell to those many people we met en passage, whilst hoping to bump into many of them again anon, and have moved to Martinique.
First; how did we do in the end on the ARC? You'll all be able to access the results from the www.worldcruising.com website. The gods decided that the factor to be applied to motoring this year was to be something which we reckon to be around 150%. Since we'd crossed the line one hour and 13 minutes ahead of Cochise but motored for about 58 minutes longer, the answer is that we came third in class to them by a margin of 11 minutes. We also came 10th overall (conceding 9th place to Cochise), out of 138 in the monohull cruising division. We could concern ourselves with working out the overall placings taking into account the multihulls (28 yachts), the invitation cruising division (18 ridiculously big yachts) and the racing division (23 yachts), but there is a pretty good reason why the ARC do not do so. We ain't comparing apples with apples – more like apples with nuclear submarines. The handicaps are very different in all cases as are the rules relating to motoring as far as the racing division is concerned. On the other hand, it's kinda interesting to note that Milanto – a racing division Swan 46 Mk II in essence identical in original build (but not equipment, weight etc, etc to Cochise and us) – crossed the finish line 20 hours after we did but ended up with a corrected time of some 6 hours better than either Cochise or ourselves. Different handicap, no motoring la, la, la. In the end, that result makes sense to us.
If you scroll down the results list, you will also spot Jon as the winner of the prize for the skipper over 60 who made the fastest crossing on handicap. What it doesn't say is that the prize is a massage at a spa resort in St Lucia! Those of you who know Jon, will guess quite how enthusiastic he is about such wimpish pampering. However, since the prize is for two, Mrs D may have the last say! A richly deserved prize went to the crew of party animals in Chiscos (home of John Simpson – our esteemed trumpeter – and not to be confused with arch-rivals Cochise) for the contribution to the social side of the ARC – they organised radio net controllers and pontoon parties and were instrumental in keeping the ARC radio net going for those of us who are still hanging around in the Caribbean. Towards the end of our time in St Lucia there was one party they passingly considered passing up. However, they thought better of doing such reckless damage to their reputation and went anyway. As ever, they had a great time but weren't around at Colours the next morning.
Looking back on the passage, it was exciting and quite hard work. It was our choice that it was so. Others, who finished much later, had caught more fish (we'd stopped doing so once we'd battled to get Percy down once too often and lost a good hour in doing so – we'd got Cochise to chase) and got more sleep. Many later arrivals had either not flown their spinnakers at all or taken them down at night. It's all a matter of choices. We had a pretty experienced crew capable of hand steering most of the way across the Atlantic (in tough conditions and under quite a lot of sail that makes a lot of sense) and whilst we may not have thought we'd be racing before the start gun went off, we pretty soon were afterwards. A roller coaster, helter skelter ride, flying by the seat of one's pants and keeping fingers crossed that Percy's spinnaker gear would hold out are some of the memories. We were constantly looking for squalls, though their track was often difficult to predict, particularly at night. But, once one had staggered up on deck after what often seemed to be only minutes of sleep, night watches did have some attractions – the stars on clear nights were fantastically bright, it was much cooler then and you couldn't see the size of the waves! The bruises sustained down below, particularly whilst working in the galley are beginning to fade; the bar in front of the cooker was just the right height for making contact with Penny's lower ribs and Carol's hips! Other particularly challenging tasks were just getting dressed and showering – a third hand would have been very useful.
You just can't get the staff! Flying fish grounded
Chris and Tim bore the brunt of the steering and made an excellent job of doing so. For them in particular the watch system was demanding – four hours on, four hours off rarely delivered anything like the promised four hours off. The provisioning worked extremely well (apart from the tonic of course!) and Penny made an outstanding contribution to ensuring that excellent food came up from the galley as required. Despite the pitching and rolling, there was freshly prepared food for every meal – sweet and sour pork, chicken curry, boeuf bourguignon, veggie pasta, spag bol, herby chicken and chile con carne formed the core of the menu. Chorizo and puy lentils, quinoa and artichokes, couscous with onion and peppers, and homemade hummus made a change from ham, cheese and salad sandwiches. The star veg keeper was amazingly a cucumber – the last one was still firm when we got to St Lucia. Carrots, unexpectedly, were a disaster – most had to be ditched within a few days. Every morning a portion of fresh fruit (grapefruit, pineapple, mango, papaya, melon, banana, pears, apples) was followed by scrambled eggs made by one of the boys. The fresh bread ran out on the last day, so Carol rolled up her sleeves and made a batch of rolls was which were declared by all to be scrummy. Thank you Wright's of Lancashire for producing a brilliant all in one bread mix. There are about a dozen packs left so that should see us across the Pacific. So, a very healthy diet compared with the staple racing equivalent of freeze dried food and pot noodles enjoyed in the luxurious seating accommodation to be found on the windward rail of most racing yachts!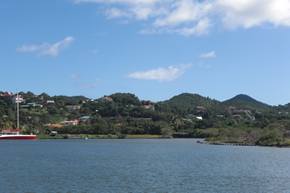 Rodney Bay
We spent our first day (7th December) in St Lucia cleaning up the boat. Sally Dumas flew out to join us that afternoon. As planned, she and Tim decamped to a local hotel whilst Chris and Penny followed suit (to another hotel) the following evening. On the evening of the 7th – only 70 boats out of the total 220 or so had finished – the St Lucia Tourist Board threw a magnificent welcoming party in a local hotel. Amongst the highlights of this was a quite outstanding steel band. Their repertoire extended far beyond anything any of us had heard such a band deliver previously and we kept looking around for any sign of instruments other than steel drums. There were none, of course. But, the sound was so complex, rounded and precisely delivered that it seemed to us as though there had to have been. And, it was delivered with much twirlin' an' jivin' an' whoopin' an' whatever. The extravagantly dreadlocked band leader, whilst proud that his was the No 1 steel band in St Lucia, regretted that it was only the No 3 steel band in the Caribbean. But, he workin' on dat!
Tim arranged a great day out for us all which included a visit to the rain forest. It certainly ensured that we hadn't lost use of our legs whilst at sea. They've a bit to do in sorting out the damage that was caused a couple of years ago by a hurricane (about which they were warned but said something like "Hey man, don't worry about a ting" before deciding, in retrospect, that that was probably poor advice). We also had an excellent lunch at a decidedly ethnic roadside eatery. Different it was – and delicious. And, next time we'll know that one plate between three will probably do. The Copelands and Dumas flew back on the 14th and we all dined together in the marina on the previous evening – having bunked off a bit early from the main ARC welcome party held in the marina that night. Sorry; later arrivals, excellent though it was, nothing there matched up to the incredible steel band you might have heard if you hadn't hung around so long in the oggin. Moving swiftly on . . .
Dat win' jus' blew away dem trees View west from the rain forest
We're on a much longer timescale than the rest of our ARC crew so, once they had decamped to hotels various, we concentrated on putting right the niggles that had developed on passage and cementing relationships with those whose plans are most similar to ours. Bands played in the marina every night which made for a continuous party atmosphere. Anyway, in the Caribbean, no matter what you are doing you do it to the sound of very, very loud music. Nearly every time we walked along the Boardwalk, which is lined with bars, cafes and stalls resembling chattel houses, we bumped into someone we knew which meant stopping for a drink and a chat (the iced latte was a particularly good counterbalance to the rum punch) [So I am reliably informed – Ed]. Meanwhile, many of us attended the Friday night Jump Up in the local village, Gros Islet, where the main street (actually, pretty well the only street) is closed off, locals set up food stalls and bars, music issues from a variety of competing sources and locals and tourists alike dance the night away. Even several local policemen turned up for a bop.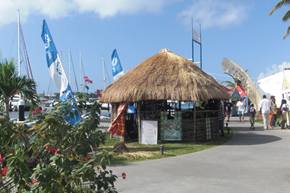 Chattel Houses on the Boardwalk One more mango and the boat will sink!
One issue that had perplexed us a little before departure was that of gas. There is about as much international agreement and cooperation in the matter of common fittings and so on for gas cylinders as there is for mobile phone chargers. Come the revolution I'm not sure which lot to line up in front of the firing squad first. So, having departed Las Palmas with one full Calor Gas cylinder and one practically empty (because nobody in Gran Canaria could refill the empty one or sell us a new propane one that fitted) we wondered how we'd go about sorting the issue out in St Lucia. Presumably we'd have to buy new cylinders and ditch the old ones. And, naturally, the new ones wouldn't fit into the gas locker properly (there aren't many other safe places to put these things on a boat). Because, why would it occur to anyone in the gas industry to reach even that degree of commonality? As I've already said; come the revolution . . .And, our Calor Gas cylinders make it quite clear that nobody else is allowed to fill them. So, how to solve the problem? Well, dear reader, if you think about it, the answer is obvious. You load your cylinders, together with 3 weeks' laundry aboard the "Suds Laundry" (fetching little strapline "You dirty it; we clean it") golf cart. You get your original clothes back clean and your original cylinders back filled. Job done. God knows what we do elsewhere in the world but I have seen some amazing pictures of people connecting different cylinders together with a bit of flexible hose and hauling the full (local) one up upside-down on a halyard to let the liquid gas drain down into the cylinder that actually fits their boat. Fag in hand, obviously. I wonder what the 'elf 'n' safety guys would say about that.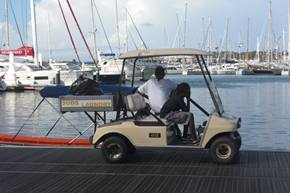 Suds Laundry – You dirty it – We clean it
We had a little work done on Percy by the local sail mender and a trivial bit of stainless steel work done by the local boat yard. I will do no more here than record that high quality workmanship and pride in the finished product seems to be hard to come by hereabouts.
We had long decided that we would leave St Lucia the day after the prize giving and head for Martinique. We wanted to get a repair to a spinnaker pole done there and dimly assumed that this would necessitate a berth on a pontoon or somesuch. So, around midday on Sunday 18th December we sailed for Le Marin on the western coast of the SE tip of Martinique. It is one of the more substantial yachting centres in the Caribbean. The weather gods were just about with us, the wind being just forward of the beam, as we set off for the 24 mile passage. There was no room for us in the marina so we anchored in the inlet – the first time that our new and very big anchor (aka the FBA) has been deployed. As long as we're in anchoring land, that's the first baby that's goin' down. It's 70lb of "Don't mess with me" galvanised steel attached to 100 metres of serious chain. It goin' nowhere – we hope.
The next morning (Monday 19th) the spinnaker pole man rang to say he was ready to take receipt of this pole which is about 20 feet long and 5" in diameter. I explained that we were not alongside and he said "D'accord; pas de problem". A few minutes later we met him in the marina, took him and his colleague out the mile or so to Arnamentia in our little Avon Redcrest rubber dinghy, took the pole aboard it and proceeded a mile in a slightly different direction threading our way through boats and up a creek to his workshop with this massive battering ram threatening the life of anyone who crossed our path. It's how it's done here.
That afternoon we were granted a berth in the marina and we took it up. Horrible marina berths which require boats to reverse in in-between other boats and avoid a single mooring buoy in the middle of the berth. OK; we made it without incident but backing this boat in a cross wind ain't quite like backing in a modern boat equipped with bow thrusters. And, to get it directionally stable in reverse, it has to be moving a little more quickly that many an onlooker might deem wise! So, in addition to everything else going on you have to manage the baseless (well, nearly) panicking of people you don't even know!
Tomorrow we're off to explore the island by car. Need toget away from the sea a bit and see some hills. Speak anon.
---