Friday 3rd August - R & R in Rangiroa and Very Good News

Arnamentia
Jon & Carol Dutton
Sun 12 Aug 2012 02:32
14:58.09S 147:38.15W
Friday 3rd August – Rangiroa
We moved as planned late morning on Tuesday 31st and navigated to the NW corner of the Apataki atoll where we dropped anchor at lunchtime and awaited slack tide before heading out of the Tehere Pass. The anchor proved something of a challenge to recover having wrapped itself around several coral heads and was sufficiently stubborn that we had to re-attach the snubbing line to isolate the windlass and drive it out pretty determinedly. However, after one or two anxious moments we were on our way at around 1520. The 80 NM to Rangiroa passed slowly under engine. Such wind as there was came quite unreasonably from the west. That's just a cool 180⁰ out from where it's supposed to blow from and the fault lay with some weather systems well south of here. We motored through the Avatoru Pass in Rangiroa at around 0900 on Tuesday 1st August. We'd just about got the slack water sums right although we still had around 2 knots of tide flooding in. The pilotage here looks a bit scary since you need to get pretty close to some quite big lumps of coral and then over a coral bar with 4m over it - provided you approach it at just the right point. But, we got in safely and anchored off the Kia Ora Hotel where James and Mira were staying.
Not long after we'd settled down and sorted out the boat, James and Mira swam out to Arnamentia bringing a bottle of champagne. Mira was delighted to be able to show off her magnificent engagement ring. James had proposed the previous evening and Mira had accepted. This, it has to be said, was something of a relief for the rest of us. Crew atmospherics might otherwise have been pretty interesting.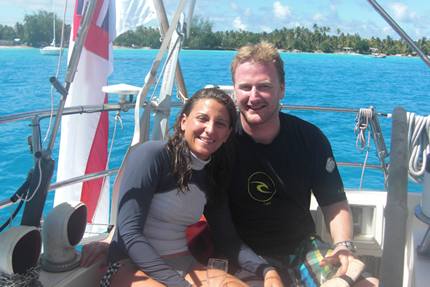 The Happy Couple
The Ring
We lunched ashore in the Kia Ora hotel – it features in most yachties' blogs and one can see why with extremely relaxed, cool and airy surroundings and the opportunity to sit in comfy chairs for the first time for months!
Kia Ora Hotel
We dined extremely well at the Lagoon Grill just up the road from it; the beef is imported from New Zealand (only just over 2000 miles away as the crow flies!) and tasted very good. In-between times James took in a massage in the hotel's massage parlour (health spa, actually – Dep. Ed.) – what is it with these Coldstream guardsmen? Carol, James and Mira (hereinafter to be known as the divers to distinguish them from the disabled skipper whose ears will allow him no such pleasures) went diving the next morning. There are so many wonderful pictures of the various diving expeditions undertaken by the divers that we've decided to produce a separate report crafted by our special diving correspondent – James.
At around noon on Thursday James and Mira left behind the dubious pleasures of their Kia Ora Hotel suite for the lavish accommodation to be found aboard Arnamentia. Obviously the dinghy nearly sank under the load of luggage they'd brought. To be entirely fair most of that proved pretty useful because it was camera equipment, diving equipment and worthwhile stuff like iPads. Not a single dinner jacket or ball gown in evidence.
On Friday 3rd August at around 1030 we upped the anchor and headed for the Tiputa Pass out of the lagoon to begin the 200NM passage to Tahiti and the first island we'll visit in the Society Islands group. The currents in the Tiputa Pass are reputedly pretty fierce and we'd taken a bit of care to work out when slack ought to have been. Low water was supposed to be at 1000 and slack water about half an hour later. The dive boats had been heading out to conduct drift dives in the pass for a good hour – these are almost always done on an incoming tide. Nonetheless when we got to the pass the current in the centre of it was still going out at around 4 knots and there was quite a chop at the seaward entrance to it. So, really, this slack water calculation business still remains something of a mystery. However, the conditions were nothing to worry about in Arnamentia and we had great entertainment watching the dolphins playing in the choppy waves off the entrance as we shot out to sea and headed SSW for Tahiti
---