Monday 20th August - Bora Bora

Arnamentia
Jon & Carol Dutton
Tue 21 Aug 2012 09:08
16:29.35S 151:45.60W
Monday 20th August – Bora Bora
Almost the entire journey from Raiatea to Bora Bora on Tuesday 14th August was done under engine – what little wind there was came from the wrong direction.
Mira having a hard time on the helm
Very blue Bora Bora
We picked up a mooring at the Bora Bora Yacht Club (BBYC) at around 1615. This is not, in fact, a yacht club of any description; rather it is a bar/restaurant with a fair number of moorings laid off it. Nonetheless, the French staff are extremely helpful and will fix your laundry, bike/car hire, contact local experts or whatever it is you need. The food is French, very good and – by Bora Bora standards – reasonably priced.
The divers were off again the next morning; they were hoping to see manta rays but none were around at the two dive sites. Instead they were rewarded, first, with several gullies and overhangs where moray eels hang out surrounded by a myriad colourful fish. The second site was peppered with coral heads looking like mushrooms and Christmas trees covered in snow. It was one of the few places in French Polynesia where they had seen any colourful coral.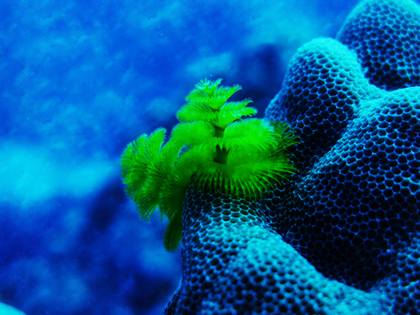 It's difficult enough identifying fish. Coral is even harder so, sorry, no titles on James' excellent photos.
We had a couple of options on Thursday given that James and Mira needed to be in the island's Capital, Vaitape, by around 1630 to catch the ferry to the airport. We elected to hire push bikes from the BBYC and cycle around the island in the morning. Cycle hire is not a particularly cheap option unless you compare it with car hire ($150US or so a day or an enticing $100 for 2 hours – generously including petrol). Bikes on Bora Bora come at $20 US each for half a day or $30 for a full day. Ours were the de-luxe version (no cheap-jack versions left) that included gears and so came at $25 each for half a day. In the event we were grateful for the gears on one or two stretches of road. Anyway, off we set that morning to cover the 20 miles that constitute the entire length of the coastal road around the island. We took snorkels, masks, fins, swimming costumes and towels with us, intending to swim out to greet manta rays halfway round. However, having got to the appointed spot we found that execution of that plan was going to be quite a bit more of a challenge than we'd anticipated – involving a very lengthy swim with no guarantee of success – so we sacked that idea and just carried the extra weight to improve the aerobic value of the cycling.
Having passed Bloody Mary's restaurant about 4 miles after having started out from the BBYC we toyed with the idea of lunching there once we'd returned to the BBYC. That idea was binned in favour of lunch at BBYC for a number of reasons. First, the return taxi ride to Bloody Mary's from BBYC was going to be about $30 each way – for 4 miles. There is a shuttle bus that goes from Vaitape for $5 per person each way (so, in fact, virtually no saving for four of us) but Vaitape was a quarter of the way there, we had to get there to begin the journey and we had to get to Bloody Mary's quickly and back on time. Shuttle bus schedule? Hm. Second; the prices at Bloody Mary's are just a touch steep. Actually, a bit more than a touch. Third; the management at the American-owned Bloody Mary's considers it tasteful to display on two enormous hand-painted boards outside the restaurant the names of all the famous guests who have eaten there. These include those of many great and good, captains of industry (including, inevitably, Bill Gates), rock stars, film stars and such net contributors to the health, wealth, wisdom, welfare, knowledge and culture of the world as Paris Hilton. It is not entirely clear what message those whose visit is unlikely to trouble the sign writer are supposed to infer from this display. Perhaps it is that such hoi polloi should consider themselves privileged to park their bums where other posteriors may have, however briefly, once rested. A brief look around the restaurant as we passed that morning had established the fact that, unaccountably, the management had failed to attach to each chair and table a blue plaque or similar to aid the instantaneous acquisition of self-esteem which must necessarily result from such an achievement.
That afternoon we bid goodbye to James and Mira at the ferry port in Vaitape having been lifted into town (and then back) by the ever-helpful manager of the BBYC. On the way we acquired a new digital camera (and wouldn't have done so at Bora Bora prices had not our own completely given up the ghost). We were very sad to see James and Mira leave. They have been lively, highly contributive crew members and great fun to have aboard. In addition, Carol has learned a great deal about diving techniques from James that would otherwise have taken her much longer to learn. Back they go to the impoverished and frozen wastes of Dubai with all our best wishes for the future.
We all found it a bit difficult to 'get' Bora Bora. It's naturally beautiful, of course. But, we thought, less so than a number of other places – outstandingly Moorea – that we have visited. There is good diving, snorkelling, fishing, jet-skiing and the lagoon is very attractive. So, what's new? Moreover, if the Capital of Raiatea, Utoroa, lacks charm, Vaitape is even less endowed.
This is, of course, the island upon which the US established a naval base in WWII to fight the war in the Pacific against Japan. They built the first airport in Polynesia here as a result. As 'South Pacific' illustrated, being based here was a tough assignment but someone had to do it. My pa certainly wouldn't have traded the luxuries of being an officer in a screw gun battery in Burma ("Smokin' me pipe on the mountings" and all that) for any such rigours.
Inspiring Vaitape
It seems that little of the very large sums of money flowing into the various luxury hotels in the lagoon (prices start at somewhere between $1,000 US and $1,500 US a night apparently – but that's where they start) makes its way into the general infrastructure/economy. For instance, with only about 20 miles of road to maintain one might have thought it not impossible to maintain that pretty well or build at least some buildings outside the confines of the hotels with some semblance of architectural or cultural merit. Most visitors to Bora Bora seem to remain within the confines of their hotels with occasional organised forays out to take part in one activity or another. Rather too many of the shop assistants deserve a special mention for a pretty general surliness that has not been apparent further east. No idea why; perhaps they see too little direct benefit from the tourist trade, perhaps it's just a national characteristic. Who knows?
Notwithstanding all that, we've dallied for a few days here. Plans are a bit affected by some very light winds and the realisation that the South Cook islands will probably have to come off the agenda. Of those lying en-route for Tonga from here, only Rarotonga makes much sense for a boat of Arnamentia's size and draught. We understand that yachts are currently being denied access to the only harbour – on the north coast of the island – whilst construction work is carried out. Anchoring outside the harbour is a very poor option indeed and is apparently rougher than being at sea as a result of the swell. So, Tonga next then.
Meanwhile, Carol used up the last two dives of her French Polynesia 10 dive package. She was taken to the east side of the island, within the lagoon (where we had hoped to go snorkelling) and came back buzzing. The dive master said that manta rays did frequent the area though there were no guarantees of sightings. However, within a few minutes of descending to 20m, a couple were spotted at a distance of about 12 feet, then a few more and then even more. However, the grand finale was a pair approaching Carol and the dive master and dividing either side of them at a distance of only a couple of feet. A real "Wow" moment. Apologies – James and Mira – I know how much you wanted to see them. Apologies also for the lack of underwater photos – now you know what is on Carol's Christmas list! They are the most majestic and graceful of underwater creatures, albeit looking so alien with their twin lobes protruding like huge sausages from the front of their heads, an enormous mouth and very long tail. Although they are the largest of the rays to be found living around the reefs - at about 12 foot wide - they have no teeth or sting and are harmless. The ocean manta ray can reach widths of 24 feet or more – that really would be something to see!
---