Sunday 21st October - Fleas, Fakaleiti, Feasts (not) and then Fiji

Arnamentia
Jon & Carol Dutton
Sun 21 Oct 2012 09:59
16:46.67S 179:19.84E
Sunday 21st October – Fleas, Fakaleiti, Feasts (not) and then Fiji
It was very easy to dally in Vava'u, it is such a delightful place, though initially we stayed on as the auxiliary generator started playing up again and then it poured with rain, again, for two days making the shore side with its pleasant bars and cafes more attractive. Walking around town, one gets used to seeing pigs roaming wild. Sadly, they are very camera shy and scoot off into the undergrowth as soon as you try to frame a decent shot. Some, though can clearly be tamed and taken for a walk and safely let off the leash.
And now for something a little different. The Baby Grand Theatre was presenting Augustine's Spectacular Circus and we went along expecting the unexpected – we weren't disappointed. Billy, who comes from a circus family near Bristol, operated a one man show in the smallest theatre imaginable – packed out it could seat 12 sitting on crude foam benches in a building which would have given most Elf 'n' Safety inspectors nightmares. Fortunately this was one of the roles Billy played – complete with safety helmet – and he seemed satisfied that all was well. In such a small space the only possible circus had to feature fleas. It was hilarious. Billy's cast comprised the beautiful Fifi in a purple sequin encrusted gown, Hercules – a strapping, muscular flea with a bit of a 'thing' about Fifi and young Jimmy. They performed feats of great daring and brilliance on the flying trapeze and the faithless Fifi broke both their hearts in the dressing room – a matchbox. Unluckily for Jimmy this resulted in an unfortunate accident – and his untimely demise - when it came to his being fired from a cannon and one cannot but suspect that Hercules had something to do with this. Of course, when they all escaped a hair inspection ensued with Jon the unlucky victim due to his position hard left in the front row. Throughout the performance the fleas were obviously a bit difficult to see but fortunately Billy was able to describe them vividly and it was obvious what they were doing from the swinging of the various trapezes, swings and so on. We gather that a few nights earlier one of the audience busily took photographs of the performance in the hope of being able to make out the finer details of the performers once she'd downloaded them to her computer and blown them up a bit. It is much to be hoped that she and her American family are impressed with the results.
Out next cultural experience was very definitely different again. Tonga Bob's, a ramshackle bar, puts on Fakaleiti shows every week. Fakaleitis, literally "false ladies", were originally boys and young men who grew up in families where there were no girls and one or two were assigned to doing cooking and household chores. So that they wouldn't forget their new position in life, they were dressed as girls. In a distinctly warrior nation this practice had the advantage that should all the men folk in a family be killed in battle, there were a few spare back home who could be stripped of their dresses and continue the male family line. You see these men walking around town just like anyone else and it's an accepted part of the culture here. Tonga Bob's show has come along way since the original concept with extravagant drag outfits and outrageously raunchy performances – it was great fun.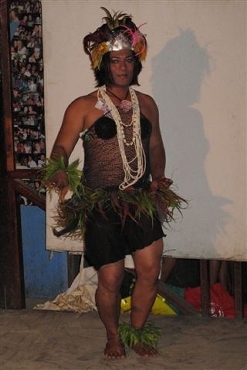 A Fakaleiti in all his/her finery
The traditional Tongan dress incorporates very distinctive waist mats called ta'ovala which are worn, by men, over a plain long wraparound skirt. Wearing one is about equivalent to wearing a jacket and tie – so they are frequently in evidence. It is unthinkable to be engaged in any formal occasion without one. The ornateness may indicate the standing of the wearer in local society and different designs are worn to church, festivals and celebrations. Women also frequently wear them or the kieke (a waistband from which hang strands of woven fibre or cloth). Carol always asks people if they mind having their photograph taken and she felt rather bad when the smiling lady below told her that her she was wearing one as her mother had died, though this was some time ago and she was happy to chat and have her photograph taken.
Even school uniforms incorporate ta'ovalas
One the cruisers daily net we heard that The Balcony - a somewhat smarter bar – was holding a wee games evening featuring bowls, tennis and cricket. We pitched up imagining something along the lines of bar billiards and shove halfpenny only to discover a large TV screen and a couple of Wii controllers! The postures adopted in ten pin bowling always make one feel a bit ridiculous but it's even worse when there is no alley – but after couple of mojitos the virtual pins were falling very satisfactorily.
When the rain stopped and the aux genny appeared to be behaving itself – loose fuses and a dislike of being asked to perform immediately after the main engine has been turned off would appear to be the problem - we ventured out of Neiafu harbour again. The numerous islands and intricate shapes mean that there is always a peaceful anchorage somewhere whatever the wind's direction. As the chart below shows:
The Vava'u island group covers an area about 20 by 15 miles so no night sailing is involved and indeed one would be foolish to attempt it.
Arnamentia with an anchorage all to herself off Tapana island
Nulu – another beautiful anchorage and snorkelling site
We had a very pleasant time island hopping and snorkelling in several places, though we didn't spend too much time at famed Coral Gardens site as the wind got up and the waves were crashing all around us. However, it was a stunning sight – coral of every colour and shape on a reef that dropped pretty well vertically to enormous depths.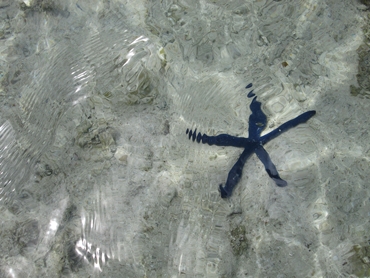 Starfish on the reef as we walked the dinghy across
We called in at the delightfully named and quaint Ark Gallery and managed to restrict ourselves to buying just a couple of post cards – we have no space for any more art either on board Arnamentia or back in the UK.
Our final adventure was a swim in to Swallow's Cave. We took it in turns to visit the cave whilst the other stayed on board keeping Arnamentia stooging very close by but out of danger. It's impossible to anchor off the cave - the walls of the island fall vertically to around 60m. The water inside the cave must have been a good 60 feet deep once you'd crossed a bar at the entrance and as there was no swell inside it was like looking into a giant fish tank.
The entrance to Swallows Cave
Inside Swallows Cave
Very sadly, we bade farewell to Tonga on Tuesday 16th October. We'll have to go back as there were quite a few things we didn't do – partake in a traditional Tongan feast, visit Mariners Cave which is accessible only underwater but is a living physics lesson. The swell results in rapid changes in the air pressure inside the cave. In turn that results in the cave becoming fog bound and then clear in synch with those changes. We made a conscious decision not to visit the other island groups (Vava'u has more than enough to keep one entertained for much longer than we had) so, amongst other things we missed out on seeing the Tongan equivalent of Stonehenge and visiting the capital on the main island in the archipelago.
The weather forecast of steady Force 4 winds from the east, little swell and very little rain proved to be spot on and we had an excellent passage taking just under two and a half days for the 400 mile passage to Savusavu Bay on the island of Vanua Levu at the northern end of the Fijian archipelago. The conditions were just right for getting Percy the Parasailor out of his pyjamas. With only two of us on board we thought we'd see how he behaved without a pole, but it soon became evident that he's a lot more stable and efficient with one. Both hoisting and dowsing were managed without any major hitches and he undoubtedly helped in making the trip comfortable and quick. In fact, having deliberately timed our departure for the afternoon of Tuesday, with the aim of arriving after sunrise on Friday, we were going too fast. But it's difficult explaining this to Percy (strong in t'arm but thick in t'ead) and it was clear that we would be approaching Nakama Creek in Savusavu bay in not long after midnight on Friday morning. It was a very dark night and there are virtually no lights on any of the headlands, reefs or whatever. But, we'd gathered that night approaches were pretty straightforward into the main ports in Fiji and radar confirmed that our digital charting seemed to put all the bits of land in the right place. So, in we went. We'd already spoken to Copra Shed Marina and booked a mooring in the narrow creek off the main bay. We were relieved to hear that they would send someone out in a dinghy to lead us in and help us moor at whatever time we arrived. We were quite grateful for this as there turned out to be no lights marking the entrance to the creek and slinging the hook in the bay is something of a challenge given the 60m+ depths. Anyway, stooging around unguided in an unfamiliar unlit creek in close company with coral, looking for a spare mooring at the dead of night is not something to be undertaken lightly. So, thank you very much Bill for turning out at 1 o'clock in the morning – we owe you a beer!
PS We've now crossed the 180 degree line of longitude so it's the first time that Eastings have appeared in our deck log since we sailed Arnamentia back from the Netherlands after buying her in 2006
---