24th November - 600NM Down the Track

Arnamentia
Jon & Carol Dutton
Thu 24 Nov 2011 10:03
22:48.79N 24:56.10W
Thursday 24th November 600 NM out of Las Palmas en route for St Lucia
It's been a little while since we blogged. There was something of a hiatus in Las Palmas while we made final preparations and waited for the Atlantic crossing crew to arrive. By the time that Chris and Penny Copeland and Tim Dumas had arrived on Monday 14th November we were pretty partied out but there were a few more parties to come yet. We very much enjoyed our time in Las Palmas. Inevitably there were boaty things to get sorted out and Carol was pretty much absorbed with trying to solve the provisioning puzzle. And, that really is quite a puzzle. First; exactly how long will the crossing take? Around three weeks is about average but an average is only an average. How much in reserve? How much fresh meat, fruit and veg can you take and hope to preserve in the Tropics? And, where on earth is it going to get stored on board? Looking around our pontoon in the days before we departed it was clear that everyone had very different views about quite what the answer was with regard to sheer quantity. It seems likely that vegetarian fish – particularly those with a penchant for soft fresh fruit – would do well to hang about SW of the Canaries for a few days each year following the start of the ARC. In the end decisions on quantities were governed by a draft menu which aimed for a good mix of dishes and available stowage space. Meat was delivered frozen from a favoured stall in the market. Fruit and veg were procured from a small greengrocer who was a great help in advising what would keep best and his van driver, Pepe, delivered everything to the boat for us. All the dry goods were bought at Carrefour which must have one of the best views in the world, overlooking the Atlantic and framed by palm trees.
The harbour dressed overall The inevitable dinghy race in fancy dress
Carol and Penny washing fruit on the pontoon. No stowaway bugs thanks.
Las Palmas itself is not a tourist resort but has a bustling workaday atmosphere which grew on one; although the one way system remains a puzzle. It was a shame that we didn't find time to explore Gran Canaria. Carol did have a day out helping to plant native saplings at the ARC forest. It was great to be up in the mountains and getting hands dirty (Well, now, if it's dirty hands you're after, let me introduce you to the inner workings of Mr Perkins – Ed).
From little acorns . . . . She calls a spade a um . . . .
The social side of the ARC is pretty full on. The marina at Las Palmas is packed with yachts preparing to go and everyone is in party mood. We met some wonderful people whom we will meet again in St Lucia. Our white ensign created some diversions for our pontoon as we were berthed opposite a Warrior 40 skippered by a most amusing guy, John Simpson, who amongst other things is a very accomplished musician. At sunset every day our ensign came down. Of course, almost nobody else's did. No matter how discretely we might have attempted removal (because we weren't trying to make an issue of it), a rendition of the Last Post on John's trumpet was often on the cards. So, on Armistice Day, we gave it the full works at sunset. An impromptu and contemplative little gathering formed up at Arnamentia's stern as the ensign was slowly lowered to the strains of John's trumpet.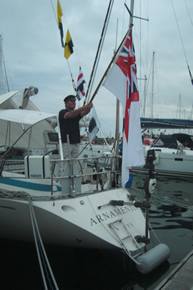 Sunset on Armistice Day
There were one or two admin hoops to be gone through. These included a compulsory safety equipment inspection. In addition we took advantage of the plethora of mainly UK-based expertise on hand to support the ARC to have the rigging checked ("a thing of beauty" is how Jerry the Rigger described Arnamentia's mast and standing rigging), sort out how to get weather forecasts and maps down over the radio and the satellite communications and confirm what we knew about Percy the Parasailor. More of him anon. Once Chris, Penny and Tim had arrived we switched into high gear to get all the final preparations done, shopping completed and everything stowed in addition to attending a large number of briefings and seminars. Chris did a magnificent job of diving with his sub aqua gear to clean the bottom of the hull, the propeller and the waterline.
What a lovely bottom she's got!
Shortly before departure day we were met in the marina by John and Lyn White from the Ocean Cruising Club. Coincidentally, John had been appointed our OCC mentor earlier this year. This newly instituted initiative aims to link those about to undertake extended cruising with members who have already done so. Since John and Lyn had cruised for 10 years some years ago and, like us were Lymington-based, this proved invaluable and we are very grateful indeed for all they have done to help us. Anyway they were there to host an OCC party on the last evening before departure and asked us to assist – as well as presenting us with a burgee (which we promise not to fly until we've completed the required 1000NM unbroken passage – watch this space; it won't be long now).
The morning of Sunday 20th arrived and we fired up the preparation turbo in order to be able to slip our berth shortly after 1100 in good time to recce the start area prior to the start at 1300. As one of the first away from our pontoon we were treated to a rendition of "God Save the Queen" by John and his trumpet. So, no silent sneaking away to tune up whilst pretending that you were taking the ARC non-race (ho, ho) ever so casually!
Just about to slip away to the start line
The weather at the start was all one could wish for; sunny with a decent Force 5 blowing from the north to speed us on our way south. The really important things about starting the ARC are not to cross the start line early (you incur a minimum 3 hour penalty) and not to hit or get hit by anyone else. We managed to do all that and got a pretty good start by any standards.
The ARC gets going
The next thing that matters is not to get caught out by the acceleration zone around the eastern side of Gran Canaria. That starts a few miles down the coast from the start. In that zone the normal wind is accelerated by 10 or 15 knots more than the stuff you started in. Ten or fifteen knots on top of a Force 5 and accompanied by swell is pretty challenging stuff to be flying spinnakers in – particularly if the result is that you shred it and have another almost 3,000 NM to sail without it. So, like most, we chose not to hoist our spinnaker until well clear and we knew that there were no horrors awaiting us – that wasn't until about 0300 the next morning (Monday). It wasn't ideal hoisting it for the first time (for this crew at least) in the middle of the night, partly because ours is a slightly unusual beast. He is a Parasailor and his name is Percy. He should not be confused with Chris Copeland who is a sailor Para. You have met Percy previously although you would not have known that that was his name. Neither did we. We hadn't really been introduced properly then. All we knew then was that he caused mayhem by wrapping himself around the forestay and, whilst we were trying to get him down, negligently permitting one of his sheets to wrap itself around the prop – all this on the way to Bayonna (Blog entry for 19th September). As a result, Jon had had to administer some pretty drastic field surgery and this had been followed by admission to a Spanish spinnaker hospital. Anyway, this time he went up without much trouble and since we've got to understand him a lot better over the last couple of days, we now know him to be a very good guy who is a great deal more forgiving and flexible than his more traditionally constructed brethren. Here are a couple of pictures of him in action.
Percy smiling for the camera And just to get him into perspective
So, what of progress so far? It is now 0900 on Thursday 24th November and we have made a little over 600 NM since we started. Almost all of that has been dead downwind with Percy producing the horsepower. The 24 hours from 1600 Tuesday to 1600 yesterday were particularly productive as we tore downhill in a typical Atlantic 3 metre swell in Force 5 winds with frequent Force 6 squalls lasting for up a quarter of an hour. This is not easy to do and certainly not at night – particularly with practically no moon. It was made doable because Percy is remarkably stable and resistant to the sort of overloading problems that conventional spinnakers suffer from. The result was a very creditable 190 NM run in those 24 hours. It would have been more than that had we not been delayed somewhat by hooking into a pretty decent Mahi Mahi at about 1700 on Tuesday whilst being pulled along by Percy at around 7 knots. Now, I've said that Percy is a good guy but he is pretty single-minded. Once he's got the bit between his teeth it can be difficult to stop him. So, we had to get him down and sit on him in a hurry. And he's a big boy. And there was plenty of breeze and an unhelpful swell. By the time we'd done that, our Mahi Mahi had remembered some other pressing appointment he had and pushed off. We thought that a bit rude and inconsiderate.
But, if we've made a little over 600 NM so far that means we have close to 2,500 NM to go. Plenty of room for fun and games there. Chafe is a major issue and it hasn't taken us very long to realize that. Arnamentia's guard wires (which help to stop people falling overboard) are now lagged in old rags and gaffer tape in an attempt to reduce the chafing of various spinnaker lines on them. Chafe also caused an almost brand new 16mm diameter spinnaker guy (rope) to part yesterday afternoon. The result can be seen in the photo below. We're not sure whether to regard the result as something that we ought to submit to Tate Modern or take it to market as the absolutely essential yachtsman's shaving brush. At this rate we might well have enough to stock a market stall in St Lucia by the time we arrive.
Well, it Used to be a Rope
Amongst a number of other major considerations is the route to St Lucia. The shortest route is a great circle route and you'd be excused for thinking that, since that is a straight line, it is obviously the way to go. Sometimes it turns out to be so. But, not often. The classic route takes a hitch south to somewhere a few hundred miles NW of the Cape Verde islands to pick up the NE trade winds. It adds a couple of hundred miles to the journey but is often quicker and easier. But, so much depends on the weather and all the skippers have been obsessed with this and how to get up-to-date information, once they have sailed, for about a fortnight. Most of us have decided to take the "Go south until the butter melts" route. But the precise point at which you turn and head for St Lucia is a matter for nice judgement based on your view of what the weather will be doing many hundreds of miles and up to a fortnight away. Getting that substantially wrong will cost you plenty of time. But, then, who cares? The ARC isn't a race after all. Well, it isn't and then of course, it sort of is. We've all been given handicap ratings which, like most yacht racing handicaps, amount to an individually allocated time correction factor (TCF) by which the actual (or, "elapsed") time it takes you to complete the event is multiplied to create a corrected time. Within the ARC fleet that TCF is anywhere between 0.830 and 1.358. Our rating is 1.010. The aim is to try to let boats with very different characteristics and compete on a sensible basis. No such system can take account of everything. It is a fact that all ARC boats are significantly overloaded, way beyond their designers' dreams, with stores and that has a bigger effect on lighter boats than heavier ones. Arnamentia is a sort of middle heavyweight. So, that sort of favours her. On the other hand, unlike most, she is tooled up for Pacific anchorages and all that caper. So, she's got some seriously heavy kit aboard. Arnamentia's rating is about two thirds the way down the list of boats entered – so most of the fleet is theoretically faster than she is. Given that and given what we know about the fleet disposition, at the moment we feel as though we're doing fairly well. But, first, these are very early days and second, it is much more difficult for us to judge that than it is for anyone sitting at home with internet access to the ARC website at www.worldcruising.com/arc. The Fleet Viewer button on the upper right hand side of the screen reveals all.
Right, well I think we've just about caught up now. This morning we crossed the Tropic of Cancer on our way south – so we're now formally in the Tropics. We'll blog anon shortly when we get the chance. Meanwhile all the best to all and please wish us luck.
---