Wednesday 6th November 2013 - Inside the Great Astrolabe Reef

Arnamentia
Jon & Carol Dutton
Sat 23 Nov 2013 22:46
18:45.50S 178:31.09E
Wednesday 6th November 2013 – Inside the Great Astrolabe Reef
We dallied in Vuda for far longer than we had originally intended. Our plan before heading back to New Zealand was to see a little more of the Fiji Islands and we had rather set our sights on exploring the island group centred around Kadavu which is situated inside the Great Astrolabe Reef. However, the forecast was for some quite unpleasant weather – 50 knot winds looked as though they were approaching Fiji and we decided to stay put in the marina until that local difficulty had resolved itself. Whilst such strong winds didn't materialise it was overcast for a considerable time – not conducive to a stress-free passage through reefs and around coral bommies.
We eventually made our escape on late on Wednesday 30th October; dropping anchor for the night in Momi Bay, just inside the main pass to the west of Viti Levu island, so that we could time our approach to Kadavu - a little over 100NM to the SE – to be in decent daylight. The winds behaved as predicted i.e. 15 – 20 knots from the SE backing to east over time. The result was we were able to sail closehauled on port tack for most of the way whilst being lifted eastwards as time went on. So, what at first looked like a dead beat for 100NM turned out to be almost a fetch but with the need for a couple of shortish tacks towards the end. Yeah, yeah, all you racing fundies; we know that in principal we ought to have tacked to starboard early on, to get to the inside of the wind bend, and taken the headers for a bit until we could lay the destination on port tack. However, there was a lot of land in the way to foil that plan. The SE swell resulted in a bit of a lumpy sea and a certain amount of that coming aboard but it was great not to be attached to land any longer. Having successfully negotiated the Herald Pass on the NW side of the reef we entered tranquil waters and anchored off the island of Dravuni by early afternoon on Friday 1st November.
We went ashore to enquire about doing sevusevu but were told that the Chief was in Suva having gone to attend the funerals of two of the islanders – curiously a brother and sister, both married with children and both in their early 50's. We were told that he would be back the next day – we just needed to keep a look out for a boat approaching from the north. The water transport workhorses around here are open fibre glass boats with a pretty meaty engine – usually around 60HP. They are quaintly referred to as 'fibres' but there can't be anything quaint about enduring a 2 hour passage from Suva in the open seas and across what is usually a pretty breezy Kandavu Passage. But, needs must. . .
Shortly after we anchored, we were approached by a young chap, Noca, in a 'fibre' asking if we had anything to fix the leak in his outboard engine block. It was spewing out the sea water designed to cool the engine. Jon said he would see if we had anything that might plug up the hole. Both epoxy steel and chemical metal were tried over the next couple of days. The results were better than nothing but a cracked engine casing is a tricky thing to fix without welding. And welding the block of a petrol driven engine in situ is fraught with one or two difficulties. However we did what we could and were relieved that Noca had managed to source a replacement block from Suva at a reasonable price and which was due to arrive by 'fibre' in about a week's time.
Jon assessing the problem surrounded by a keen audience
When we went back to do our formal sevusevu we found it a rather odd experience. We appeared to have been swept up in a memorial ceremony for the two deceased villagers but as everything was in Fijian, we had no idea what was being said. All we do know is that the chief himself didn't utter a word and was more interested in his cigarettes than the kava roots we had brought to present! A tanoa (a large ceremonial wooden bowl) of kava had already been prepared and after about half an hour, cups of the earthy tasting liquid we passed around. It's not unpleasant – it causes a slight tingling in the lips and mouth and is intoxicating in large quantities but it's never going to take the place of a good glass of chilled Sauvignon Blanc in our view.
After we were given formal permission to walk on the island and swim and snorkel off its shores we wandered around the village. Millie, the head teacher in the small primary school, called us over for a chat on the veranda of the teacher's residence. She was an avid reader but explained that the small stock of library books had been destroyed in a storm, so were delighted be able to give her 20 or so more to start off a new collection. Interestingly, her assistant teacher was a muslim Indian Fijian. He'd found it really quite difficult adapting to the life of a remote native Fijian village despite the fact that the villagers had been very welcoming. As Millie explained, it's a quite different culture – the Indians largely live in and around the towns and their approach to life reflects that whilst the native Fijians largely live in tribal villages and are governed by hereditary chiefs and elders whilst being strongly influenced by the (mainly Methodist) church. Having struggled with the issue for a bit, the assistant teacher had applied to the Education Department for a transfer to somewhere more suited to his background and culture. Incidentally, it seems a little ironic that the, now traditional, very conservative and modest clothing worn by the native Fijians (covered up shoulders, knees and all that) which is so much at odds with much Western practice, is a result of the Western influence exerted by the missionaries in the nineteenth century. They prevailed upon the populace to clean up their act in the hope of everlasting life. No more topless women for a start.
The village on Dravuni appears to be quite prosperous compared to some settlements we have come across and this is no doubt due in part to the revenue they receive from visiting cruise ships. The smaller ships can comfortably get through the northernmost pass where they anchor off and the passengers are taken ashore in tenders. There is not permanent pier so a double set of piles with removable floating pontoons deployed between them to do duty instead – it would have been good to see this floating bouncy castle in action!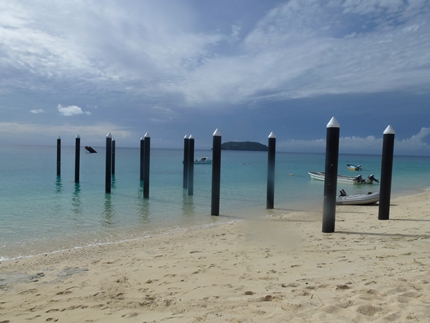 Very smart new piles …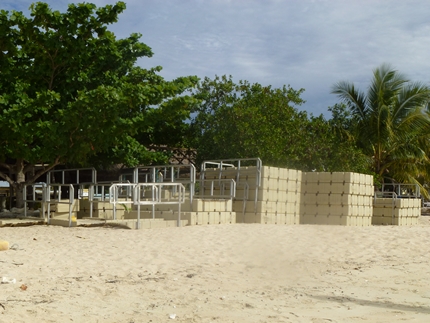 … and the pontoons to go inside them
Jon's back has been giving him "gyp" as a result of a trapped sciatic nerve – we think. He found some relief in a massage given by a lovely couple called Saiasi and Susannah – it's one of the ways they make money out of the cruise ship passengers. Whilst Jon didn't feel up to doing any serious walking, Carol did climb the along the main ridge of the island to get a good view of the eastern side of the Great Astrolabe Reef. It was given its name not because any great astronomical or navigational discovery was made here but because a boat called the Astrolabe was wrecked on the reef in the mid 1800s.
The thin blue line just below the horizon is the Great Astrolabe Reef
Looking north along the length of Dravuni
---