Saturday 24th March - Bewitching Bequia

Arnamentia
Jon & Carol Dutton
Sat 7 Apr 2012 02:40
12:00.59N 61:14.57W
24th March 2012 – Bequia
Tuesday 20th March was another day of wind from the ENE as we set out northwards for Bequia. Once we'd got Arnamentia pointing prettily, Bob got out the fishing rod. Before he'd even finished adjusting it, there was bite – a small barracuda, a couple of feet long – so that was supper sorted! A couple of hours later saw us making landfall in Admiralty Bay, Bequia. It is a favourite with "yachties" with its tree lined bay, stone walls and paths along the seafront leading to lovely restaurants and bars.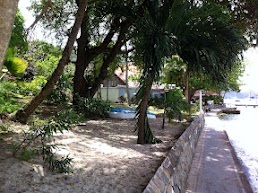 One of the diving centres, Dive Bequia, has an excellent reputation, so Carol signed up for a couple of dives with them – her first since getting her Open Water qualification. Polly (from Cowes!) was a confidence inspiring dive master/instructor who helped Carol begin to sort out her buoyancy problems – she suggested losing some weight – the lead kind not the other – and on her second dive she felt far less like a yo-yo and so used less air and could stay down longer.
Whilst Carol was enjoying the delights of the coral reefs just outside Admiralty Bay, she was completely unaware of the drama that was unfolding inside the bay. Jon and Bob had dinghied ashore for lunch and were enjoying a leisurely beer and awaiting the arrival of the food when they were approached by a Norwegian girl asking if they were from Arnamentia (Impressive detective work, that. OK, it may not be rocket science that Englishmen are apt to go for a pie and a pint at lunchtime but if you've never met them and you have a few dozen cafés to choose from. . .). They confirmed that they were only to be greeted with "Thank goodness; your anchor is dragging!" Ah, next stop Venezuela then. To the consternation of the café waitress they legged it, promising to return "in a while". Sofie explained that her husband, Alex, had boarded the yacht (they had been anchored about 50 metres from us but we'd done no more than exchange waves and smiles), was monitoring the situation and would take any action he saw fit until we returned. Whilst we'd spent two nights firmly secured, the strong winds that morning must have caused the anchor to shift in what we were to discover was a thin layer of sand covering rock hard coral. After a bit of faffing about and trying to anchor again in much the same place (Alex diving on the anchor to report progress, Sofie helping Bob on the foredeck) we gave up and headed for the more secure hard sand holding of Princess Margaret Beach a few hundred metres away. Once all had been sorted, the café waitress was mightily relieved to be able to greet the return of Jon and Bob having been told by the proprietor that any loss incurred would come out of her meagre wages! It really is true that the cruising community helps each other out and we are very grateful to Alex and Sofie for all they did. Dinner that evening was definitely on us but they drove a hard bargain by insisting that lunch the following day was to be on them.
Princess Margaret Beach, Bequia – now known as Tony Gibbons beach – who he?
An interesting aside to this tale. The first thing Sofie had to do once she'd made contact with Jon & Bob was to ferry them about half a mile round from the restaurant to where Arnamentia's dinghy had been parked at one of the dinghy docks. They got into this very dilapidated looking RIB which had a reasonable amount of water sloshing around in its bottom, bit of slime around the place – you get the picture. But, it set off, three up, going like a dingbat. OK, it had a hard bottom but how, we enquired, was it possible that this thing went so much faster than ours given that it was powered by a 6 HP outboard engine – ours by a 5HP engine? With a wry smile Sofie explained that the apparent condition of the dinghy was all artifice anyway. Moreover, the engine was actually a 9 HP engine – they'd merely turned the decal upside-down to make the whole package as unattractive to thieves as possible. They ain't stupid, these guys. And, as for being resourceful . . .
Again we bumped into Jack and Jo Brinckerhoff and they invited us for sundowners aboard their trawler style motor vessel. Oh, steady on, chaps. What is this? A walk in engine room with a work bench and absolutely everything easily accessible? The engine, the auxiliary generator, the watermaker, the fuzes, batteries, filters (all of them), the whole shebang. Aaargh! Just don't seem fair somehow! Of course, the rest of the boat was absolutely immaculate. And, the stowage! And, of course, none of that available is taken up with bulky stuff like sails and rope and blocks and all that. But, y' cain't go further than your diesel tanks will take you. So . . .
Come the morning of Saturday 24th March it was time to be gone again. This time we were bound for Wallilabou Bay in St Vincent. This, of course, is what Captain Jack Sparrow knew as Port Royal. And the props for the filming are still there. More anon.
---