Sunday 8th July- Hiva Oa, Nuku Hiva and Goodbye to Chris

Arnamentia
Jon & Carol Dutton
Sun 8 Jul 2012 23:05
8:55.06S 140:05.94W
Sunday 8th July– Hiva Oa, Nuku Hiva and Goodbye to Chris
Hiva Oa turned out to be a bit difficult. It is a lovely place but the anchorage was pretty rolly. OK; that goes with the territory somewhat and we could have done more to limit the rolling by putting out a second stern anchor - so 3 anchors in all – perhaps. However, the centre of the fairly crowded and rather tight (particularly if you draw 2.4m and there's 1.5m of tidal range on the day in question) anchorage was occupied by a French yacht that had let out far more cable both fore and aft than was in any way necessary. The result was that where several boats might have been able to anchor, nobody could. He swung about too much. We saw one attempt to bring this to the attention of the skipper but this resulted in nothing more than a few Gallic shrugs. He was there first and he was within his rights. Yeah, yeah, but . . . .So, we ended up anchoring closer to the jetty than we were supposed to which meant that we'd have to move before any supply ship came in. One was due in on Thursday morning and we'd arrived in Hiva Oa on Tuesday morning. In the end we decided we'd move on to Nuku Hiva on Wednesday evening (no matter what day we left, the 90NM sail was bound to start in the evening if we wanted to arrive in daylight at the other end) and just get all the messing about over and done with. That made some sense anyway since Chris was due to fly out from Nuku Hiva on Saturday afternoon and we wanted to have some time at least looking around one of the islands with him. Nuku Hiva is probably the most obvious choice being the principal island in the archipelago and the one with the most to see.
Logistics in Hiva Oa proved a mite tricky. The harbour is 4km by road from the town of Atuona – up hill and down dale. There is no harbour office or whatever to tell you how to get hold of a taxi and, of course, at that stage we had no French Polynesian Francs (abbreviation XFP. No, don't ask why) to pay for one anyway. However, the walk did us all some good and we got to the gendarmerie (where all immigration processes are completed) at around 1600 on Tuesday afternoon. Unfortunately what we didn't know was that immigration processes can be completed only between 0700 and 1100 daily (again, don't ask why). So, we'd have to come back on the morrow. We had a quick look around the town and it's really quite a charming little place. It boasts a Paul Gauguin museum (he moved to Hiva Oa relatively late in life looking for authentic primitive inspiration, painted much of his work there, thereafter died and is buried there), a few shops and a bank with an ATM that accepts cash cards without quibble (hooray!).
Traditional architecture employed at the Gauguin Museum
Having questioned the gendarme on duty about taxis we were left little wiser apart from now knowing that there was one somewhere. We spotted the telephone number of the taxi operator in one of the shops but the mobile phone couldn't pick up a signal. We should have spotted the telephone kiosk in the main (actually 'the') street and nipped into one of the shops to buy a penny chew with one of the 10,000 Franc (worth about $100US or around £65) notes that the cash machine doled out. We'd have had some useful telephone change. But, we didn't, so we didn't. We trogged the 4km back - this time down dale and up hill - to the harbour. That sort of confirmed our initial suspicions – it was quite a long way to walk to complete routine admin. However, the weather was kind enough not to rain on us whilst we were about it and having got back to the boat we were able to book the taxi for the next morning via Skype.
On Wednesday morning we sorted out the immigration processes (dead easy and the gendarmes were helpful and good fun) and were delighted to learn (we probably should have known but there you go) that we won't have to mess about with immigration or any of that kerfuffle again until we exit French Polynesia having visited the Tuomotos and the Society Islands (Tahiti, Bora Bora etc) en route for the South Cook Islands or Tonga. Yippee! We 'did' the Gauguin museum (no originals of his work but a large number of decent copies of it – very largely Polynesian themes, dusky maidens and all that), had a decent lunch in a restaurant with great views of Atuona Bay and taxied back to the boat by mid afternoon.
Atuona Bay from the restaurant – not somewhere you would want to land a dinghy – even if it shortens the walk to the Gendarmerie!
We upped anchor and departed at 1740 - at sunset. The sail to Nuku Hiva was an entirely uneventful broad reach, sailed under mainsail and yankee and we anchored in Taiohae Bay, on the south coast of Nuku Hiva, at 0845 on Thursday morning. This bay is a quite different kettle of fish from Tahauka Bay in Hiva Oa. It is huge (as well as being beautiful) and we were spoilt for choice when looking for a spot to anchor. We anchored reasonably far out – in 15m of water - to limit the effects of swell. It's still a bit rolly at times but we haven't yet bothered with putting out a stern anchor. We're about 400m from the dinghy dock in the little town of Taiohae which is the capital of the archipelago. We spent Thursday taking in what Taiohae has to offer and it's really quite a lot. There is a beautiful cathedral resplendent with a large number of exquisitely carved statues and icons (Christ, saints and angels all with distinctly Polynesian features and accoutrements) and built with stone brought from each of the inhabited islands. Each such island has its own wall with a stone showing to which island that wall belongs. Not surprisingly, Nuku Hiva and Hiva Oa – the 2 principal islands - laid claim to the walls on either side of the main entrance. The cathedral is, of course, Roman Catholic. There is a much smaller Protestant church in town to cater for the small number of non-RC. There are, apparently, no other religions and on a Sunday morning there is nowhere else to be but in church. Apparently, if you miss it, concerned friends and neighbours will ask after your wellbeing.
Taiohae Cathedral
St Peter guarding one of the doors to the Cathedral.
There is also the most charming RC primary school located next door to the cathedral. It's looks zingy and fun and appears to have all the facilities one could ask for including a well set up computer classroom.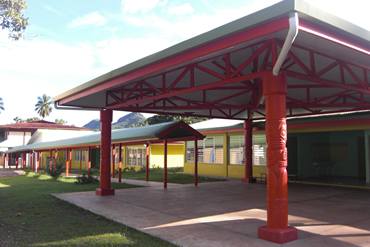 The brightly coloured RC primary School
Smart restaurants do not really feature much here. It's just not what they do. None of them appears to be licensed apart, presumably, from the smart hotel on the west side of the bay. But, it's fine to bring along your own tipples. There are a couple of small 'supermarkets' – more like general stores stocking groceries and a bit of hardware. The prices of pretty well everything are impressively high. Those for any sort of alcohol are – wow! The cheapest bottle (not, note, a litre – we're talking 750ml here) of any sort of spirits comes in at about 6,000 XFP. That translates to around $60 US or something like £40. A small can of beer? That'll be around 275 XFP – £1.75 or so.
The best reported restaurant in town is closed for the whole of July (it would be wouldn't it?) so we dined out on Thursday in an establishment that turned out to have its kitchen based in a van and its tables laid out on the veranda of what appears to be some sort of community centre. However, it all worked and the food was just fine.
Friday afternoon saw us take in a 3 hour taxi tour of some of the highlights of the island. The terrain features sierra-topped ridges and steep-sided valleys. Looking up from Taiohae Bay it seemed incredible that a road existed at all, but it does and it is a very good concrete one!
Taiohae Bay
Everywhere is covered in the most verdant vegetation - banyan, acacia, pine, banana, papaya, mango trees interspersed with brilliantly coloured hibiscus and bougainvillea. The views are breathtaking – in particular Controller's Bay (so named because when the French and British were fighting over these islands it provided effective control of the access to the island) where the reality show Survival was filmed. The production company posted security guards all around the hill tops so that no-one got a preview and the participants didn't get to know that a grocery store and a café existed about 1km away!
Controller's Bay
Amongst the views we took in from on high was one of a village whose inhabitants numbered about 300 (but, hey, that's over 10% of the entire population of the island). The most obvious structure – and it was really quite big – was the church. But, as noted above, a population of 300 means a congregation of not a lot less than that. And, getting about the place to get to some church elsewhere ain't easy.
We were particularly keen to see some of the ancient stones known as "tiki". They date from a similar time to the enormous stones on Easter Island but are more complex in design and meaning. There are many original sites but they have become overgrown and require a long day of hiking to reach them. Recently, the islanders have recreated the ancient meeting places, known as tohua in the villages and populated them with both original and new tiki. They are now used for concerts and festivals as well as for just passing the time with friends.
Taiohae Tohua – quite a tongue twister!
One thing that always interests us is how the economy of such places actually works. What does the place make or do to keep body and soul together and pay for the hospital, schools, roads, policemen, fire services and all that? Practically everything has to be shipped in from Tahiti and that accounts, at least in part, for the sky high cost of pretty well anything you can buy. The place is not awash with tourists and the Marquesas are, anyway, not for those seeking a beach holiday. The answer is France, subsistence farming and copra. French Polynesia is a French Overseas Collectivity (or, perhaps, Country) which makes it relatively autonomous (more so than the French Caribbean countries which are Departments of Metropolitan France). Nonetheless, according to our taxi driver, something like 80% of the Marquesas' budget is met by subsidies from France. So, as in the Caribbean, calls for independence are pretty muted. The soil is fertile so many subsistence farm and own chickens, goats, pigs and/or cattle. The only export is copra, produced from the dried flesh of coconuts, used to extract coconut oil and leave behind coconut cake (used for animal feed). The process of harvesting and drying the coconuts is pretty well all mandraulic so that soaks up quite a lot of labour. In addition, apparently each family likes to arrange that at least one member is employed in some sort of public service – because that produces a salary.
We were very sorry to see Chris depart at around 1130 on Saturday morning on his hour and a quarter hour long taxi ride to the airport. Thence to Tahiti, LA and London. He's been a terrific crew member and has contributed enormously to the ease with which we were able to cover the 3,000NM from the Galapagos to here. And, he's a great digger-out of gunge – which is always very useful on a boat.
Arnamentia's crew enjoying the sights.
We now have some routine maintenance to be getting on with - cleaning up the topsides, servicing various mechanical entities and so on. We'll need to be making tracks again – this time for the Tuomotos around 600NM away – later this week and should RV with James Raley and his girlfriend Mira in Rangiroa at the end of the month.
---