Sunday 17th March - Noses More or Less to the Grindstone in Whangarei

Arnamentia
Jon & Carol Dutton
Sat 16 Mar 2013 23:21
Sunday 17th March – Noses More or Less to the Grindstone in Whangarei
Having flown into Auckland on 15th January and bussed back to Whangarei that day, we busied ourselves to be able to leave the Whangarei Town Basin marina the next morning and move Arnamentia a couple of miles downstream, dodging the shallows and hugging the outsides of the bends in the river, to be off Norsands' boat yard at midday. Arnamentia's 2.4m draught is such that she can be lifted out there only at the top of a big spring tide. Miss that and you might be lucky to wait as little as a fortnight for the next opportunity. We had not appreciated, before electing to go there, that they did not have a travel lift. That (and they do exist hereabouts) would have made our coming out and re-launching easier and more flexible. Norsands' method of hauling out using a ramp, trolleys and a digger to tow the whole issue ideally suits catamarans (shallow draught but fat). It's a touch clunky for a monohull and the process is a bit protracted. It can take up to half a working day to get a decent sized monohull ashore, washed off and properly stabilized. But, it works, you need have no doubt about how stable and secure your boat will be and everyone in the yard is very professional, accommodating and friendly. So, on balance, we have no regrets.
We hauled out to do the sort of jobs you must do having sailed halfway around the world. There is plenty of work that can be completed with a bit of time and application whilst afloat somewhere calm. But, removing underwater fouling and renewing the anti-foul paint, servicing seacocks and other skin fittings, checking/servicing rudder and propeller bearings, replacing sacrificial anodes and checking the integrity of the underwater hull material protection system can't be done that way. Then there's the stuff you never knew about until you stumbled upon it. It's like the rot you discovered whilst restoring that dream house (or, vintage car) you decided to buy.
So, we knew that we had quite a lot to do under the waterline and that this was unlikely to be the stuff of dreams. In addition, we'd decided that, having raised the waterline around 3" before departing the UK in late 2011, we'd materially underdone it. The design displacement of Arnamentia is some 14 tonnes. We had her weighed some years ago for racing purposes and know her to weigh around 16.5 tonnes as currently fitted out, but completely empty – no water, fuel or gas and not a loo roll, knife, fork, spoon, sail, warp, sheet, pencil, chart, fender, anchor, chain, life raft, dinghy or anything else that isn't actually screwed down aboard. In current long-distance cruising mode, she's a great deal heavier than that. All long-distance cruisers soon learn that, unless their anti-foul paint extends several inches above the de facto waterline (forget de jure – that's well buried), they are in for a miserable time in pretty well any anchorage they visit. Getting weed and scum off the waterline is a pain. But, it must be done. However, the more you scrape the stuff off there, the more scratches are put into that area. Since there is no hope of getting wax polish onto the hull that close to the waterline whilst the boat is afloat, that makes the job for weed in colonising the area substantially easier. So, you'll repeat the process ever more frequently. We've been there, done that and didn't enjoy it. So, we decided to have the waterline raised by a further 3". Doing this is neither trivial nor cheap unless you want a bodge job and to lose your boot top (the coloured line that lies atop your anti-foul). We hesitated about the expense of reinstituting the boot top above a raised waterline. We were left in no doubt about Arnamentia's feelings. Given that we had not consulted her before overloading her disgracefully, it was up to us to sort it out properly. We might be Darby and Joan but she wasn't a bag lady.
All masked up, old boot top over-painted. Ready for the new one.
Nearly there now with the boot top. But, what's the rudder doing there?
Shortly having come out of the water and whilst we were discussing the work we wanted done with the yard manager, Peter Palmer, he gave the rudder a bit of an exploratory waggle. As you do. This was not good news. It shouldn't have been possible to waggle it much in its bearings but unfortunately it was. So, it needed to be dropped and seen to. For a time it looked as though we might have to dig a hole in the extremely hard ground with a pick axe to allow us to drop it far enough. But in the end that proved unnecessary – we just made it with the boat standing on her keel on the cradle in which she was to remain whilst out of the water. Pity really; Jon was rather looking forward to re-establishing contact with the kind of entrenching tool with which he'd last had an intimate relationship at least 30 years ago as a forward observation officer in the Royal Artillery.
Rudders on boats are supported, suspended and enabled to rotate freely in a variety of ways. Arnamentia's rudder is a big spade, unsupported by a skeg, on a 5" diameter stainless steel shaft. Within the hull it is supported by two bearings about 30" apart. Each bearing comprises two races mounted one above the other along the shaft. Each race within each bearing has around seventy 50mm x 6mm steel rollers. Given the relatively short lever arm between the bearings and the size of the rudder, it's clear that those rollers need to be extremely resilient. So, brief flirtations with ideas around changing the design for some solution based on plastic were soon binned in favour of sticking with the original design but finding out what had gone wrong. One look at the rollers in the lower bearing once we'd dropped the rudder was enough to establish that many were deeply unhappy and in pitiful condition.
Not wholly happy holey rollers. Wrong grade steel evidently.
There was quite a lot of contradictory advice to be had about all this. It was evident that the perished rollers were not 316 grade stainless steel (316 SS). Extraordinarily, within the bottom bearing, which has sea water washing through it, there was a mixture of 316 SS rollers and those made of something else. Er, no, we don't quite know why either. Since this something else was slightly magnetic, it might have been another grade of SS or chromed steel. But, whatever, it was clearly not the right answer and hadn't enjoyed being in close company with a slightly different grade of steel whilst submerged in seawater (well, whaddaya know?). Eventually, Nautor Swan were able to confirm that the right material was, much as we'd guessed by then, 316 SS. Until they'd done so, there had been much tooth-sucking by observers in our vicinity. 316 SS roller bearings on a 316 SS shaft? Whoa! You'll get galling (whatever that is)! Then you'll be in real trouble. Moreover, you can't just cut up 140 or so lengths of 6mm 316 SS rod to make the lower bearing rollers – bearings have to be machined to fantastically fine tolerances. And so on. And so forth. Actually, the truth is that bearings in machinery whizzing round at 3,000 rpm (so, 50 Hz – like, for instance, the generators that produce your household electricity) do have to be ground to very fine tolerances. The bearings on a rudder are a different kettle of fish. It's a pretty agricultural kettle of grey mullet. Anyway, the chaps at Whangarei Engineering, a few hundred yards down the road from the boat yard, did a great job of sorting that out. The lightness at the wheel now is remarkable. Meanwhile, Jon learned a great deal about Arnamentia's rudder bearings whilst Carol learned quite as much about the controls on a fork-lift truck, whilst refitting the rudder.
Take it easy now, girl. Then anti-foul it please. Luvverly boot top.
Next on the list of important work to be done was the forehatch. The forehatch cover is a very large (840mm/33" or so) smoked Perspex (or, whatever) sliding affair which is moulded to a precise conical shape – cylindrical would be much too easy and cheap to make; this is conical. We'd managed to break it terminally on the way to Galapagos and had bodged a repair with gaffer tape and silicone sealant. That had seen us another 6,000 NM or so across the South Pacific to NZ but it needed sorting. No problem – Whangarei is a quite extraordinary place made up of hundreds of small engineering-related businesses. So, pretty well whatever it is you want made can be made locally. A new bespoke hatch cover was procured easily and the job of fitting it given to the yard carpenter. "Easy as" – as they say here. The result is "Good as" – as they also say here. "Cheap as" – no, nobody said that! But, a "fair go" (which they also say)? Oh, yes.
It also became apparent that the hinges on 4 much smaller opening (Goyot) hatches on the coachroof had now so badly stiffened up after 20+ years that attempting to bring them back to life was probably a mug's game. Anyway, support for Goyot products in this part of the world is weak approaching pathetic and we also gather that they may have gone out of business. However, some excellent NZ-produced (Maxwell) hatches costing around £140 each (tax free), fitted the holes in the deck so closely that it was a trivial issue for our professional carpenter to sort out with a router. Moreover, these seem much better designed than the Goyot originals. Vetus (a Dutch company) have now acquired Maxwell and produce precisely the same hatches under the Vetus brand name. But, they have done the sort of thing that many big companies do on taking over small fry. Having acquired seriously good products they changed the seals on them to make them use the same rubber stuff they use on all their other hatches. But they didn't engineer the seals well enough at the outset. That's a bit of a shame and a touch careless. No problem for us; we snapped up the last genuine Maxwell hatches in existence having rejected a number of Vetus offerings. It's likely that by the time our hatch seals need to be replaced, Vetus will have sorted it out.
It's not all below waterline work – floor board varnishing production line, above. Each board had at least 3 coats applied with sanding down between each one. Top tip - next time do the boards after you've done the rest of the sanding and varnishing on the wood work inside the boat.
Once all the painting and so on had been completed we were finally in a position to anti-foul. We've got this drill off pretty well pat. The important thing is to start early in the day and be done with antifouling for the day by mid morning at absolute latest. Otherwise the air and hull surface temperatures are such that the stuff just won't roll on smoothly. No problem; three fairly early mornings and we'd got three coats on at about 2 hours a coat. We've learned all about 9" professional rollers and extension poles the hard way – some years ago. Before we did that it would have taken us two or three times as long per coat with 4 " rollers and step ladders we'd have ended up cursing tacky anti-foul as the sun got itself out of bed.
The clock counted down to the planned launch date of 13th March. If we missed that, the next date on which a big enough tide occurred outside a bank holiday or weekend was at the end of April. So, missing it wasn't much of an option. Inevitably there were one or two last minute panics – including one which required two 3" countersunk bolts to be manufactured out of 3/8" pure copper rod the afternoon before launch. These secured the grounding plate for the SSB radio to the underneath of the hull. We noticed far too late that the originals were badly corroded. Well, Jon had only been looking at them on and off for 2 months whilst the boat was out of the water, so had had almost no opportunity to notice the problem. Obviously. There was absolutely no hope of acquiring factory-manufactured replacements in time for a launch at 0800 the next morning. Thankfully, the boatyard owner, Murray, has a traditional yacht being re-fitted that has a fair amount of copper rod being replaced. He was kind enough to provide some old (nonetheless, perfectly good) rod and Peter Palmer, the yard manager, performed the magic necessary to turn this into the necessary bolts. Useful, y'know, these guys.
The launch went exactly as planned and we motored back to Whangarei Town Basin where we plan to spend a few days before moving to a rather cleaner (much vegetation debris comes pouring down the Hatea River) but less convenient marina at Marsden Cove – at the entrance to the river and something like 40 minutes away from Whangarei by road – parking Arnamentia up and going touring by car for a few weeks.
Arnamentia – smart as a carrot – being manoeuvred to the slip by the dump truck
The moment of truth approaches – did we service those seacocks properly?
We'll soon know
And now for the deeply technical bit – releasing the boat from the cradle arms
Well, that all worked – here's the new bridge, under construction, en route to the marina and we haven't gone aground
One thing that has struck us whilst out and about in the boat yard is the number of relatively young catamarans looking seriously worse for wear after some moderately extensive ocean work. Usually the problem is with the way in which the hulls have been made. Often it seems that the construction has been too light or inadequately ribbed or the GRP hasn't been adequately protected from osmosis. Hull thicknesses of around 5 or 6mm don't seem that unusual. That doesn't seem a lot really for short-handed Mom'n'Pop ocean passage-making, reef hopping, storm bashing and so on. Once the yards get their hands on these boats and start exposing the issues, the results can look pretty horrific - to us monohull sailors at least. We have encountered some owners whose boats do not fall into this category – most recently the owner of a South African built catamaran. Perhaps it's more robustly built than its largely French competitors. But, we honestly wouldn't know for sure. Nonetheless, I guess we'll stick to the monohull – moreover one that's pretty sturdily built.
It is now Sunday morning on St Patrick's Day – and to remind everyone why Ireland is so green – it's pouring with rain – the first time for weeks, though it will need to carry on for days in order to relieve the drought conditions which the North Island is suffering.
Talking of green, whilst Aranmentia was out of the water, we've lived ashore and so avoided having to contend with the sort of internal chaos that exists in a boat undergoing refit. An advertisement on the boatyard notice board led us to a large open plan unit (Kiwi-speak for flat) owned by retired architect, Harry and retired teacher Mary. They have a lovely, peaceful place, hidden in the woods, by the Hatea River but enlivened by a great variety of birdsong. Their beautiful garden – in an acre sized section (Kiwi-speak for plot) was well stocked with fruit, vegetables and herbs and with a good scattering of fruit trees. We're well used to apples and pears but to have peaches, figs and lemons growing outside the door was a treat. Mary was kind enough to invite us to help ourselves to fruit and vegetables and Carol was able to make a rhubarb crumble for the weekly boat yard Pot Luck BBQ. Returning from a day's hard graft at the yard, it uplifted the spirits to be welcomed by Lucy, the fox terrier, who quickly sussed that Jon was always up for a game with her ball – although Lucy had some difficulty with the notion that if she wanted the ball thrown she had to let it be picked up by a human first. Mary and Harry have been particularly kind to us. When we decided that Arnamentia needed to be out of the water for longer than originally planned the flat had already been booked by new tenants for the period we now needed. Amazingly, since they were planning 10 days away touring in their campervan, they said "Move into our house, and we'll stay away longer on holiday"! We were utterly spoiled by having such a delightful space to spread ourselves out in, and there was a dishwasher, too! It's going to be hard to get back to sea and pump sea water to rinse off dishes!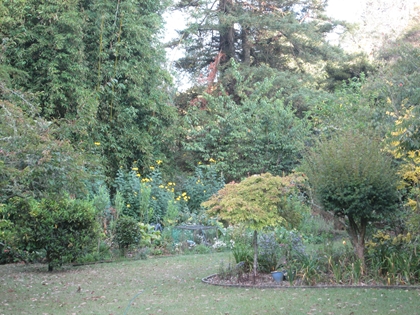 Looking towards the vegetable plot – leaves on the lawn heralding the start of autumn.
Peach and fig trees above the house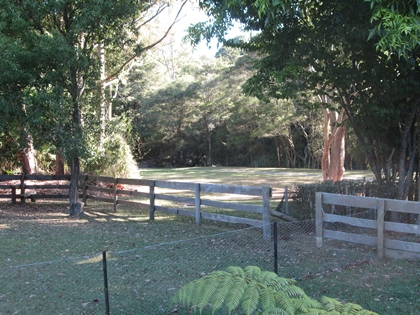 The view from the veranda – not a glimpse of the sea nor a boat in sight!
Plans for the coming year are in a state of deep flux. Australia, Indonesia, Singapore, Thailand (new teak deck?), Burma? Well, why not? Thinking going on.
---