Friday 27th September 2013 - A Girly Day Out

Arnamentia
Jon & Carol Dutton
Fri 27 Sep 2013 09:04
Friday 27th September 2013 – A Girly Day Out
Whilst Jon was up to his eyeballs sorting out the watermaker with Neil, Carol went off on a couple of excursions she felt he probably wouldn't be too enthusiastic about. The first was to an orchid garden created some time ago by the actor Raymond Burr. Sadly, none of the plants is labelled and no guide book is available either. A member of staff recites the names as you walk around but unless you've got a very good memory or a notebook, very few names stick in the mind. Nevertheless it was a beautiful, peaceful place and to be recommended to anyone who is spending some time in Vuda Marina.
Here are a few of the hundreds of different varieties grown in the gardens:
Unknown Orchid 1 Unknown Orchid 2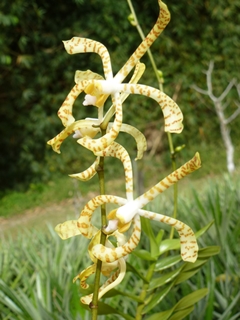 Unknown Orchid 3 Spider Orchid
Dancing Lady Orchid Venda Orchid
After all that walking, the ideal place to go next is the mud pools. One would pay a fortune to be plastered in mud in a so called spa, so 15 FJD, about £5 was quite a bargain. After covering yourself in mud, you leave it all to dry and then start the washing off process in the first of three pools. It is wonderful to step out of the quite hot water and find yourself feeling cool in the middle of a baking hot afternoon. Fortunately Jon wasn't there to capture Mrs D plastered in mud but she did photograph a group of young Americans in the two first stages of the process.
This really is supposed to do wonders for your skin!
Great fun!
And finally, Carol had bought a pair of Helly Hansen sandals in Las Palmas just before we crossed the Atlantic. She was hoping they would see their second birthday, but it was not to be – one sandal finally fell apart yesterday. In terms of pence per wear they are probably the best value footwear she has ever owned – apart from her leather riding boots which are still going strong after 30 years!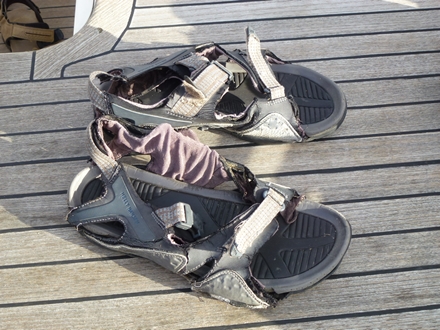 RIP Dear Friends
---