Tuesday 20th March - Union Island & Tobago Cays

Arnamentia
Jon & Carol Dutton
Sat 7 Apr 2012 00:40
12:37.86N 61:21.44W
20th March 2012 – Tobago Cays
So, we left Petite Martinique after a very good lunch on Friday 16th March. It was only an hour's sail over to Clifton Harbour in Union Island. En route we passed Petit St Vincent and Palm Island – both privately owned very upmarket resorts costing around $1,800US a night. Cheap as chips, huh? In contrast, our mooring off Clifton costs us $20US – that doesn't sound much but we had made the mistake of being persuaded by a boat boy that the anchoring was not good and that we should take one of his moorings. And, we didn't negotiate a price beforehand. But, y'know, we'd had a good lunch and sunset was approaching – so difficult to identify the sand patches, as opposed to the coral, in which to anchor. We're now pretty sure the mooring was nothing to do with him as he said he didn't have a receipt book and he didn't pitch up the next evening to sting us again when we decided to stay another night (the truth is that having been asked by Carol to issue a receipt he probably reckoned he'd been rumbled. Had he pitched up for a further fee the following night he'd have been unlucky – Ed)
We moored just inside the reef and had a grandstand view of the kite surfers having a whale of a time. Some were better than others and managed to tack quite effortlessly and return on the reciprocal path. Others didn't get it quite right and found themselves weaving in and out of the moored yachts. It seemed that it was luck rather than judgement that their kites didn't get tangled in anyone's rigging. On Saturday morning, the Optimists, sailed by 8-11 year olds, came out to play – they were quite as voluble as their cousins on the Lymington River and a delight to see.
Clifton is a bit of a sleepy place – literally in the case of the shop assistant in the small supermarket! The locals have set up a very colourful market square along the lines of traditional chattel houses. All were bursting with much appreciated fruit and vegetables. Very determined ladies vie for business. Sadly there are too many to make purchases at each stall.
Jon & Bob paid a visit to a remarkable man-made island on the end of the reef. An enterprising local built the island entirely out of conch shells. Now known as Happy Island, its bar blares out Rasta music at top volume and attracts an eclectic clientele. Whilst they were there a boat boy from the Petite St Vincent resort brought across two Venezuelan guests (one, enormous and in Speedos; the other a decade younger and in trendy sunglasses and little else. You can probably guess that they were not of the same sex. You may even be able to guess which was which) who needed to top up their supplies of tobacco alternatives. The spliffs were rolled in the bar and inserted into a pack of Marlboro before being presented to the couple. Nobody batted an eyelid. If Jon & Bob had stayed any longer they would have been as high as kites without the assistance of surf boards.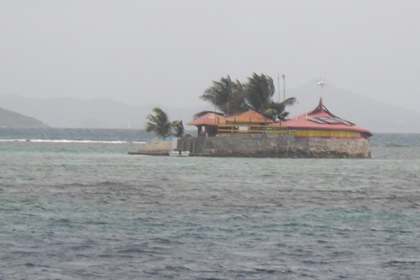 Blowing a hooley around Happy Island
We departed for Tobago Cays mid morning on Sunday 18th March and about an hour and a half later anchored inside the reef. Our guide book had warned that the Tobago Cays was likely to be packed with yachts and so it was but there was enough room to anchor and despite the numbers it was a very peaceful place. Sadly, the weather was rather grey and the wind didn't let up. This meant that snorkelling was a bit of challenge but we were still able to see several turtles in a corner that is buoyed off to help protect them. Elsewhere, there were a myriad brightly coloured fish swimming amongst the coral reefs – much reef was damaged in recent hurricanes but there is still plenty of it in good condition and new growth is occurring.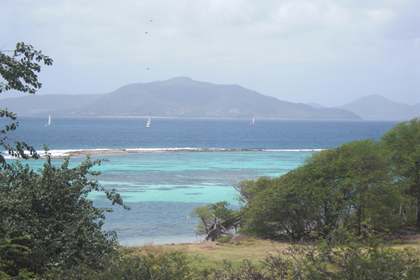 Looking towards the Tobago Cays from Union Island
We met up with other boats we had first met in Grenada and we're beginning to see what circumnavigators Miles and Beryl Smeaton said when the referred to the long distance sailing community of fifty years ago, as a "floating village". Despite having satellite communications and Wifi widely available at almost every landfall, one of the real pleasures of this cruising life is face to face contact and sharing a sundowner or two with new chums. Jack and Jo Brinckerhoff , whom we'd met in Whisper Cove dinghied past to say "Hi" after an afternoon's very adventurous snorkelling and Kit Grundy and Vanessa Alexander, whom we'd met on Hog Island, did much the same and insisted we pop by for sundowners that evening. Tough decisions!
Having spent two blissful nights at the Cays we planned to depart for Bequia on the morning of Tuesday 20th March.
---