Friday 14th February – Breaking Radio Silence in New Zealand

Arnamentia
Jon & Carol Dutton
Sun 16 Feb 2014 06:39
36:37.40S 174:47.22E
Friday 14th February – Breaking Radio Silence in New Zealand
PREAMBLE
It has been an unconscionably long time since we last blogged, at the beginning of December and with 60 NM to go to Opua on our way back to NZ from Fiji. Having arrived in Opua, there was little reason to dally for long but there were, nonetheless, some important things to sort out before NZ closed down for Christmas (which it does pretty convincingly).
BOATIE STUFF
We had already arranged to buy an 8HP 2-stroke outboard engine from the dealer in Opua, trading in our much-loved little Mariner 3.3HP engine, and did so. Of course, you can't now buy 2-stroke outboards anywhere in the EU because, apparently, polar bears don't like them. They, also, may be entirely responsible for the current flooding in the Thames Valley and the Somerset Levels. Who knows? Anyway, we'd encountered the same issue when trying to buy a 5HP engine in Martinique about two years ago (no dice; push off to Grenada instead). The difference in size, weight and complexity between 2 and 4 stroke engines of equal power seems to us to make the selection of the former, if you have a choice, a no-brainer for a cruising yacht tender. As far as power is concerned, our 5HP Mercury has done us well and will, doubtless, continue to do so as the calm water/anchorage runabout. It is lighter to manhandle between yacht and dinghy, or up the beach, and more or less runs on fresh air. But, it does struggle to get our inflatable keel rub-a-dub planing with two up or pushing the pair of us any real distance through chop. That can be a long, wet slog verging on the dangerous.
Next came a bit of experimentation with very large bits of cardboard box to establish which size of solar panels we were going to have fitted to the boat. The power these can deliver has increased significantly in recent years. It would have been very nice indeed to have been able to fit two panels, each around 2m x 1m, giving us a total output in excess of a nominal 600W. However, we just could not accommodate them and settled for a couple of rather smaller (but still pretty big) panels which will give us a nominal 410W. Not very long ago, the best one could have got out of a pair of panels that size would have been around a nominal 280W. Buying them was the cheap and easy bit. Now comes the construction of the stainless steel, 'bullet-proof' gantry to take them and the regulator to control them. They will probably not quite meet our entire power requirement when under sail (autopilot, chart-plotter, radar, radio, riding lights and all that) in the Tropics but should come pretty close to it and more than satisfy the requirement most of the time, whilst we are at anchor and so on. They will, also, massively reduce our reliance on the piggin' auxiliary generator with its wretched PCBs and other associated electronic frippery. That has to be a major blow for freedom.
At the same time we began to sort out the options for having the teak decks replaced. This, pretty obviously, is major and expensive work. We have reached the point at which it really has to be done – if not now, at least within the next year or so. We had toyed with the idea of Thailand. We decided against that for a number of reasons. The current political instability does not help. However, a number of other factors (having talked to those who have had work done there or knew of those who have) persuaded us that the advantages of very cheap labour rates and close proximity to the source of Burmese teak do not entirely outweigh competing considerations. We obtained two very similar and reasonable estimates for the work from two yards in NZ. The estimates were made all the more reasonable by the fact that the pound sterling is currently worth two NZ dollars (considerably better than was the case last year). And, we are exempt the 15% General Sales Tax equivalent of VAT.
We had anticipated that we would get this work (it's about a two month job so would run in parallel with any solar panel installation work and so on) done in Whangarei – about 60 NM south of Opua. We know the place well and it is extremely well-provided with a huge variety of skilled craftsmen and well-equipped workshops. We had much enjoyed our previous sojourn at Riverside Drive Marina and headed for it. We arrived there on Sunday, 15th December. We then invited three further tenders for the work, getting all bidders to show up, assess quite what it was we were asking them to do and then show their Colours in the form of quotations. We settled on Brin Wilson Boats in Gulf Harbour – not far north of Auckland. They happen to be the Swan agents in NZ (so, possibly, risked up their quote a little less) but, nonetheless, had come in at the outset (as one of the two firms we'd contacted initially) with a confident and very attractive estimate which they then transformed into a quotation, following their inspection, without altering the numbers in any significant way. Some of the other estimates/quotes were well off the pace and for no very apparently good reason. Hence, despite the fact that Whangarei would have suited us better from many points of view, the work went further south and closer to the generally more expensive area around Auckland.
So, eventually, on Friday, 24th January we quit Riverside Drive Marina in Whangarei and dawdled southwards to Gulf Harbour. We were joined on this trip by Linda Spargo – a long term friend in whose company we have trogged many a mile up hill and down dale with the 'Mongpats' ; a group with which Carol had trekked in Patagonia in bygone times (some of the group had also trekked in Mongolia) and with whom we have met up annually, when in the UK, to do a bit more troggin'. The voyage to Gulf Harbour was a mixture of stuff, starting with some very benign passages under engine to delightful anchorages and finishing with a 25 NM rather wet beat in Force 6 winds to Gulf Harbour on the third day. It also, regrettably, resulted in wholly avoidable damage to Arnamentia, on the first day, as we motored downriver out of Whangarei. We 'kissed' a channel beacon rather hard (more a snog than a peck) as a result of a momentary loss of concentration. It was the skipper's fault - pure and simple (which must have been a relief . . . yeah, yeah). But, it will be sorted out whilst the deck is being done in Gulf Harbour. As the Royal Navy is fond of saying: "The price of safety at sea is eternal vigilance".
Our first night on passage was spent anchored in the north west of Great Barrier Island just around the corner from Port Fitzroy. The island is a mass of contorted bays and peninsulas. So, whatever the wind direction, there is always somewhere to take shelter. Carol went for a tramp with Linda in the woods – sorry, ' bush' as it's known here. Linda had emigrated to New Zealand in 1972, is extremely knowledge about the native flora and does a pretty mean imitation of a fantail. She is now married to Alan, one of the founding members of the Mongpats, and they are in the happy position of usually experiencing two summers each year, one in England and one in New Zealand. (Hm; I feel it incumbent upon me to remind our esteemed correspondent of the remark made by a Frenchman in Bora Bora - that England has only two seasons; winter and August - Ed
Peaceful anchorage near Port Fitzroy, Great Barrier Island
Our next anchorage was in Smelter's Cove in Bon Accord Harbour in Kawau Island – another delightful place, although being much nearer the mainland it is more densely populated. It had, for a time, a very productive copper mine but this died and Sir George Grey, one of the early governors of New Zealand, built a very fine house here by extending the copper mine manager's house. We spent a couple of hours going around Mansion House and its well-maintained and interesting grounds. Grey was one of those enthusiastic Brits who introduced a number of foreign species to New Zealand – not always successfully. The zebras, for instance, who apparently towed his carriage, were not entirely content with the temperatures and pegged it.
Mansion House, Kawau Island
NON-BOATIE STUFF
But what of, life away from the sea? We had decided some time ago that we would not return to the UK for Christmas last year and were very fortunate to have been asked by good Kiwi friends to spend Christmas with them. Sue and Ewen have a beach house, or bach as these are known in NZ, on the coast in Waiterarere - about an hour's drive north of Wellington. We broke the journey at National Park - yes, that is the name of village - built to serve walkers and skiers enjoying the delights of the Tongariro National Park. We were given a room in prime position so that we could enjoy a good view of Mount Ruapehu. However, the weather wasn't playing ball and this was the sight that greeted us:
Excellent visibility for at least 300 yards
Whereas on a good day, it might have looked a bit more like this:
Oh, yeah; that's a bit more like it
It didn't get any better for the two days we were there and consistent rain and poor visibility put an end to any thoughts of walking in the hills.
On Christmas Day we de-camped to Sue and Ewen's bach at Waiterare as planned. Here the coast is flat. Grass covered sand dunes are backed by areas of forest; quite a contrast to the alpine scenery of Tongariro about 100 miles away. It was still pretty dreary weather so there was so no Christmas Day barbecue on the beach; instead we lunched indoors on pipi fritters, roast lamb and Christmas cake. Pipis are small bivalves that can be collected at low tide by wading out a little way and digging your toes in the sand to locate them. However, miss low tide by just half an hour and they have gone, as we found out on Boxing Day. By late morning the weather had improved and Carol joined Sue and two of her daughters, Rachel and Sana, for a few sets of tennis. She hadn't played for about 30 years and was just pleased that she didn't lose her service games to love!
The beach at Waitarere with the northern tip of the South Island just visible in the distance
Stormy Christmas seas and the ubiquitous Agapanthus
Sue kindly took us to visit her brother, George, whose sons farm the station that has been in their family for nearly a hundred years. It is situated in a beautiful valley near Hunterville. Nowadays they round up the sheep using a mix of horses and quad bikes. No matter what the means of transport, the stockmen need to be pretty fearless to tackle some of the slopes grazed by the sheep. Over lunch we spent some considerable time talking with George and his wife Vicky who told us of the polio hospitals that his grandparents had established 70 or so years ago. George's grandfather had heard about a special massage technique that had been successfully used in America which meant that those suffering didn't have to spend considerable lengths of time in an iron lung. He and his wife established a trust to train nurses in the technique and opened a hospital nearby which eventually moved to Wanganui on the coast. Dozens received the treatment which transformed their lives. Since polio is a disease which has been almost entirely eliminated now, the trust has changed its focus to treatment of those with brain injuries
Through her work with the trust, Vicky became one of the first chairmen of the Accident Compensation Corporation. In New Zealand, ACC is the sole and compulsory provider of accident compensation for all work and non-work injuries. The ACC Scheme is administered on a no-fault basis, so that anyone, regardless of the way in which his injury occurs, is eligible for coverage under the Scheme. Because of the Scheme's no-fault basis, people who have suffered personal injury have no right to sue anyone else. This does not make for rich and happy lawyers. So, that's a bit sad, obviously. Originally, the scheme was set up to cover work-related injuries but Vicky was involved in extending this.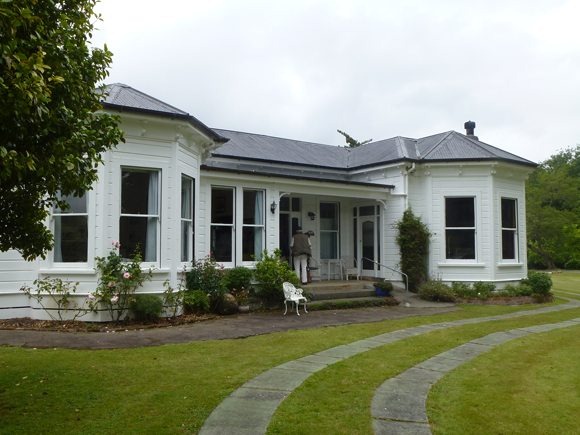 Otairi Farmstead – a graceful property dating from the early 20th century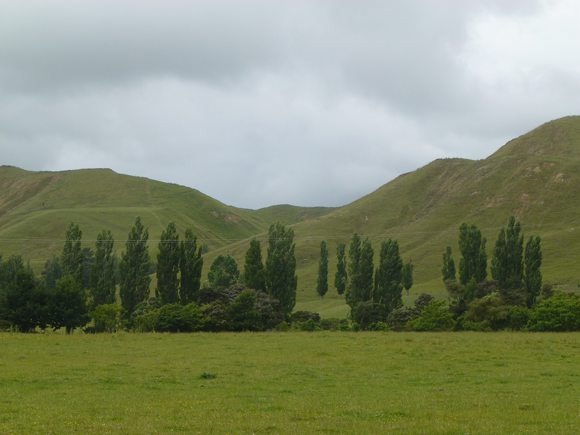 The view from the terrace at Otairi
We spent a few days over New Year with another Sue (Cockrem), whom we had met sailing with our friend, Ding, in Fiji. She lives on the edge of the Bay of Plenty overlooking a picturesque stretch of water near the mouth of Tauranga harbour. In essence she vacated her lovely one bedroom flat for us whilst she camped at her brother's temporarily unoccupied house across the road. We had not quite expected that but her kindness was no surprise. Sue is a keen tramper – Kiwis don't walk or ramble – they tramp! She took us to a favourite spot of hers in the Karangahake Gorge which went by the charming name of Dicky's Flat - not a building but a level stretch of land by the bend of the river. It's a popular place for swimming – though the first plunge into the water was a chilly shock to the system.
The river at Dickey's Flat where we enjoyed a bracing swim
Jon making a stylish entry into the river – no, just kidding!
Sue also mentioned that we would call in to see a "hole in the ground" in Waihi. Not the most riveting of tourists' stops, we thought, until we looked over the edge and went "Wow!" What dropped away beneath us was an open cast gold and silver mine the size of which is emphasised by the diggers which looked like Dinky toys (I think that that might show your age, Madam – Ed) . The mine closed in 1952 but re-opened in 1988 when the price of gold rocketed. Now, when was it, precisely, that Gordon Brown sold off most of the UK's gold reserves?
Martha's Mine at Waihi
LIFE ASHORE
We are now into our third week of living ashore. We managed to find a lovely flat about 5 minutes drive from the boat yard and are enjoying some creature comforts including Sky television. So, we're able to catch up with the Winter Olympics (Slopestyle skiing – wow; are these people gods or merely immortal? "Respect" – as they reputedly say in one or two places not, perhaps, frequented by our sole reader) and the atrocious weather at home.
Brin Wilson Boats in Gulf Harbour have been brilliant in sorting out all sorts of issues for us whilst getting on efficiently with removing the deck equipment from Arnamentia before starting the butchery that is the stuff of teak deck removal. Their large shed is well laid out and their workforce is happy, larky, well motivated and endlessly helpful. Whilst they do not have all the yottie trades in-house (few firms do) they have easy access to all the specialist skills sported by a raft of companies located either in Gulf Harbour Marina or nearby in Auckland. Because Brin Wilson is one of a number of companies operating in a large complex, the whole setup is a bit more joined-up and tidy than many other yards we have experienced. The entire complex is tar macadam (rather than alternately dusty and muddy gravel) for a start. The down-side is that it lacks the out-of-hours camaraderie of some other yards in NZ. There are, for instance, no cruising yotties living aboard their yachts whilst working on them; no Sunday pot luck BBQs and so on. But, we can get stuff done efficiently. Jon has his own key to the boat shed to allow him to do whatever work takes his fancy and whenever he fancies doing it. Meanwhile, Carol has been creating bespoke canvas covers for our nine new 20 litre plastic jerry cans whose predecessors suffered terminally from UV. So, she and our very-definitely-not- lightweight sailmaker's sewing machine have been well ashore and getting well acquainted.
Meanwhile Jon, now conscious that, unaccountably, he is neither a god nor immortal (some administrative error by the Management, surely) is trotting off to one medical specialist or another trying to work out why his back decided to play up (but, to be frank, has now pretty much got bored of being difficult and more or less put itself right. But, of course, one you've started the insurance claim ball rolling . . .) and then his left knee started to lock up. It's really difficult dancing the hornpipe with a locked-up knee which keeps clicking each time it unlocks – to the accompaniment of a feeble whimper from aloft.
Plans for our return to the UK for a while are still unclear. However, we will be back in a bit, for a month or so, before turning to the task of getting Arnamentia ready for the next instalment – hopefully looking pretty smart.
---