Position 17:54.10N 16:31.00W

Freewheel
Julian & Anne Whitlock
Wed 17 Feb 2010 01:55
17th February 2010 Isla Caja de Muertos (Coffin Island)
Spent the day in the old town of Ponce after collecting our cruising perrmit which alows us to stay in USA
for a year!
A large rambling city, based on an old Spanish centre - very poor in areas (we were warned off
walking to the view point above the town by a lady who asked where we were going and then told
us it would be unsafe to walk up the road by the direct route!) The central Plaza Las Delicias houses
the cathedral,backed by the Red and Black old fire station (originally part of an agricultural exhibition)
and the grand Fountain of Lions (a monument recued from the 1939 World Exhibition in New York!)
All the shops were generally tatty, but the restaurant recommended to us by the Customs lady was
VERY smart - probably as well it was closed today although the view was grest. Our alternative
lunch of beef stew,rice and beans in the covered market was tasty - and only $6 for 2- but Julian still
reckons it can't challenge McDonalds.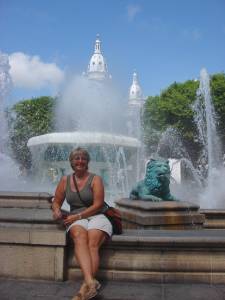 We're now anchored off Coffin IIsland - legend says that a pirate married his long term mistress after
her husband died of a stroke but she was killed in his first piratical action after the wedding. He
embalmed her body and kept it hidden in a glass topped coffin in a cave here so he could visit her.
We found the cave on our climb to the old lighthouse which surmounts the island, but no sign of
coffin thank goodness.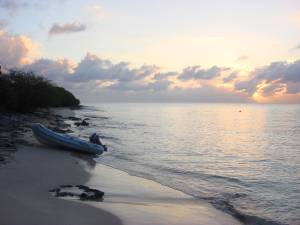 ---