Position 11:59.11N 68:38.82W

Freewheel
Julian & Anne Whitlock
Fri 12 Feb 2010 19:18
3rd February : Kleine Curacao
We finally got away from the yard on the 1st Feb - after a late delay to purchase new house batteries which we
realised, once away from shore power, had not survived the 9 month layup and neglect.
The journey out of the oil refunery lagoon and through the cut separating the two colourful halves of
Willemstadt is a fascinating one - under the high wide span of the new road bridge and then slipping past the
small section of the floating walkway which they grudgingly open for the exit of small craft but reaching the fierce
waves of the open sea, which seem always to crash onto that shore despite being sheltered from prvailing winds.
The predicted 25k winds ended up in excess of 40k, so we had a wet journey south and decided to spend a night
in the calm of Niewpoort before continuing. We were met there by a posse of ribs and fast landing craft fron the
Neth Antillean (?) navy. An officer came over to tell us we were welcome to anchor anywhere as he was "just
giving the lads some fun" - however as the only yacht there we became the target for every exercise and the swim
from the shore in full kit. Not a peaceful day, but entertaining....
Leaving Willemstadt: under the bridge then around the opening of the floating walkway to the sea....
The following day we had a very bouncy motor sail to the peace of Kleine Curacao - a cluster of beach ruins,
an ancient light house and a windward beach covered with debris and old wrecks. Day boats brave the open water from Curacao to reach its crescent of the finest white sand I have seen, but from late afternoon we had it to ourselves...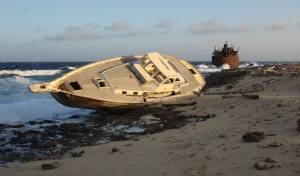 ---