Position 17:08.86N 62:37.94W

Freewheel
Julian & Anne Whitlock
Sun 19 Apr 2009 20:05
Nevis 17-19th April 2009
After a frustrating time finalising work in Antigua, and finding that the riggers
could not do anything for at least a week, we decided to put that on hold and
meet up with Peter and Penny (on Innforapenny2 who had sailed with us from
Oz) on Nevis.
We celebrated their anniversary with lobster at a beach restaurant and the next
day - after the usual delays with clearance!- set off with Sarge on a tour of the
island.The wonderful botanical gardens looks well established, but in fact only
started in 1998 which shows just how fast everything grows out here-it is
intriguingly filled with very eastern statues. We also visited various old plantation
houses - the ones that have survived now turned into upmarket "boutique" hotels
including the one taken over by Princess Di and her sons not long before her death.
The Botanical gardens are a shady oasis at this dry time of year
Old plantation estates are now luxury hotels,with a surprising honeymoon suite!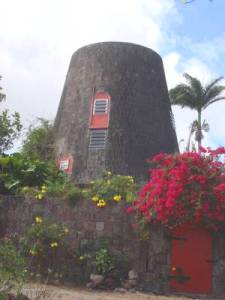 ---