Position 12:36.18N 61:27.06W

Freewheel
Julian & Anne Whitlock
Wed 11 Feb 2009 13:55
Chatham Bay - Union island
Moved the short distance from PSV to Union Island to check into the Grenadines. Strong winds from
the north east are making the passage up island chain impractical to sail so having picked up a few
provisions have moved around Union Island to the west side where we have anchored in Chatham Bay.
This is an uninhabited large bay with sandy shores and hiking up into the hills. Last time we were here,
four years ago, we had the bay to ourselves but the weather conditions have obviously recommended
this sheltered bay to others and there were 15 boats overnight! Not a problem as it is a large anchorage.
Managed to catch colds - Anne first now me - so quite happy to 'chill' out here for a couple of days.
Woke up this morning to find the mock windjammer 'Club Med 2' parked alongside us - quite a shock!
They are disgorging their passengers onto a trip catamaran that also came round this morning to give
sailing excursions around the island....
Beach huts under construction - 1st signs of development here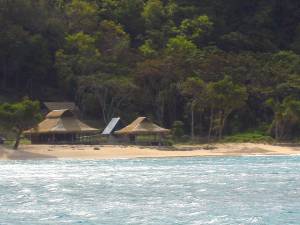 Club Med 2
North end of Chatham Bay - good snorkelling!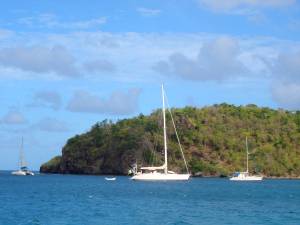 ---