Position 15:34.78N 61:27.95W

Freewheel
Julian & Anne Whitlock
Sat 28 Feb 2009 16:34
Dominica 25th~29th Feb
A long, hard sail up from St Lucia! Started with light winds in Rodney bay - ideal for lifting the anchor
under sail. Forecast was for 20kts NNE winds and to start with on the first leg towards Martinique
we were getting 25kts just aft of the beam and were having a cracking sail with Gillie and Hutch
averaging 9kts. By the time we reached the southern tip of Martinique the wind started to back
and so it was a harder sail with the wind at 60 degrees. Due to the problems on the French islands
we felt we had to keep going and on getting north of the island the wind piped up to 40+ kts with
corresponding big seas. Wet but fast! It was a little hairaising finally tacking into Portsmouth Bay
in the dark but by 10pm we were all a little tired and didn't fancy the next 100nm up to Antigua.
It also meant we would not visit our favourite Caribbean island. By 11pm we had carried out
a text book anchor under sail and were ready for a good nights sleep.
In the morning we called up Albert, one of the official guides/boat boys for Portsmouth, who we
had always used in the past. Great to see him and we once again fell in love with the island and its
very friendly people.
We hired a car and did a tour of the north end including the Syndicate Trail and nature park where
we saw the Jako parrot on a number of occasions despite its rarity! We also did a couple of hikes
up to waterfalls where once more we met local farm workers who immediately befriended us and told
us all about the local flora and fauna. This was followed by a superb lunch in the Tomato Cafe, a
haunt primarily for the 1600 medical students at the Ross University just outside Portsmouth town.
The cafe was fairly new and run by a very 'in your face' Canadian woman who gave us a running
commentary on the set up and training regime for the medical students which was very interesting.
The chicken wraps and deserts were superb - and a great surprise as food is not the high spot
of a favourite island! This morning we did an early morning trip up the Indian River - a must
in Dominica - with Albert and had it to ourselves. Once again he found interesting birds, plants
and fish to describe to us but finally we had to say goodbye to him and the island and make our way
north again...
Anne always makes us hike to the top!
Latest Hurricane victim in Portsmouth Bay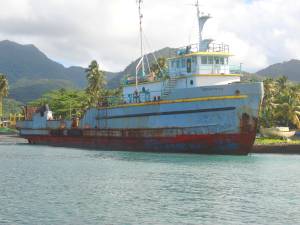 Local produce from 'million dollar view'
Dawn on the Indian River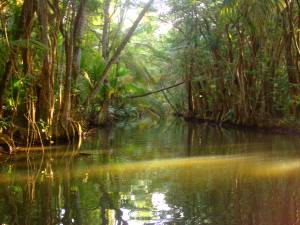 ---