Position 16:44.55N 24:45.82W

Freewheel
Julian & Anne Whitlock
Sun 28 Dec 2008 22:32
Sao Nicolau to Santa Luzia
Our trip around Sao Nicholau proved that there was a more verdant core - dotted with hamlets and
subsistence farms, though at this time of year hardly green. Our journey by aluguer (local bus) was a
great way to see the whole island as the road rose over the barren hills behind the port, then follows
an almost circular route as it wound around the crests that surround the central valley before visiting
the far coast and finally approaching the capital from the far side - it was also a wonderful opportunity
for "people watching" as the locals popped on and off along the way. Not a tourist in sight, so this is
not an island where the local population will soon be swamped by foreigners.
We walked back up the valley, past tiny terraced fields of sugar cane (used for the local grogue),
maize and tobacco (smoked by the old ladies in wooden pipes) as well as papaya and the odd banana
palm clinging to the ever increasing slopes. As we left the final houses the real slog began - steeply up
the ancient cobbled zig-zag track which was the original "main road" until we finally reached the ridge
and regained the modern road - only too glad to slump on a wall until we could flag down a bus to take
us home.
This morning we left Sao Nicolau and after a lively sail are now at anchor off Santa Luzia, the smallest
of the Cape Verdes - uninhabited (save for an intermittent fishing camp). It is now a nature reserve -
a wonderful white sand beach but otherwise desolate and unfortunately not a frigate bird in sight.
I bought her flapjack, not her tobacco!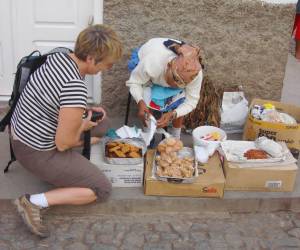 The mountain we need to climb
Half way up and getting hot!
Julia plus donkey - fitter than us
---