Position 16:44.55N 24:45.82W

Freewheel
Julian & Anne Whitlock
Thu 1 Jan 2009 15:53
Santa Luzia
Our dinghy trip ashore nearly confirmed the comment from the pilot book that on this island only
those prepared to swim make it on shore! However we beached rapidly between the rocks like
a surfer. It was only as we tried to relaunch through the surf that we got soaked!
This barren island had incredible variety - from multi hued mountains with volcanic plugs and sills
at one end to rolling sand dunes at the other, and all bordered by several miles of golden sand
beach. Despite the arid appearance the dry river beds contained a wide variety of plants,including
a vine that produced succulent looking small melons-all totally desiccated and hard.
We saw no signs of the rumoured wild donkeys and goats, but would have liked more time to explore
further afield. A ragged,but very friendly, band of fishermen were inhabiting the makeshift camp on the
shore. We had seen them arrive the previous evening in local sailing boats which had left by the next
morning - as far as we could make out they would remain on the island until they had filled the many
insulated containers ranged along the beach.
Dutch Square Rigger leaving the anchorage Local Fisherman off to catch the lunch
Safely on the beach at last! Local vegetation in close up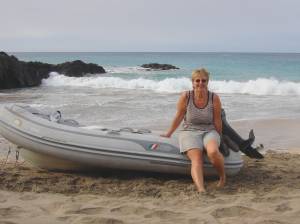 Nature Reserve Monument Local Fisherman's Camp
---