position 12:00.60N 61:44.30W

Freewheel
Julian & Anne Whitlock
Fri 12 Nov 2010 21:07
Back in Grenada! - 22nd Nov to the 6th December
After a smooth flight back courtesy of Virgin Atlantic we arrived in Grenada to be hit with 30c
and clear blue skies - a shock to the system after the UK at 10c... Dabs car rental met us at the
airport and we felt immediately at home - we have used them many times, they are very friendly
and efficient. Back to Clarkes Court and a 'hello' to Bob the marina owner and down to check
how Freewheel had survived without us this time.
She looked pristine on deck and apart from the barnacles on the hull was very clean inside too.
What a difference to when we returned to her last time in Curacao. We had employed Bob to
check over the inside of the boat and run the battery chargers and Sean to keep the outside
polished and washed. Unlike Curacao Marine Services who were a total failure Bob and Sean
did us proud.
We knew that we had to take the boat out of the water for antifouling and also fit the new Furuno
depth sounder. What we hadn't bargained on though was Hurricane Tomas. End of November
SHOULD be the end of the hurricane season but occasionally a late one comes across and this
one was very far south and aiming directly for Grenada.
Although Clarkes Court marina is very sheltered we didn't want to be alongside if a hurricane
should hit so we moved into the next bay with even more protection from an outlying reef and
dropped our anchor with a LOT of chain far away from any other boats, removed everything we
could from on deck and lashed the rest down and waited...
The island shut down - all shops and offices were closed by law and they opened shelters for the
people to evacuate to.....eirie particularly as the usual trade winds died in front of the storm. At
the last moment the eye of the hurricane veered north and smashed into Barbados and then
St Lucia and St Vincent causing some deaths and washing houses into the sea...
When the hurricane passed we were lifted out of the water at Spice Island Marina and carried
out some maintenace jobs (as always!). New bow thruster batteries, refurbish the freezer
compressor, rewire the SSB aerial et al and Sean came back and did some varnishing.
'Freewheel' - before and after...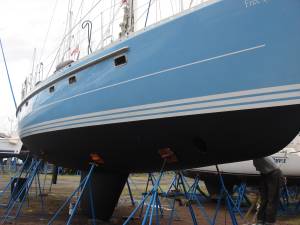 ---