Nantucket

Alia Vita
Rob & Frances Lythgoe
Sun 26 Jul 2015 13:38
​41:17.35N  70:05.11W​
Where to start? We had a very full week here. One of the reasons we made for Nantucket was to say Hi! to Carolyn Grant who we had met on the Transatlantic Crossing, she was crew on another catamaran. She had informed us that she worked at one of the Yacht clubs on the island and that we really shouldn't miss Nantucket, so we didn't.
The lighthouse we passed on the way in
​
Nantucket is a pile of sand about 8 miles by 3, and was the world centre of the whaling trade in the 1700 and 1800s.  After the discovery of oil in the mid 1800s and the subsequent demise of the whaling industry, it was finally rediscovered as a tourist resort, but not your regular tourist resort. The whole island is immaculate and tastefully understated. The place is not showy at all, but the wealth here must be immense, I doubt there's a house for sale for less than a million dollars, yacht club membership is for the seriously wealthy.
Nantucket waterfront
​
The whaling museum was very interesting and it was a true whaling event here that was the basis for the fictional story of Moby Dick. We learn something every day.
Carolyn keeps an old truck to lend to passing friends and we made use of it for a short while, right up to the point that it broke down. Its failure was more to do with it being 20 years old than my driving, but we felt bad all the same. Fortunately it had taken us to Sconset which was delightful.
A typical back lane in Sconset
​
Carolyn's friend John arrived whilst we were there on a Navy training yacht with a group of young officers in training from the US Naval Academy. On his afternoon off he and Carolyn (who has already sailed around the world and is a champion dinghy sailor) came out on Alia Vita to give us some much needed spinnaker training. There was very little wind, but we learned a bit more and certainly have more confidence as a result.
Rob with instructors John and Carolyn
​
That night the very posh yacht club that Carolyn works at was hosting the Navy for a BBQ, so they did the honours with 'Colours' , or 'honors with Colors' in American! at sun set. This is a ritual played out at most clubs that fly the stars and stripes in the USA. It is lowered at sun set every day, often accompanied by a maroon or canon. It was a privilege to watch these young people do it so professionally. Frances enjoyed a little special attention as well.
The 'Top Gun' scene
The formal bit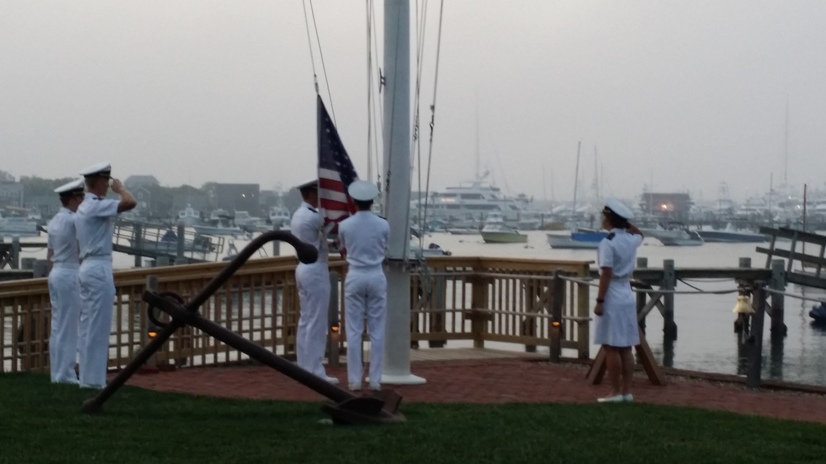 Frances being indulged. She wanted the girl on the end so she could cut her off later.
​
Whilst in Nantucket we also visited an historic windmill and learnt the origin of the phrases 'three sheets to the wind', 'grinding to a halt' and 'nose to the grindstone'. I love all that kind of stuff!
​
---