Moved on to Friendship Bay, Bequia

Alia Vita
Rob & Frances Lythgoe
Sun 28 Dec 2014 01:12
12:59.40N  61:14.22W​
We had an 'alternative' Christmas Day, with most of it spent on the beach​. None of us ate too much, drank too much, cooked to much, washed up to much etc etc.We had Mexican Fajitas for dinner and with Tom here, we had Quorn, so no animals anywhere near my plate, never mind a turkey.
Frances and Tom relaxing, Rob the ever attentive photographer.
Before anyone gets the wrong idea and thinks we have magically moved to Barbados or Magaluf, the above photo is not cleverly cropped or photo shopped.  The old Rasta on the beach behind us on the photo had the grand total of 6 old sun loungers and assorted cushions for hire and no umbrellas. He did however have a cool box full of cold beers and a bottle or two of rum. His sun shade was an old sail and he lived there some nights. 
​

We received many gifts from home for which we are very grateful. We also had Waitrose Christmas Crackers which we found in some random supermarket in Gibraltar, and today we finally made a start on the Christmas cake which came from the same place. The Christmas pudding that came from a last years hamper courtesy of Malcolm Wigman, will live to see another Christmas.

We went diving as planned on boxing day and both dives were excellent. If anyone reading this is considering following in our wake, I'm afraid we can't recommend the dive company, Dive Adventures, but there is another called Dive Bequia. We can't vouch for them as we haven't used them, but Dive Adventures were not too professional. Despite this misgiving, the diving was excellent. I didn't take any photos this time as we dove beyond the depth limits of our underwater camera. I have added a couple of above water photos though, just in case you're wondering what we all look like in neoprene! Despite the water being 29/30 degrees, it can still get chilly when you are 60 feet below the surface for an hour or so, hence the suits.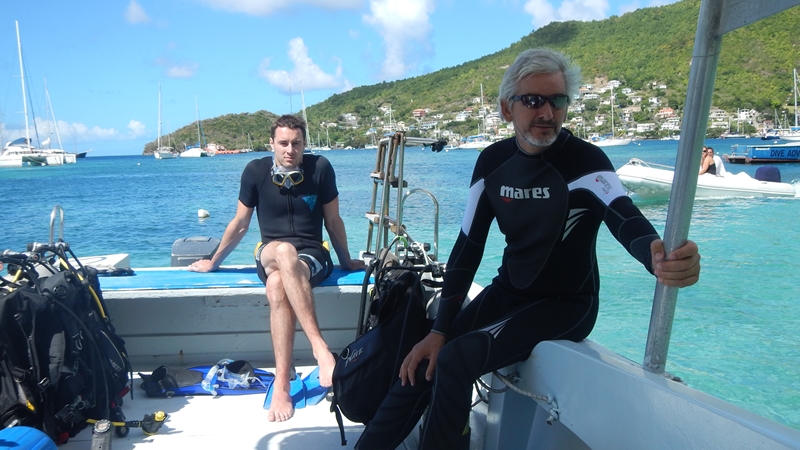 Today we moved round the corner to Friendship Bay, still on Bequia. We passed a recent ship wreck on the way and called in at Petite Nevis. The latter is tiny and uninhabited but looked attractive with its coconut trees. In the event landing the dinghy on the island was very difficult with no where safe from the breaking waves to leave it. Frances and Tom did a quick recce whilst I stayed a few meters off and we then did a quick exit to Freindship Bay.  Picture perfect Caribbean beach here, except I don't have a photo of it with the sun shining, and we are the only yacht here.
Must remember to pay attention
Bequia Beach, Friendship Bay
​
​
​

---