Admiralty Bay, Bequia

Alia Vita
Rob & Frances Lythgoe
Wed 24 Dec 2014 23:01
12:59.98N  61:14.71W
We left St Vincent on the morning of the 23rd for the short but lively sail to Bequia. Sailing between the Caribbean islands is often lively as the wind and swell have been uninterrupted since Africa. Once you get behind, or in the lee, of each islands things calm down considerably and sometimes there no wind at all, but in between you are almost guaranteed good wind and a big sea. The Mediterranean this is not.
We dropped anchor in the well protected Admiralty Bay. This is a big, shallow open bay with room for hundreds of yachts if needs be, and is traditionally a popular haunt of sailors for Christmas.  The bay here is often described as 'sticky', which in sailor speak means its hard to pull up your anchor. Not in the literal sense of course, like easy to stay put.
We didn't anchor among the throng of yachts, but at the back of the bay next to a small headland which proved to be the very best snorkeling site we have ever seen anywhere. It was just incredible, and this was all just a meter or two beneath the surface and just off the back of the boat. We had heard Bequia (pronounced Bek-way) had good diving, and it would need to be to be better than the snorkeling.
The town of Port Elizabeth had put a bit of a show on for Christmas, with lights and shows. These were all orientated for the locals, not tourists, which made all so much better. There is no real airport here so tourism doesn't really feature apart from a few small guesthouses, a small hotel and rental cottages. Most 'tourists' arrive by yacht, but we yachties aren't tourists in the normal sense of the word of course, because we don't spend much. We bring our own accommodation and kitchens with us, we have the best infinity pool ever designed' right off our 'back porch', and we don't commit to dates for staying or leaving. We are however a friendly lot, we don't rip the place us like a load of drunk lager louts, we buy local produce at the local market and we engage with the locals. We aren't all bad!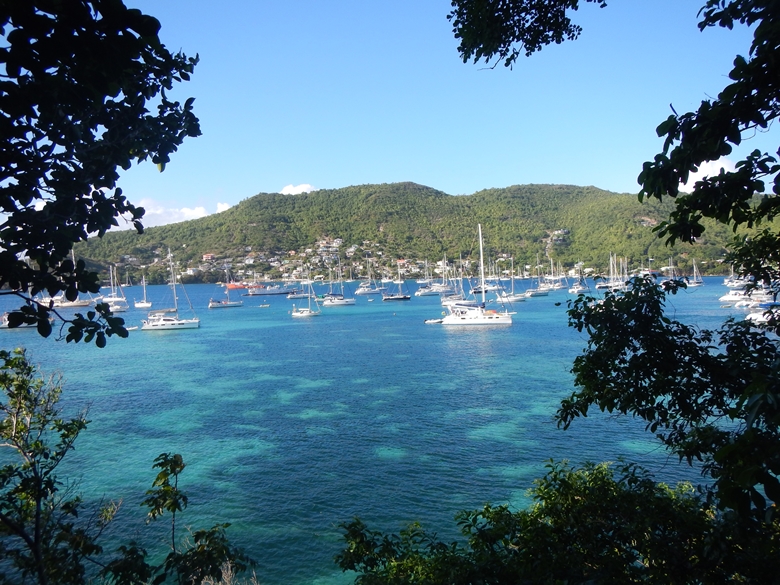 Admiralty Bay, Bequia.
​
On the strength of the snorkeling we have booked to go diving on Boxing Day. Tome hasn't been diving since he qualified in Honduras in 2012 and is super keen, which is great because we are too!
---