Ua Pou

Gudrun V
Axel Busch
Fri 18 May 2012 06:58
Ua Pou, Thursday, 2012-17-05, 9:21.5S, 140:02.8W

We weighed anchor in Hiva Oa yesterday at 6pm, planning to sail the 70nm to Ua Pou through the night. Half an hour later the autopilot stopped working - thank god for the spare! Then the wind didn't come, at all, and we had to motor through the night and into the morning. Well, at least the batteries are full now ...

[attach:1]
Ua Pou in the distance, just after sunrise

Just before sunrise we got visited by a pod of dolphins. Liz said to always wake her for dolphins, so I did, but they were hard to make out in the dark. Or maybe her eyes weren't open properly. She went back to bed again, and the dolphins went away. Then the sun came up. And the dolphins (or their friends) came back, yeah! I woke Liz, again, and we watched them for an hour. Liz stayed in the cockpit and I went down to edit the photos (lots, and lots of photos). When I came back up we had passed our destination and had to turn around. Not far, only 2nm. But still .. hehe.

[attach:2]
Dolphins!

[attach:3]
and a brown booby.

The bay we're at (Hakahau bay) is small but beautiful, especially the rock formations in the center of the island are spectacular. Reminds me of the game "Far Cry". Hiking hsould be good, and apparently there a number of small shops as well where we can reprovision. And, surprisingly, there is even internet to be had. I guess we'll stay here for a few days. We still have to clean the hull, I'll try to fix the autopilot, and then there is the solar eclipse in three days.

[attach:4}
Inside Hakahau Bay. Very good holding in sandy bottom.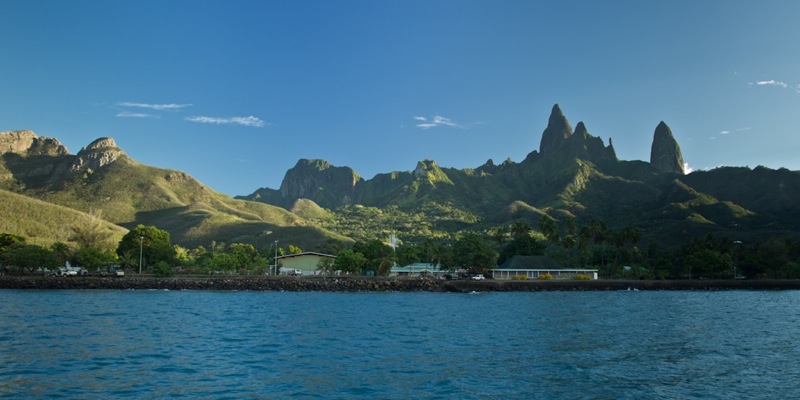 ---