REBEL T VIRTUAL TOUR PHOTO COLLECTION

Rebel T
Tim Walsh
Thu 22 Nov 2007 14:22
Dear Reader,
Attached is a collection of photographs of both the inside and outside of Rebel. These were taken today 22nd Nov and are designed to help "Friends of Rebel" get a feeling for the layout of the interior.
Rebel has 3 areas below deck: a Starboard, (right hand side ) hull and a mirror image Port, (left hand side) hull. The third area is the , "Bridgedeck or saloon, this is the area between the hulls. It is above the water and is the centre of the boat. It is where you enter the boat, from it on each side are 5 steps that lead down to each hull
In each hull are 2 cabins and a toilet/shower. The aft cabin sleeps 2 in 1 bed and has an engine under. Each engine is 30hp. The forward cabin sleeps 2 in 1 bed and has storage under. For this voyage we fitted a watermaker under the forward starbd bed.
Between the cabins is a walkway, a hall if you like that runs fore and aft. Half way along is a toilet/shower room. In the shower is an escape hatch to be used should we capsize.
One of the benefits of the bridge deck is that the navigation station including satellite connections and computers, galley, (kitchen) and dining table are all together and on the same level as the cockpit where the boat is steered from and from where really the boat is run from. Many other boats have theses area in separate areas and this makes communication ,shouts etc hard to hear, further, those involved in cooking or navigating still feel part of the crew and know what is going on. It is a much more ergonomic and sociable arrangement than on a traditional monohull.
This layout is really only available on a modern catamaran.
This took absolutely ages for me and Jeff to do, so we trust you find it useful.
Thanks for reading, thanks for following, we love you all!! XXX Tim n Jeff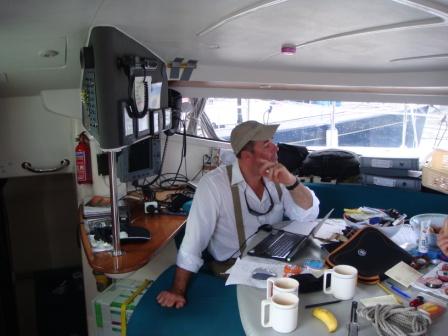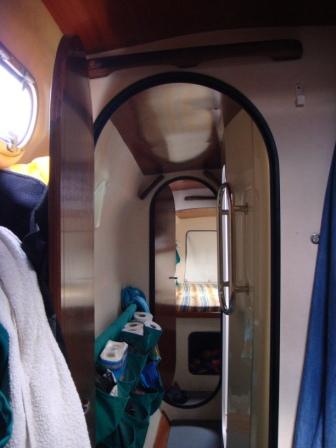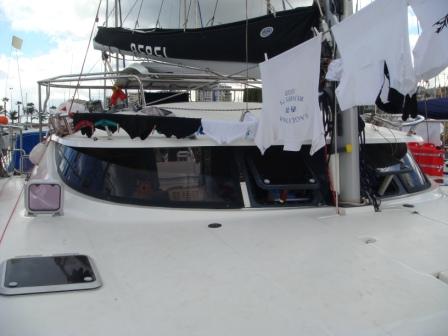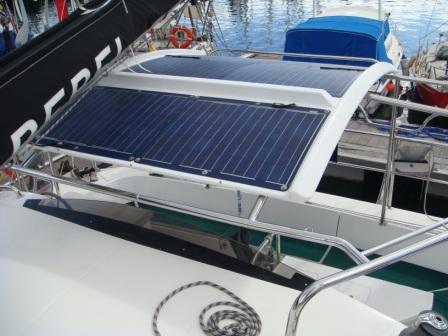 ---