Crossing Biscay - the Pink Perspective

Flinns
Terry/ Nicola Flinn
Thu 14 Jul 2011 10:53
First, a funny story about our time at anchor at Houat. We went to bed very early, as we were due to get up at 4:30 am. Both of us were fast asleep when I was awakened by voices, which seemed incredibly close, followed by a bump. My first thoughts were that a boat nearby had dragged its anchor, so I shot out of bed, opened the cabin door, to see two black-clad men in our cockpit, wearing white rubber gloves. They were staring down below and I'm not sure who got the biggest shock; them, seeing a near naked woman peering at them, or me. My shrieks woke Terry, who went to talk to them. Turns out, they were the Gendarmerie, looking for a missing boat and wondered if we had seen it earlier on. Needless to say, it was almost impossible to get back to sleep!
We left our lovely little anchorage and set off for Spain; a distance of 340 miles, on a heading 225 degrees. After sitting out very stormy winds, there was now not a breath and we motored for the first twenty four hours. It was a beautiful day and we were joined by several pods of dolphins, who seemed to delight in riding along our bow wave, showing off their speed and agility. I'm sure they were rolling on their sides to look at us.
It's been a while since Terry and I had a night at sea on our own, so we were a little anxious about how we would get on. We needn't have worried, as we quickly got into a routine. The first night was uneventful; we saw several ships in the distance, which was comforting in a way, but I find it quite difficult to sleep with the engine going, so it was great when the wind picked up on our second morning and we were able to sail. Of course, nothing is straight forward on a sailing boat and the wind was right behind us. Terry poled out the genoa and put the main on a preventer, which was the same sail plan as we had had when we did the ARC. The day was dull and grey and the sea very disturbed. By this time, the Atlantic swell was underneath us and white, breaking waves were smacking the stern, making steering difficult, even for our trusty Hydrovane. It was a long day and we were tired, " but at least it's not raining" I said. I really should learn not to say things like that, as of course, we then got pouring rain throughout the night and stronger winds.
Our third day rose bright and sunny again, the winds dropped a little and we saw the coast of Spain at about 6am. We sailed along smoothly for the rest of the day. Terry enjoyed navigating us through an inshore passage, which saved us an hour and we arrived at La Coruna marina at 6pm, a total of 60 hours for the crossing. Our friends, Terry and Carol just happened to be there as well and were ready to take our lines and also provided us with a much welcome gin and tonic.
We are feeling very relaxed and have a great sense of achievement at getting here. La Coruna marina is friendly and helpful and has free internet access, which is great. We have no deadlines and plan to continue southwards towards Vigo at a slow pace.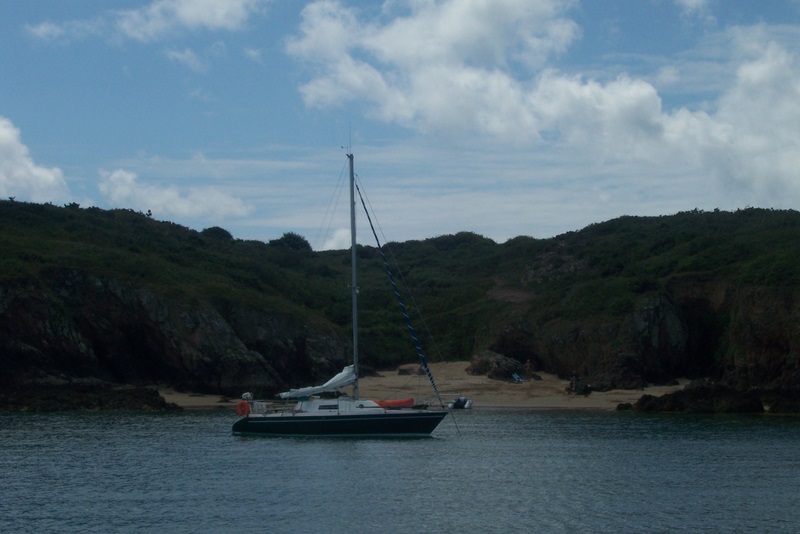 ---