Land Ho !

Flinns
Terry/ Nicola Flinn
Thu 28 Jun 2007 16:51
50:09.25N 5:03.92W Falmouth Cornwall.
The 30 to 40 knot winds remained with us until we were within 80 miles of Falmouth, when we were forced to use the engine; this was the first real occasion we had to use it to make onward progress since halfway between Nassau and Bermuda! From the Azores, we had been riding the coat-tails of the storm systems which brought all that flooding to the UK. It was a real rollercoaster ride, with huge seas and constantly strong Force 6 or 7 winds, including a maximum recorded gust of 41.8 knots; we broke many of our own records, including covering 30 miles in a 4 hour watch, as well as 172 miles in a 24 hour period. Even though we were very wet from the flying spray and at times torrential rain, we remained in high spirits and continued to eat well and stay rested. It was just too rough for any further fishing, but we were overjoyed to be visited by several pods of dolphins. Nearing land, we were able to pick up Radio 4 for the Shipping Forecast and Nicola was thrilled to listen to the omnibus edition of the Archers on Sunday morning. When we arrived in Falmouth on Sunday afternoon, we had sailed 1282 miles in 8 days 2 hours at an average speed of 6.5 knots, much faster than we had planned. Following the usual celebrations and a great pub meal, we slept for almost 12 hours; it felt strange not to be rolling around in our bunks for a change! We indulged in a bout of retail therapy in Falmouth and sampled the local Cornish pasties for lunch and fish- n- chips at night.
Only 155 miles from home now.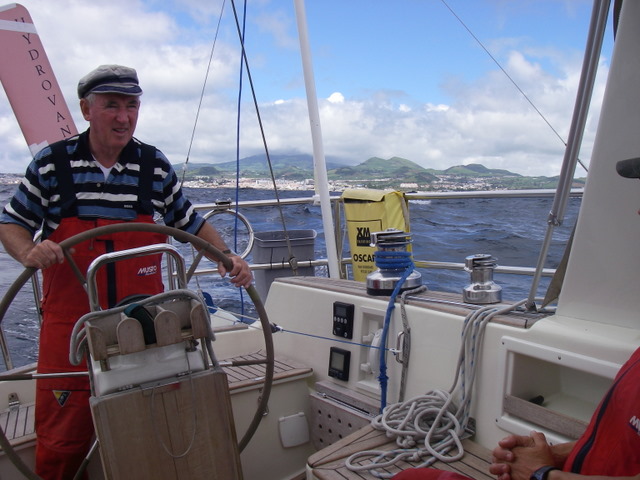 ---