Ionian Cruising

Flinns
Terry/ Nicola Flinn
Sat 22 Jul 2006 19:14
After the luxury of the marina at Corfu, we moved on to sample the very
small harbours in the Ionian, either on one of the islands or on the
mainland coast of Greece. We're retracing some of our steps from our 1998
flotilla holiday and our first stop was Platarias, at the end of a lovely
inlet, about 30 miles from Gouvia. We had a bit of fun trying to moor
Mediterranean style ( backing up to the quayside while paying out the
anchor
chain ) in a strong crosswind, but after a couple of attempts, we managed
to
arrive safely without graunching the boat on the rough harbour wall or the
other boats !
We enjoyed this little village with its few shops and tavernas, just
relaxing soaking up the atmosphere. We're starting to get some unwelcome
visitors in the form of mosquitoes and bugs, including a very large locust
which Nicola discovered in our cabin just before she was about to step on
it!
Next stop was Gaios on the island of Paxos, which is a busy and popular
stop
for the many boats making daytrips for the tourists.We wandered around the
little shops cafes and bars; it is a very picturesque place with an
ornate
church and lovely buildings and it really shows its character once the
last
tripboat has left.
We tend to have a leisurely start each morning, buy a loaf of bread,slip
our
moorings and go and find a deserted inlet for sunbathing, snorkelling and
lunch before sailing on to our next stop.In the evenings we shower on
board,
cook a meal or eat in a little taverna and then sit and watch the world go
by. In Mongonissi, a large Dutch flotilla was also in port and so we
enjoyed
the Greek dancing that the taverna had laid on.
We will have another 5 days in the Ionian before Eric flies home from
Kefallina on July 27th and we continue up the Gulf of Corinth.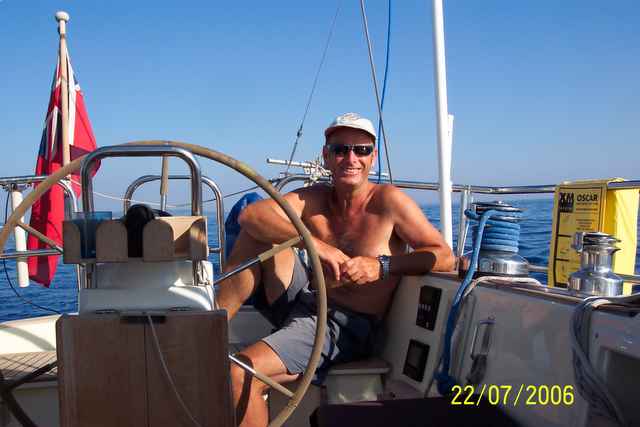 ---