Delphi/ Corinth Canal/ Athens

Flinns
Terry/ Nicola Flinn
Wed 2 Aug 2006 12:50
In Itea, we hired a car to make a trip to the ancient site at Delphi. We had
been advised to get there early to avoid the crowds and the heat and so we
arrived there at 8am, shortly after it opened. It is a very dramatic and
well preserved site with temples, theatre and stadium and by mid morning it
became almost unbearably hot and crowded and it was a relief to move
indoors into the air-conditioned museum.
We have had fun shopping in the smaller Greek towns and villages: in the
"supermarkets" you can get most things, except that if you want meat you
have to find a butchers, which is difficult for his shop is completely empty
because all the meat is in the cool store; fruit and veg shops were also
initially tricky, because things like carrots, lettuce, mushrooms etc all
live out of sight in the cooler.; bakers shops are easy!
We reached the Corinth Canal on Monday morning and the transit only took 35
minutes, but you have to hang around waiting your turn after the big ships
and the canal is narrow and is used in one direction at a time.
We're now in Athens where we plan another dose of culture with a visit to
the Acropolis etc and we are arranging a few minor repairs to the boat
electrics and radio. We're back in company with the mega yachts and cruisers
and it's interesting to see that they too can "cock it up" occasionally ;
last night in the marina a cruiser, at least 100 feet long, didn't stop in
time and graunched his back end on the quayside and we suspect that the
damage will cost several thousand euros to make good.
We now plan to cruise the islands of the Cyclades as we await the arrival of
Andrew and Jacquie in Santorini about the middle of August.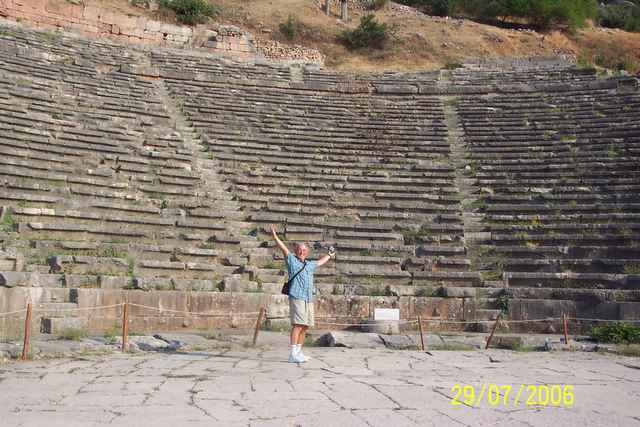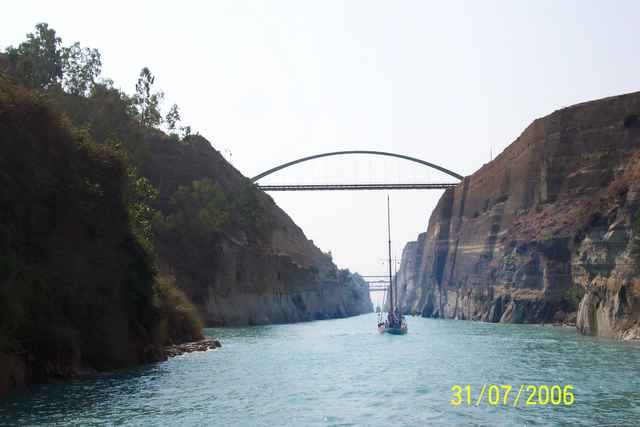 ---