Gib to Porto Santo

Flinns
Terry/ Nicola Flinn
Tue 17 Oct 2006 12:15
With Martin Shaw on board, it was time to set off on our longest passage so
far, the 600 miles towards the Madeira Archipelago and the small island of
Porto Santo in particular. We crossed the busy shipping lanes in the Straits
of Gibraltar and continued along the Moroccan coast out into the Atlantic.
By now it was dark and we were 30 miles offshore when we started to pick up
lots of faint targets on he radar, but could see no lights. We passed close
to one target which turned out to be a Moroccan fishing boat, completely
blacked out, and we tried to thread our way through the rest. Half an hour
later, miles from any contact, we came to an abrupt halt and found ourselves
caught in a drift net which was just below the surface and had no marker
flags or lights. We managed to free ourselves, only to have the same thing
happen about an hour later. This time we were well and truly stuck, unable
to move at all and the engine was really complaining because we obviously
had lots of rope and net wrapped around the propeller. We had to cut
ourselves free and the rope-cutter on the propeller eventually managed to
clear enough of the tangle to allow us to motor slowly onwards through the
night. We could see that we were dragging bits of net, floats and rope
behind us and if we tried to select reverse, the engine shuddered and
stalled. At first light, Terry went over the side in snorkel gear and
managed to cut away the cat's cradle of rubbish; we were relieved to
find that we had suffered no damage to the propeller or engine. We had
been very worried, and angry about the situation, but grateful not to have
come face to face with any of the fishermen who clearly would have
been protective of their nets which by now had 2 rather large holes in them.
We found ourselves quickly getting into a rhythm of being on watch for 3
hours at a spell, with the highlights of each day centred around meals and
the 6pm happy hour. Apart from catching up on sleep, we spent our time
reading, doing puzzles and fishing. By now we were getting pretty good
anglers and we landed several small tuna and one magnificent dorado, big
enough to feed all 3 of us and which was cooked on the BBQ . Martin turned
out to be an expert when it came to filleting and cooking fish and his fresh
hot tuna sandwiches at lunchtime were the best we have ever eaten.
The wind, which for the first 2 days had been very light, now began to
increase and we found ourselves being blown off track. On the 5th and last
night at sea, we found ourselves in the middle of heavy rain showers and
lightning.
As the nasty weather passed by, the wind direction changed and we were able
once again to point at our destination.We had been on the edge of a huge
storm system further out in the Atlantic, which was steadily making its way
towards the UK ready to batter you folks back at home.
We arrived at Porto Santo, 6 days after leaving Gibraltar, remarkably fresh,
which bodes well for our planned 3 weeks crossing of the Atlantic to the
Caribbean in December.
Martin has now left us and is making his way home by ferry to Madeira,then
flights to Lisbon and London. We hope to see him again next spring in the
Bahamas.
Porto Santo, a volcanic island, is a lovely unspoiled place. The whole
length of the harbour wall is emblazoned with paintings and logos
left by the crews of previous visiting yachts.
We intend to stay her a few days until the winds abate and we can continue
on to Funchal, Madeira.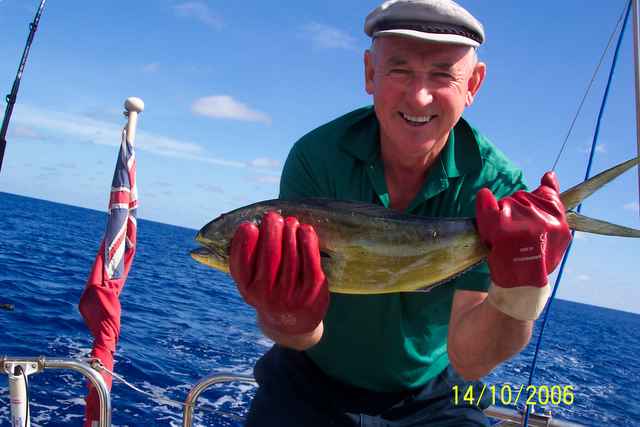 ---