St Martin to the British Virgin Islands

Flinns
Terry/ Nicola Flinn
Sat 7 Apr 2007 22:42
18:25.45W 64:36.70W Road Harbour Tortolla
Having arrived in the Dutch side of St Martin, we felt it only fair to depart from the French side. This involved a crossing of the shallow lagoon, where in places we found ourselves with less than an inch of water below our keel ! Our route then took us to Anguilla, the last and most northerly of the Leeward Islands. This is another delightful island with very friendly locals. As this was to be the last place where we could spend our East Caribbean dollars and use our Caribbean mobile phone, we decided to blow the lot on shopping, a superior meal ashore and several phonecalls to friends and family back home.
We left Anguilla on the afternoon of 28th March for the 80 mile crossing to the BVI, our first night-time passage since our Atlantic crossing. To test us, Nature decided that it would be a very wet night, with lots of lightning and virtually no wind.
En route, while working on our webdiary, we discovered, to our great disappointment, that our digital camera had stopped working and the pictures of St Martin and Anguilla that we thought we had taken, were a series of blank images.
We arrived in the BVI at Virgin Gordoa, where we completed arrival procedures, found a laundromat, stocked up on food and bought a digital camera, which we are now struggling to get to know. Our first efforts taken at Anegada Island in the Virgins are attached.
By the 1st April, our friends, Dave and Marcia were on board and we set of on a leisurely exploration of the many islands and bays that make up the Group.
We plan to stay here about 2 weeks before setting off on the long 400 mile voyage up to the Turks and Caicos Islands.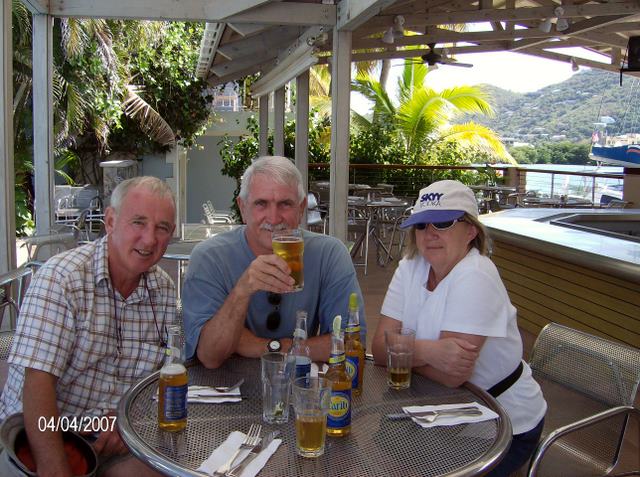 ---