Lagos to Gibraltar

Flinns
Terry/ Nicola Flinn
Sat 27 May 2006 21:59
On Wednesday 24th May we motored the 10 miles to Portimao where we met up
with our friends Bob and Marilyn who were staying at a friend's villa
nearby. The next day we explored the tiny traditional village of Ferraguda
just on the shore just opposite the marina.
We then continued toward Gibraltar, anchoring for a night in the mouth of
the river into Faro, which proved to be a very difficult approach through
breaking seas as the ebb tide slammed into the large atlantic swell; all was
extremely calm once safely inside. The next 20 hours sailing were very
tiring as we beat our way across the Bay of Cadiz. We rounded Cape Trafalgar
in Force 6 winds and then earned good night's sleep in nearby Barbate. The
final leg to Gibraltar was a spectacular run, downwind and downtide, making
a constant 10 knots groundspeed for the whole 5 hours. It now seems that we
are likely to be forced to stay here in Gibraltar for several days waiting
for the expected strong easterly Levanter winds to subside before we
continue onwards towards Alicante.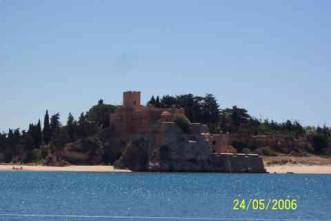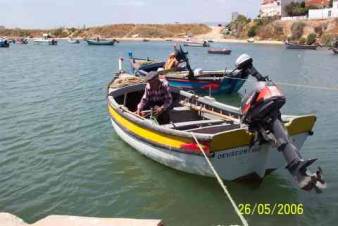 ---