We made it !

Flinns
Terry/ Nicola Flinn
Thu 21 Dec 2006 12:52
14:04.167N 60:57.157W Rodney Bay St Lucia.
2623 miles completed, 21 days 23 hours duration, average speed 5.5 knots.
The final quarter of our voyage was fairly uneventful, but as we got nearer to St Lucia, the winds became lighter and lighter, until at the end of the penultimate night, we were forced to start the engine. It was a beautiful balmy evening, with a myriad of stars and a crescent moon rising out of the sea to bathe us in soft light, with the mountains and lights of St Lucia in the distance.
We donned our St Lucia " No Problem " t-shirts and fetching red santa hats ( thoughtfully provided by Marilyn ) and radioed ARC Finish of our imminent arrival. We were met by a photographer in a dinghy to record us crossing the finishing line; our picture even made the front page of the official ARC website that morning.
The arrival into Rodney Bay Marina was awesome with sirens wailing, hooters blowing and lots of fellow crews waiting on the pontoons to cheer us in . We were greeted with a cold rum punch and received a basket of fruit with a bottle of rum as the centre-piece!
We were all high as kites and even forgot to open our final arrival bottle of champagne. After a few quick telephone calls back home to announce our safe arrival, we spent the rest of the day in a kind of euphoric haze! We were all in bed by 10.30 that evening and slept soundly until 8 o'clock next morning.
Now began the slog of rebuilding and cleaning the boat. Bob and Eric decamped and joined their wives in a villa they had rented locally, and we moored Flinesse at the bottom of their garden in their own private mooring!
It was still party time at the marina and we continued to enjoy ourselves catching up with lots of the crews we knew from Las Palmas; the Marina Manager's Cocktail Party was one of the best we have ever attended, with masses of free food and booze, and it was completed by steel bands and fire dancers.
We have now just about straightened out the boat, have put up our Christmas decorations and tree, ( provided by Helen and Jenny ) and can listen to carols on the i-pod. Just the final ARC Prize Giving Party left and then all our new-found friends will begin to disperse. We plan to stay here in St Lucia until the 3rd of January when Bob, Eric and their wives will have flown back to the UK and we can welcome Andrew back on board.
This is certainly going to be one memorable Christmas, but one with a difference!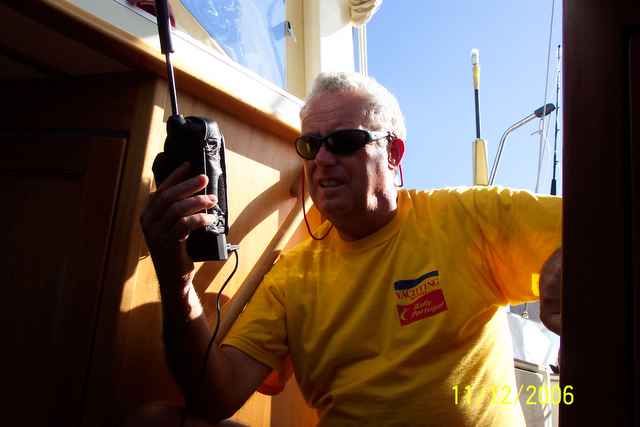 ---