farewell and hello

Flinns
Terry/ Nicola Flinn
Mon 4 Sep 2006 15:46
All too soon, Jacquie and Andrew's time with us has come to an end. Their 2
week cruise was dominated by almost constant strong northerly winds and
very rarely did we just drift along on gentle breezes. Nevertheless, they
really enjoyed their break in the Cyclades.
Nicola really enjoyed having another female on board and we got along
famously with our oldest and best friends.
The day after J & A's departure, we were joined by Martin Shaw, a friend of
Terry's from British Airways. Our objective is to work our way westwards
around the Peloponnese, towards the Southern Ionian island of Zakinthos, in
preparation for our first long passage back to Italy.
After we left Santorini, we enjoyed exciting sails to the islands of
Folgandros and Milos. We continued across to the mainland coast passing by
Cape Maleas, which has quite a reputation for stormy weather. This time we
were very pleased to have the wind behind us which made for very fast
sailing. We were delighted to be joined by a couple of pods of dolphins who
stayed and played with the boat for about half an hour.
Now we have left the Cyclades, the winds have moderated considerably and we
expect to have to motor quite a lot of the time. We plan stops at Porto
Kaylo, Koroni, Pilos, Katakolon and then Zakinthos, where Martin will leave
us and make his way by ferry and bus to Athens, for his flight back home.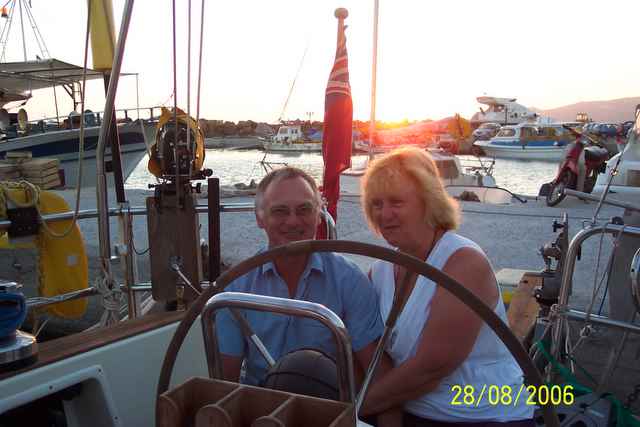 ---