Arrived Falmouth, UK - Day 10 !!!

The Talulah's Web Diary
Ali Pery / Shane Warriker
Sat 3 Jul 2010 17:51
50:09.270N 005:03.908W
We arrived in Falmouth at 1315 UTC (1415BST) today, 3rd July, and have just opened a beer … so Shane and I have completed our North Atlantic circuit, and sailed 10,000 miles (truly!) since we set off from Brighton a year ago.
The passage from the Azores took us 8 days and 21 ¼ hrs, making our total sea passage from Antigua 26 days and 23 ¼ hours … phew, how good is my maths??!
Oh how weird and good to be here! All in great spirits! We are tied alongside in the visitors yacht haven, and we await our mate Gerry on "Per Mare" who should arrive later tonight or tomorrow.
The second passage could not have been more different to our first from Antigua, in every way! No heave-to or gale force winds, and the last 36 hours we had a good run with a big swell from behind and surfed our way home.
So off to see customs, eat cream cakes, and just maybe pop into the Chain Locker Pub … below some photos from the Azores and our passage:
(Our journey has not finished yet, so watch this space…)
Ali gets some nightwatch preparation in before setting off (showing Kate how it's done).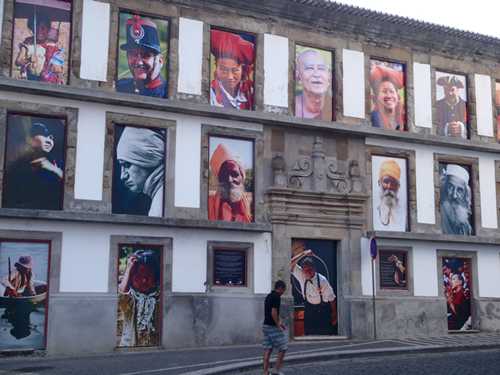 Cultural town of Angra do Heroismo, Terceira, The Azores. Beautifully decorated building (photographic exhibition) in preparation for the festival.
Jon, with sardine in his mouth, displays the best of British dignity as he indulges in the local customs with a spot of fire – jumping. Would you believe it, that he told us he has a bad back.
Arriving in style, about to raft up to "Aleria" mid Atlantic. On with the best frocks. Now this is how you get to a party.
Rafting up to Aleria in the Atlantic for Daria's birthday.
Our mid Atlantic party, rafted up to Aleria.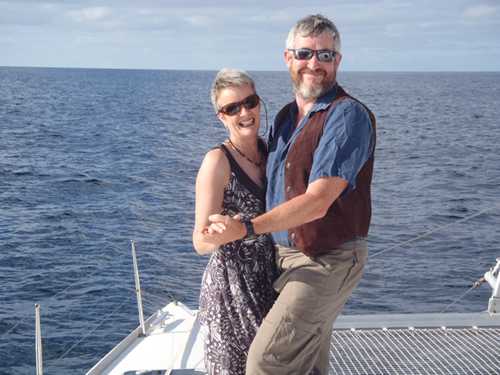 Kate and Jon feel the love.
Goodbye our friends, Alex and Daria who we first met in the Canary Islands last year and then cruised with extensively throughout the Caribbean.
Jon gets stuck into preparing the octopus for lunch.
Oh boy! Shane (struggling) and Jon each work out and plot our position after taking sun sights with the sextant. Boys work hard ….
….Whilst girls practice their pole dancing. …The girls start to get "The Channels" (what you get after a long crossing and start approaching the English Channel) and …
… dance and sing to show their excitement
Guess what these things are? After hundreds of visits and thousands of pictures. At last a good-ish picture in full flight.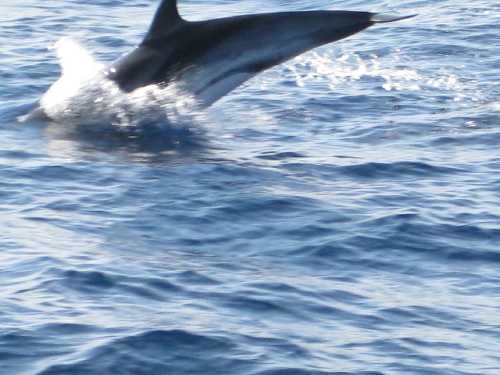 …and landing.
---