Arrived in Grenada & News and Pics from Barbados

The Talulah's Web Diary
Ali Pery / Shane Warriker
Tue 5 Jan 2010 18:25
11:59.789N 61:45.799W
We have just anchored in Prickly Bay, Grenada, after a 22 hour sail from Barbados.  It was lovely to get the sails up again, albeit a bit shattered and torn, and despite the confused seas and lumpy ride, it felt wondeful to be out at sea again.  Talulah picked up her heels and fairly skimmed along at 7-8 knots all the way.
After 11 days in Barbados, we are overdue (no WiFi there) in thanking our dear friend Jonathan for all his support from the UK on our Atlantic Crossing.  Daily we emailed him our position via the Sat Phone, and daily he emailed us with weather advice, humour, news from home, support and encouragement.  He was an absolute star, and with us all the way, despite not actually being onboard.  22 days at sea, with virtually no radio contact, goes by very slowly, and the funny, supportive emails we received were the highlight of our day – thanks all who wrote!
Our last 3 days of the Crossing left us very tired.  After logging engine hours meticulously to keep track of fuel consumption, can you imagine our horror when suddenly with a cough and a splutter the engines ran dry, with still another 300 miles to go.  We were exactly 100 litres short according to our calculations after emptying the spare fuel into the tanks during the big 5 day calm.  It transpires there is a major mistake in the Owners Manual whereby it claims that we have 400 litres of fuel in tanks, but in fact there is only capacity for 300 litres.  This is something you might have thought we should have known, but having never had to fill the tanks from empty before it's not something we've ever had to test.  It's also something you might think is not a real problem on a sailing boat, but we need the engines to keep the batteries topped up, because the solar panels don't work very well in (partly) cloudy conditions and a certain amount of wind is needed for the wind generator to work effectively.  So off went all the electrics and electronics, and so steering by hand with only a star (and compass) to guide us, we hand steered the last 300 miles, taking it in turns for one or two hour stints for 2 ½ days.  The huge Atlantic swell and confused seas made it impossible to lock the wheel, and the same swell made us bash poor Talulah's nose as we came into the fuel dock after we had managed to get one of the engines going for the last few minutes before arriving in Barbados.  It was an unnecessary challenge, but one we were equal to, and when we finally berthed we felt we had really earned our stripes as Atlantic crossers.
Our very good friends Ronni and Gerard (Jonathan's brother) were in Barbados on a 2 week holiday, with their 2 daughters Lily and Elsa – Gerard used to live there, and both he and Ronni know the island and its inhabitants well, the best Rum bars and the coolest beaches  …. So, from over 3 weeks alone in the ocean, we were welcomed into a magnificent party scene, glitzy houses, beautiful picnics under palm trees, and found ourselves sitting next to many a bikini clad celebrity on a few occasions.  It was surreal.  Gerard and Ronni gave us a wonderful Christmas lunch in their villa, (they looked on aghast as the 2 of us tucked into 4 helpings, realising we hadn't eaten in 2 days!) and on New Years Eve took us to a couple of fantastic parties (quick shop for a frock and a pair of shoes – Ali), one of which took place in a spectacular beach house, with a glorious infinity pool and an indoor pool full of albino sharks.  It was lovely to spend time with them and the family too.  We won't leave Talulah at night at anchor, but we did manage to crash a few hours on a bed in their villa on New Years Eve.  Though it was hard to sleep with no rolling motion!
Sadly, Carlise Bay is the only place to anchor in Barbados, so its not good cruising ground, and an exposed anchorage with no facilties for yachties - also right outside the island's top nightclub, which thumps til the early hours ….  But we were surrounded by turtles, and other boats who had also just done the Crossing, so with lots of catching up and story-telling over Rum Punches, and with 3 wrecks for snorkelling and diving from the dinghy close by, it wasn't a bad place to be!  And the locals are lovely, lively and helpful.
We are now very happy to be in Grenada ….
Happy New Year to Everybody !!!!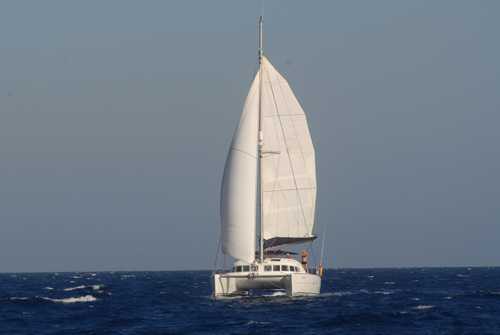 Talulah Goosewinging out of the Canary Islands
Up she goes… Cruising chute out but not much progress – mid Atlantic
Tired but very happy.  Drinking Rum Punch on the beach on Christmas Day.  Some ambitions are worth it!
Does the colour of the sea match Ali's eyes?
Glammed up and ready to party. New years eve with Gerard and Ronni.
As seen swimming next to Talulah.
Yeah, yeah, yeah, Where's the tinsel?
Elsa, Gerard, Ronni and Lily on Bottoms Bay.
Gerard and Shane cool off at celebrity beach party.
The beautiful Cranes Beach, Barbados
---