Day 19 - Arrived Horta, Faial, Azores! & photos of crossing

The Talulah's Web Diary
Ali Pery / Shane Warriker
Thu 3 Jun 2010 18:08
38:31.804N 28:37.379W
We have arrived at Horta, Faial Island, Azores, at 1630 UTC, after 18 days and 2 hours (2297 miles) at sea, having "surfed" here on the biggest swell we have ever seen, which gave us a fantastic run over the last 24 hours… so we've done about 2/3 of the crossing now!
The marina is full, overflowing actually, no room for us, so we have just anchored in Horta Harbour, and opened a beer …. Hoorah!!
…. About to launch the dinghy and go and "check in" with customs & immigration, and try out our land legs.
Some photos from the Crossing:
Shane & Jon wearing and showing off some of the things collected from the seabed over the last few months in the Caribbean. Jolly Harbour, Antigua
… and more of the same, but Ali & Shane this time
Lasse ("Inga"), Gerry ("Per Mare") & Shane discuss the weather in Jolly Harbour, Antigua, just before setting off.
Gerry (single-handed on "Per Mare") and Ali dancing away our last night in Jolly Harbour, Antigua
Jon & Ali weighing anchor for the last time in Deep Bay, Antigua
First day out and Jon finds love with his Spanish Mackerel
Shane & Jon enjoy Mahi Mahi sashimi style in a rare moment of calm
Jon taking the plunge mid Atlantic to cut the fishing line free from the prop
Wake up sleepyhead! Our Mid Atlantic Hawksbill Turtle … "Hey dude, just cruisin' the gulf stream…."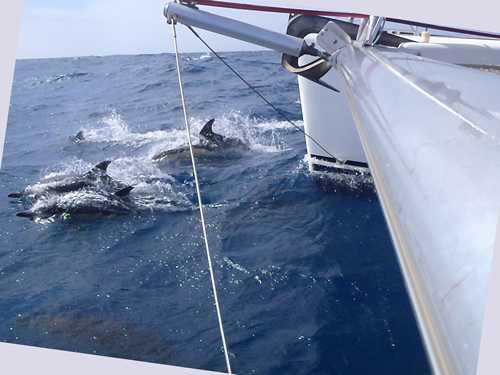 One of the few pods of dolphins seen on this crossing as captured by Jon on his camera
Waves silhouetting another glorious sunset
Rather large waves these. While hove to.
How does she do it? On a pitching rolling boat (in a severe gale) the grub is always great.
---