News & photos from British Virgin Islands

The Talulah's Web Diary
Ali Pery / Shane Warriker
Fri 19 Mar 2010 01:57
18:29.970N 064:21.585W
We left Nevis early on Saturday 13th and sailed 10 miles to St Kitts, where we stopped off briefly to fill the tanks with fuel and water and another fun filled "check out" with customs and immigration. It was then a 24 hour sail to the British Virgin Islands … another long and hot night with very little wind.
We were amazed at the amount of boats cruising up here, and also pleasantly surprised at how beautiful it is. We dropped anchor in Road Harbour, Tortola, the following morning, and made a phone call to my friend Sue who lives here, along with her daughter Poppy and husband David, who is the Governor of the BVI's. "Where are you and how do we find Government House?" I yelled excitedly down the phone. "Look up the hill beside your boat, Ali …" came the answer, and there they were waving at us from their very grand balcony. We had no idea we had anchored right in front of their house (!), and it was a lovely reunion as I haven't seen them in 6 years.
So after another lengthy, endless form-filling check-in with immigration & customs, (we should be so used to it by now!), Sue drove us around Tortola, and we spent a couple of days catching up and eating delicious dinners in their wonderful house. The second night Sue insisted we sleep in the house. And we did. And it was glorious! Our bedroom was air-conditioned, we showered and cooled off, and slept, for the first time in a very long time, like babies ….
On Tuesday 16th we met up with our dear friends Jean-Luc and Dany on "Castafiore", who we last saw in the Canary Islands, and we set off together from Tortola to Jost Van Dyke, an island nearby. Jean-Luc has a great way of ensuring you maintain eye contact whenever the boats are in close proximity, he doesn't like to wear clothes while sailing (we're talking rien …nu). We anchored in Little Harbour and were attacked by flies all day. In a scene that would have made Hitchcock proud, a seething black cloud descended on Talulah like wolves on a bloody carcass! We're talking hundreds of the little mites. Jean-Luc was "committing flea (sic) genocide" whilst Shane was "swatting the b***ers" as they both leapt around their respective boats, french and english with swats in hand, prancing and swiping and parrying as if caught in some bizarre fencing ritual with national pride at stake. The body count kept rising, but the attack was relentless. "Oh please!" we wailed, "A moments respite is all we need"… this went on for hours…. But it was a beautifully quiet and sheltered anchorage, and despite the flies (who moved over to allow squadrons of mosquitos in overnight) we dozed off eventually to the tune of singing goats …
On Wednesday morning we set sail for Diamond Cay, a stunning anchorage on the southeastern end of Little Jost Van Dyke. Sadly the flies came with us. Hundreds of them. Shane and I escaped and spent hours kayaking around the mangroves, the reefs and the bays, dragging the kayaks over rocks to get to other nearby pools and reefs. It was beautiful, and the water so very clear.
Since Nevis we have seen some very different fish whilst snorkelling and swimming, including quite a few tarpon. This bony game fish grows up to 8 feet, and isn't so good-looking when you come up to him face to face in the water. We're swimming just a tad faster these days. We're also seeing more shark.
This-morning, Thursday 18th, we went for a long, hot and sweaty walk through the mangroves to find "Bubbles Pool", a natural pool surrounded by rocks at the ocean's edge, and got very lost up hills, in mangroves and bushes. We eventually found it and sat in it for about 10 minutes to cool off…. the waves tumble in through the holes in the rocks creating a bubbling salt water pool…. a bit of a disappointment. But the walk was interesting. We then set off east for North Sound, located at the northern end of Virgin Gorda, which was a lovely 4 hour sail around the many stunning islands, past the quiet coves where Drake, Columbus and Blackbeard used to anchor.
Nevis Peak, the mist swirling around inside the crater of the now extinct volcano looking eerily like steam escaping before a "big blow"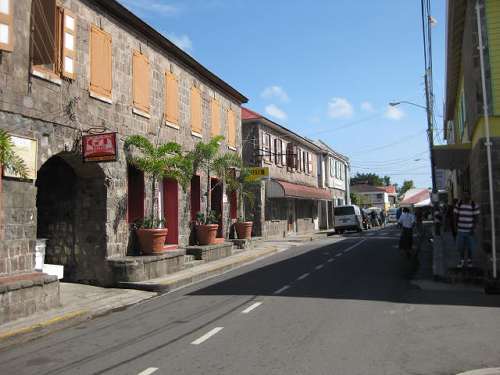 Rush hour Nevis style. Lovely island, lovely people….
Our lovely hosts and new friends, Oliver and Naomi, who live on Nevis.
Sailing / motoring through the British Virgin Islands.
Interesting tree stumps and driftwood on our walk through the mangroves.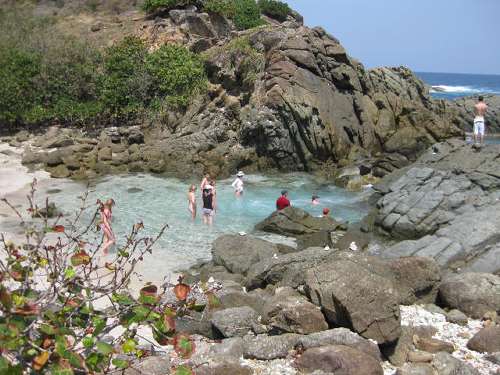 A long hot hike to get to "Bubbles Pool" where the waves surge through the rocks. "A highlight" says the guide book. Well, it is pretty, but it is small, and full of tourists wallowing like hippos. So a quick dip to cool off and another hike back to the boat.
Our friends Jean-luc and Dany, and their boat Castafiore, (who we last saw in the Canary Islands.)
Jean-Luc ("Castafiore") doing his best (or worst) to preserve his modesty (or lack thereof) on passage in company to Virgin Gorda.
---