News & photos from Portimao, Algarve

The Talulah's Web Diary
Ali Pery / Shane Warriker
Sun 23 Aug 2009 11:58
The Hall family – Jonathan (Horatio), Astrid, and their girls Mia and Lucia, joined us on Sunday 16th August in Baleeira, Sagres. (They spent 3 years living aboard their Catamaran - a few years ago - and sailed through the Caribbean and across the South Pacific to Australia). We had a fantastic 6 days, sailing around Lagos and Portimao, anchoring out every day and night by the caves and grottoes on the Algarve coast. We swam, snorkeled, explored the grottoes, lazed around our own private beaches … with clean white sand and warm turquoise water …. And ate fresh fish every night …. Sushi, Sashimi and barbecued. It was a glorious few days full of fun and giggles, and whilst Shane and Horatio sweated buckets servicing the engines, Astrid taught Ali the art of making her delicious sushi …. Our dear friends left on Friday 21st, and we have spent the last couple of days anchored in Portimao, watching the Audi Med Cup Circuit (a series of international yacht races which happens to be in Portimao now). We met the lovely Irish "Virgo" in the Laundromat who has kindly given us tickets to the VIP hospitality tent and the grand finale party tonight, so having not worn anything but swimsuits, nor ventured on land, for a while, we are slightly culture shocked but delighted to dig out our "smarts" for later …..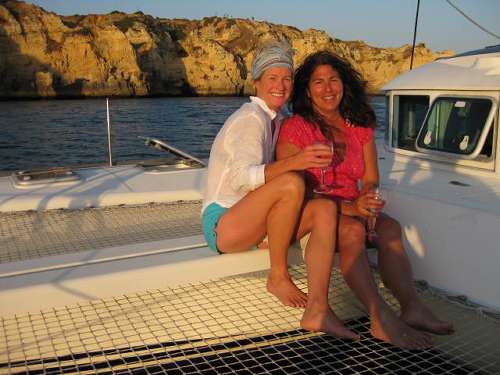 Ali & Astrid enjoying the sundowners …….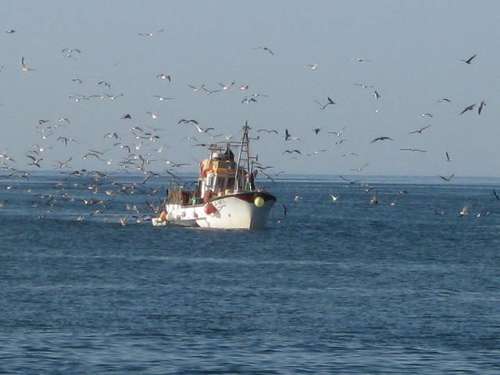 Hungry birds and fishing boat returning to Lagos
Cockpit life…..
Mia, Jonathan, Astrid & Lucia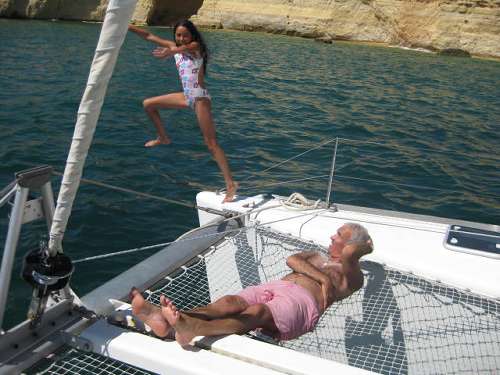 Splash! The Talulah Ballet
Shane rescues "Hula", our tender, after she made a break for freedom
---