News from Culatra, Guadiana River and Faro

The Talulah's Web Diary
Ali Pery / Shane Warriker
Tue 29 Sep 2009 18:48
37:28.616N 007:28.179W
We anchored off Ilha da Culatra for 3 days, and spent most of our time exploring this stunning island, wading through lagoons. It is a fishing settlement with no roads, no cars, a couple of tractors which plough their way through the loose sand, and mains water and electricity are very new arrivals. The beach on the Atlantic side was empty and beautiful. Mornings were spent hanging out of "Hula" (our RIB) at low tide and picking oysters, afternoons scrubbing them, evenings opening them, and at midnight, exhausted we were left with but a spoonful…
On Monday 21st September we sailed 5 hours east to the mouth of the Rio Guadiana, which runs between Portugal and Spain, and decided to keep going that evening, a beautiful sail 40 km upriver to Alcoutim, (a small town with a long history as a river port, dominated in turn by Greeks, Romans & Arabs, who all fortified the heights with various structures.) Just across the river is the Spanish village of Sanlucar, a mirror image of Alcoutim, so as we stocked up both sides of the river, we were jumping between Portuguese and Spanish, and a one hour time difference. We met up with our friends on "Destiny" and spent evenings watching the egrets flock and settle in the bushes just feet away from Talulah, an osprey, white storks and sheep drinking from the river…. Very strange to be out of the Ocean and inland! The river sail was magical, we were both reminded of Africa.
On 23rd we sailed back to the river mouth, Ayamonte, (Spain!), anchored, and sped over to the Portuguese side, Vila Real de Santo Antonio, to pick up Ali's brother, Edmund, who had flown, bussed and trained down to join us for a few days from Blighty. After a night of tapas and paella in Ayamonte, we cruised back up the river the following morning to Alcoutim, only just (high tide??) making it under the suspension bridge. Dry, hot and sticky, we awoke at 5am the following morning for a dark river sail back South and out to sea, where we had a day sail back west to Culatra. Whilst rolling our way west, we spotted a huge customs ship nearby, who promptly launched their RIB and boarded us and inspected our ships papers and flares etc… they insisted we continue motoring on during the half hour inspection, which felt a bit strange (we were boarded also by a customs boat in France, but at least were stationary at the time!)
After anchoring outside the breakwater for a couple of hours, in very rolly sea, (waiting for the tide to turn - we weren't going to repeat our terrifying previous harbour entrance!) our friend Francois ("Lintie Flora") dropped anchor next to us and he and Coline somehow made it over to Talulah for a beer and catch-up. We walked the island in the evening, along the glorious beach, caught up with "Destiny" again, and the following morning (26th) we sailed upriver towards Faro. With Edmund, we explored the very pretty Cidade Velha (Old Town - what is left of old Faro which was mostly devastated by the Great Earthquake of 1755), an oval of cobbled streets and brightly painted buildings, and wonderful 18th C. "azulejo" tiling.
Sadly, Edmund flew home that night, as we sailed back to Culatra, joining "Destiny" and "Lintie Flora" for sundowners….
The following morning (28th) we sailed west again to Vilamoura, where we tied up in the marina for the night, (wow, huge excitement for us – our first time not out at anchor in months …. hot showers, power, water, laundry…. supermarket…) and were joined by Shane's mother, Denise, who has flown out to join us for a few days also ….so guess what, we are now (Tuesday 29th) midsail back to Culatra….
P.s. Ali got the full hotwax facial treatment from our waiter. We went out for dinner last night, and the enthusiastic bloke clearing our table dropped the candle onto her and it splattered all over her face and chest gluing her eyes and mouth together (I kid you not)… it could only happen to Ali!!!
Sushi! With Shane's catch, after a very bumpy ride into Culatra
Wading through the lagoon on Culatra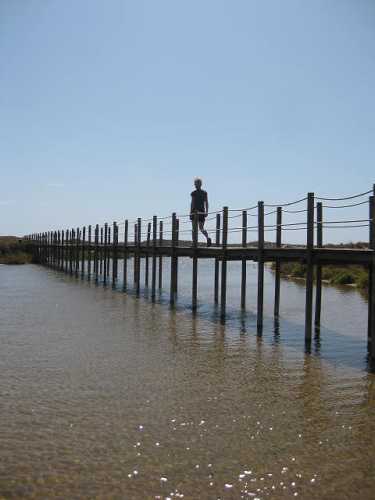 Over Bridge of sighs…
Ali proving that angels really do walk (or run) on air
Arriving up the Guadiana River, (Alcoutim), Ali at the helm, Shane bird-spotting
Spain on the right bank and Portugal on the left. Two time zones, one view.
Under bridge of frowns. Shane and Edmund contemplate getting under the suspension bridge at high tide.
A little close for comfort
All together now …. Aaaah!
Edmund & Ali, bro'n'sis, in Faro
---